2016 World Food Championships Blogger Summit Nov. 7-9th Recap #Travel #Foodsport #OrangeBeachAlabama
I had no idea what I was about to attend last November in Orange Beach Alabama. I was 1 of 50 extremely blessed bloggers to be chosen to attend three "jam-packed" days of food sport sensations, presentations of upcoming trends in food products, tours of our nation's great food production and outstanding food and entertainment.
The conference was successfully arranged by World Food Championships Blogger Summit's staff member, Amy Green, and Mike McCloud owner of MMA Creative. Everything from the luxury Turquoise Place accommodations to the pounds of fun swag!!
Let me just say, I have never stayed and enjoyed a hotel stay like this. Hotel??, Ok how about a condo! Our three bedroom 2400 sq. ft. condominiums came complete with breathtaking ocean front views, a large coastal decorated living room, top notch kitchen, outdoor cooking area with a hot tub (which I enjoyed twice) and for your complete convenience a washer and dryer in a separate room.
Never having traveled to Orange Beach Alabama, I did not know what to expect for food, entertainment and travel experiences. The locals describe their beaches as "sugar sand". After walking those beaches, digging my toes in and collecting seashells, I agree. It truly is a soothing experience just like sweet sugar.
Day One was full of Intensive Training…After a lovely headshot session, welcome bags, delicious breakfast and mingling with new friends, we started our busy day.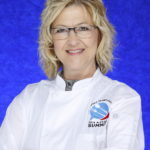 Some of my favorite parts of this day included an informative presentation from Kay Maghan, Public Relations Manager of Gulf Shore Orange Beach Tourism. Orange Beach offers a vacation for everyone, all year long.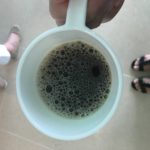 Wait for it!!!! A coffee break like no other. We were treated to a luxury cup of coffee by Chef Bryan David Scott. His coffee beans are hand picked, hand washed, hand roasted and are a 5-Star 100 Point Award Winning coffee.
Dr. Bill Walton, aka.."Dr Oyster" educated all of us on the new farming techniques that are being used for a consistent high quality, world class oyster. I had no idea what work and dedication went into producing the best oysters! Thank you farmers for your love of the job to bring us amazing oysters.
Did you know that Blowtorch cooking is a trending cooking style?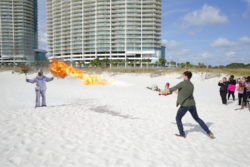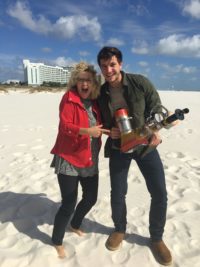 I have used my torch for making Creme Brulee but never dinner. Part of our day was to head outside and experience a fun and crazy Hormel Chili BroTorch demo. These guys were crazy!!  Not only did they treat us to an entertaining time but they informed us that each blogger attending would be receiving our own torch from Hormel.
Once inside Hormel's special guest Chef Eric Harland and the WFC staff member Suzanne Clark presented a cooking demo using a blowtorch to make a tropical pineapple chili boat. So fun and entertaining too!!
A big delight and highly anticipated event was the segment with UK's professional photography, Michael Sewell with Michael Sewell Photography.  We underwent a lesson of food styling and photography lessons on lighting, angles, colors, backgrounds and so much more. After Michael's presentation we put his lesson to the test with our Sandwich Tailgating time. We each made a fun tailgating sandwich with selected Saucy Mama products then we styled and photographed our sandwiches. Tasting was also mandatory or at least if you wanted too. 🙂
Ending day one but not the least was the food and fun that Chef Roc and Chef Sal brought from the great State of Hawaii as well as the many awesome vendors and winery, Wilson Creek Winery. The Coconut Nui Sparkling Wine was my favorite!!
Day Two was all about Seafood…you are so speaking my language!! Put a bunch of bloggers on a bus and what do you get, one crazy group of people headed to tours, food and drinks.
So Orange Beach had not had rain in some time, well we brought the rain. No stopping oyster lovers as we toured Murder Point Oyster Farm in Bayou la Batre. When you see this first hand, you will never question the cost of quality oysters again.
What can get better than tasting fresh oysters on site? Nothing!!!!! The small farm raised oysters had the perfect salty brine flavor. Rain, no problem, let's keep eating oysters.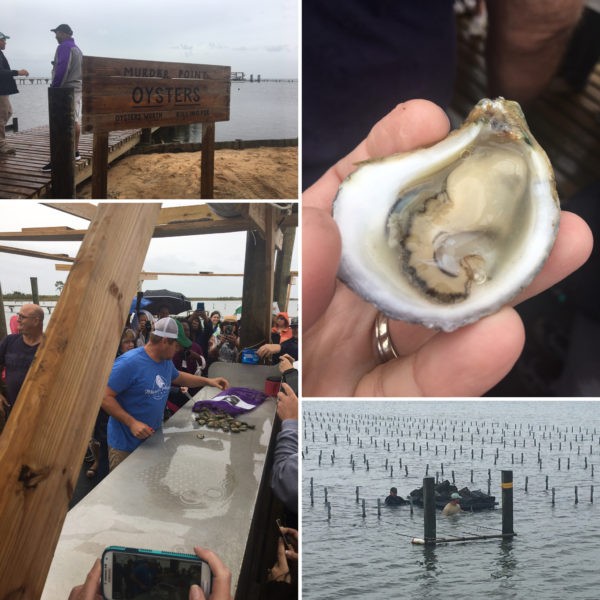 Back on the bus and we headed to Graham Shrimp Company. Again, I saw first hand the dedicated time and work it takes to bring us fresh shrimp.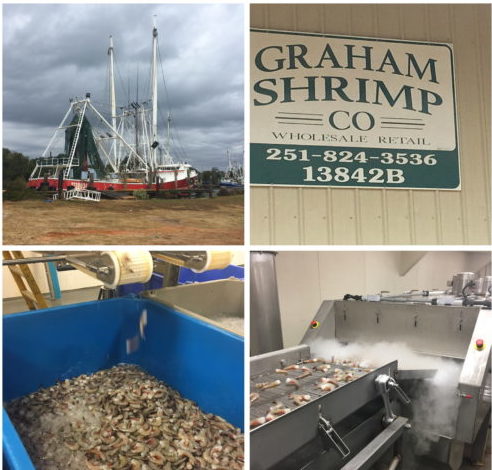 Watching the sorting and freezing process was amazing. To individually freeze shrimp only takes a short three minutes in liquid nitrogen at 90 degrees below.
Just down the road we toured Olympic Shellfish Company. A family and supplier for more than two decades of blue crabs in the US. I really appreciate the work that is needed most of which is hand labor, cleaning and picking.
All of this touring seafood production was followed by the best Alabama lunch EVER provided by Graham Shrimp Company and Member of Organized Seafood!! Shrimp boil, raw oysters, pickled blue crab claws and gumbo..I was in a food coma. Check out the layout of food and my plate! I think I ate my fair share! Don't you?? LOL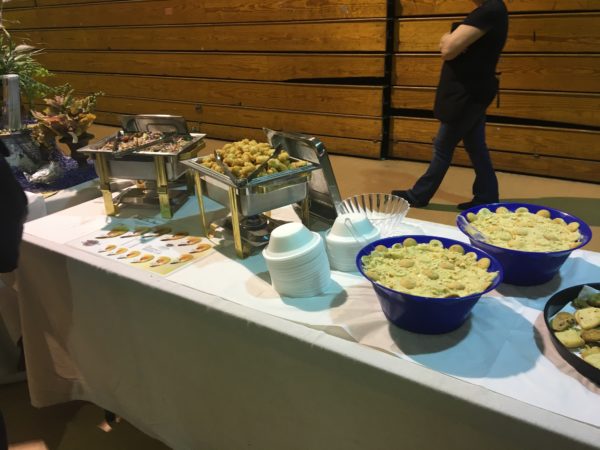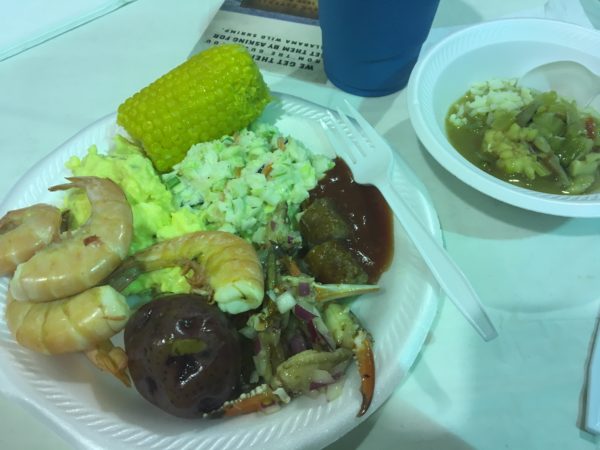 Oh but we weren't done yet. Off to LuLu's at Homeport Marina Restaurant. The owner, Lulu Buffett is sister to Jimmy Buffet. Lulu's Homeport Restaurant works in conjunction with Fish Trax Marketplace which allows customers to track their seafood first hand. Customers can learn who caught the seafood they are ordering and where it was caught. Pretty amazing to see such a unique system in place. Executive Chef Dylan Feenker wowed the group with fabulous seafood that I want to go back and eat right now. We used our phones to snap and click and see for ourselves where our seafood was sourced.
Day Three was Bringing It Together!! Granted we all had been together in the days before but this was about bringing it to a serious close.
We started the morning with a great eggy breakfast from Happy Eggs along with a fabulous presentation about what it means to be the Happiest Eggs and Chickens on earth.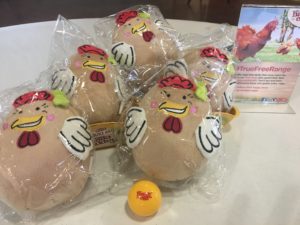 These girls are the "happiest chicks" alive. I learned so much about what is a true free range healthy environment for chickens.
Next we had the honor of listening to a panel of professional guests, Donna Benner (Swoon Talent), Suzanne Clark (Brand Ambassador and WFC Award Winning Competitor) and Darie O'Connor (Cohost Producer of TryThisDish Radio) to help take our blogs to the next level. Each women shared important pieces that save time and gain steps to grow!
Lastly we ended the conference with a judging class that was E.A.T. certificate worthy!! The course was taught by World Food Championship CEO/Owner of MMA Creative, Mike McCloud. Who better to teach the class than the man who started the World Food Championships!! This class was so informative for me as a food champ competitor. I learned things I wish I would have known years ago. Time to put this great info to work!!!




by