A call for a guacamole named after a musical artist. A recipe that was original and represented the artist. I present to you…It's 5 O'Guac Somewhere Guacamole.
Chef's Roll, a website dedicated to profiling chefs and professional cooks, held a contest called Guac and Roll. I decided to make a guacamole in honor of Jimmy Buffet and his Margaritaville restaurants.
A couple of years ago, my husband and I went on a cruise to the Western Caribbean. We decided to eat lunch at Margaritaville while in Grand Caymen. We ordered a bucket of chips with guacamole and two margaritas in their souvenir glasses.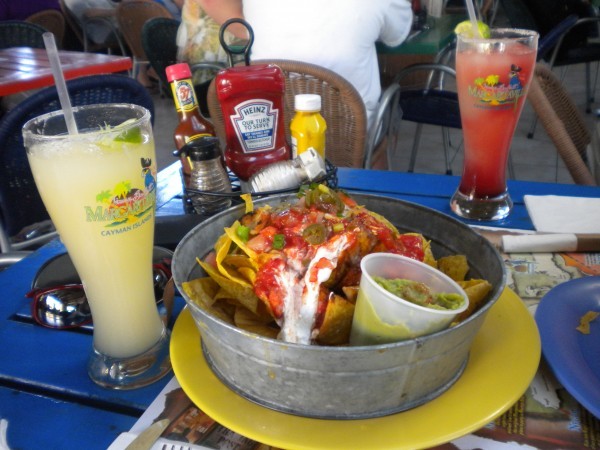 The waitress did warn us that the prices on the menu were not the exact price but there would be an additional charge which was the island prices. When we got the bill for the two drinks and bucket of chips we could only laugh and take our glasses as we paid our $72.00 bill. That was the most expensive appetizer and drinks we have ever had.
Making food at home usually less expensive. Make up a fresh guacamole to serve with chips or your favorite grilled dinner fixings.
It's 5 O'Guac Somewhere Guacamole
• 1 small roma tomato, deseeded, finely chopped
• 3 Tbs. finely minced white onion
• 2 small garlic cloves
• 2 serrano chilies, finely chopped (remove membranes and seeds to reduce heat)
• Zest of one lime
• 2 Tbs. fresh lime juice
• 3 tablespoons tequila
• 1 tsp. sea salt, plus more as needed
• 3 small avocados
• 3 Tbs. finely minced fresh cilantro
• Garnish with a lime slice, a pinch of margarita salt and cilantro sprig
• Serve with grilled shrimp, sirloin, sliced colored bell peppers, fresh thinly sliced radish and warm corn tortillas
• Other condiments to serve; red salsa, shredded purple cabbage or sour cream
Put the garlic into the molcajete or small bowl and press with the pestle or fork until well mashed. Add tomato, onion, chilies, lime zest, lime juice and salt in a molcajete or small and continue to mash until a coarse paste. Clean the avocados and add the flesh into the tomato mixture, mash while leaving some chunks. Add the tequila, cilantro and stir until combined. Taste and adjust the seasonings with salt.




by