Arancini Cornbread Italian Casserole #NationalCornbreadFestival
An original recipe, featuring  Martha White's cornbread mix was the challenge for the 2017 National Cornbread Festival. It also had to be prepared in a Lodge cast iron pan. I could not stop thinking about an Italian flavored casserole with a pesto cheese filling and crispy cornbread style topping. I have multiple sizes and styles of Lodge's cast iron products. Their smaller oval shaped pan is one of my favorites for making a small batch of cornbread or side dishes.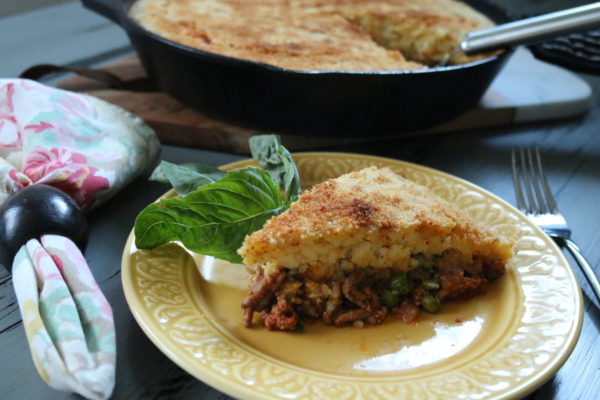 My recipe was not chosen as a finalist but my family got to enjoy a tasty dinner. My adult kids came to taste test. The best comment that they shared was that it tasted just like that perfect bite were you pile spaghetti on top of your garlic bread. You know that bite, complete!!!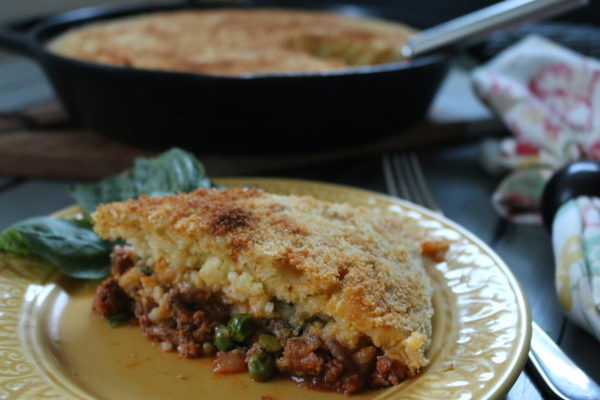 My inspiration for this Arancini Cornbread Italian Casserole came from arancini rice balls. Most arancini's are made of leftover arborio rice blended with cheese then rolled in a breading and deep fried.  This casserole has slow cooked arborio rice with parmesan cheese that  is blended with Martha White's cornbread mix then spread over an Italian flavored meat base and cheese tossed with pesto in a cast iron pan. The dish is baked to meld all of the layers together and create a crispy top!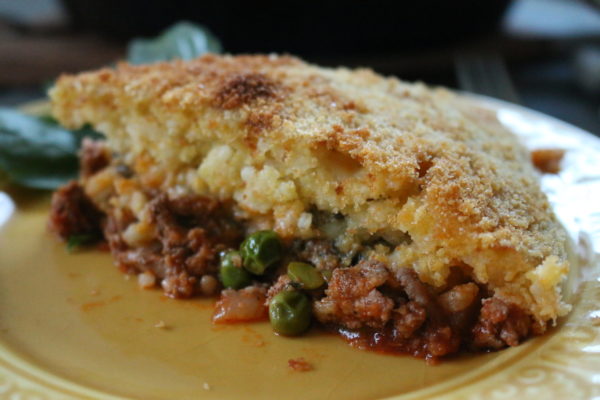 Arancini Cornbread Italian Casserole #NationalCornbreadFestival
This Italian casserole was inspired by arancini rice balls. A layer of meat and sauce are topped with a pesto cheese layer then covered with a creamy arborio rice and cornbread mixture. Baked until all of the layers blend together and the ground panko crumbs become golden and crispy.
Ingredients
1 pound lean ground beef
½ pound ground pork
1 cup chopped onions
1 tablespoon oil
½ cup green peas, frozen
1 ½ cup marinara sauce
2 cups shredded mozzarella cheese
¼ cup jarred pesto
1 cup arborio rice
3 cups chicken stock, low sodium
1¼ teaspoon kosher salt, divided
½ cup grated parmesan cheese
2 tablespoons unsalted butter
1 cup milk
2 eggs
1-7 ounce package Martha White Sweet Yellow Cornbread mix
2/3 cup lightly ground panko crumbs
Cooking spray
Instructions
Preheat oven to 350 degrees
In a bowl, toss the shredded mozzarella cheese with the pesto and set aside.
In another bowl, whisk together the eggs and milk and set aside.
In a 12 inch Lodge Cast Iron skillet, heat the oil, add the onions and sauté for several minutes. Add in the ground beef, pork and 1 teaspoon kosher salt. Cook until there no longer is any pink in the meat. Drain excess liquid if needed and return to the cast iron skillet and stir in the marinara sauce.
Spread the cheese/pesto mixture over the browned meat in the skillet.
In a large pot bring the chicken stock to a boil, then add ¼ teaspoon kosher salt and the arborio rice. Reduce to a simmer and cook for 20 minutes or until the rice is tender and most of all of the liquid is absorbed. Stir in the unsalted butter and parmesan cheese until blended. Add in the Martha White Cornbread mix and the milk/egg mixture. Combine until all of the cornbread mix is incorporated in to the rice mixture.
Pour the cornbread/rice mixture over the meat and cheese. Spread it evenly to cover the entire surface. Evenly sprinkle the ground panko crumbs over the cornbread/rice mixture and spray the panko with cooking spray.
Bake 25-30 minutes or until a knife comes out clean from the center. If the top of the crust has not turned golden brown, turn the oven to broil-high and allow the casserole to heat underneath. Watch carefully and turn the cast iron skillet as needed to brown all areas.




by