Beer Blue Cheese Sideline Au Gratin with Crispy Buffalo Crust…a creamy cheesy potato side dish that your family and friends will scoop big, scrape clean and beg for more!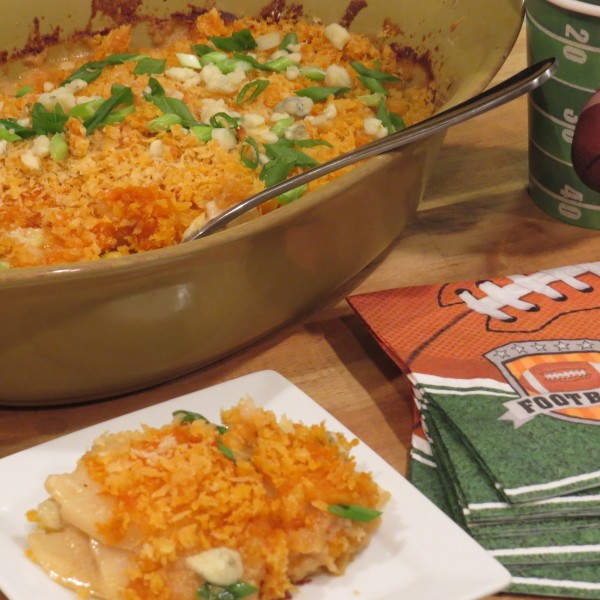 Late last year, the Idaho Potato Commission ran a Tailgating Recipe Contest. The rules stated that the recipe needed to be creative, simple and fit well into a tailgate. What works better than food with spice, cheese and beer!!
One of my favorite spicy flavors that reminds me of snacks for football parties is hot sauce, especially Buffalo flavored hot sauces! So my first thought for this potato tailgating recipe had to include hot sauce.
Prior to entering this contest, I had won a finalist position in the Chevron Game Day Chef Challenge. I made a cheesy hashbrown appetizer cup for tailgating called Brew and Blue Tator Cups with Hot Diggity Dog Wraps. I used blue cheese and beer for that potato dish as well then topped each cup with a bacon wrapped piece of hotdog that was glazed in a jelly sriracha sauce. So keeping with the same cheese and beer idea, I created a new potato dish, Beer Blue Cheese Sideline Au Gratin with Crispy Buffalo Crust!
Beer Blue Cheese Sideline Au Gratin with Crispy Buffalo Crust
The perfect creamy cheesy Au Gratin potato sideliner for your next tailgating event.
Ingredients
4 tablespoons unsalted butter, divided
1/3 cup onion, minced
1/4 teaspoon kosher salt
1/8 teaspoon black pepper
1 tablespoon flour
1/2 cup beer, room temperature (a mild lager works well)
1/2 cup milk
2 1/2 ounces blue cheese crumbles, (1/2 ounce set aside for garnish)
3 cups Idaho® potatoes, peeled and thinly sliced into rounds
1/2 cup shredded pepper jack cheese
1 cup panko crumbs
1/4 scup hot wing sauce, plus 1 additional tablespoon
2 green onions, chopped
Instructions
Preheat oven to 350° F.
Prepare a casserole dish with non-stick spray.
In a large Dutch oven, over medium heat, melt 2 tablespoons of unsalted butter. Add onion, salt and black pepper and sauté for several minutes until the onions are soft and translucent.
Sprinkle in the flour and stir until well-blended. Cook flour mixture for another minute. Slowly pour in the beer while whisking to blend. Simmer for a couple minutes until the beer mixture begins to thicken. Pour in the milk and continue to stir.
Add 2 ounces of blue cheese crumbles and blend until the cheese is melted and incorporated. (It's fine if a few blue cheese crumbs do not melt all the way.) Remove from heat and stir in the sliced potatoes. Toss the potato slices until completely covered in the cheese sauce.
Arrange half of the cheesy potato slices in the casserole dish, layer on the pepper jack cheese and then finish arranging the remaining potato slices. Cover with foil and bake for 50 minutes. While the potatoes are baking, prepare the panko topping.
Melt 2 tablespoons of unsalted butter and mix with 1 tablespoon of hot wing sauce. In a bowl, drizzle butter and sauce mixture over the panko and toss to coat.
Remove potatoes from the oven, uncover, and top with 1/4 cup hot wing sauce and then sprinkle the panko topping over the potatoes and return to the oven for another 20 minutes uncovered.
Garnish with the chopped green onions and the remaining 1/2 ounce of blue cheese crumbles, if desired.




by