Black Forest Rumaki Chicken Burger, a burger that is a bit retro and a bit new!!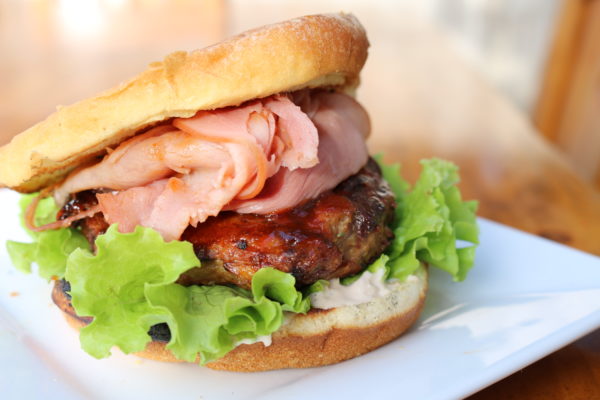 For years, Sutter Home Family Vineyards has put on a whopper of a burger contest. Not that kind of Whopper but a big cash paying whopper!! The top Grand Prize winner takes home $25,000.00 and the other 4 finalists take home $1000.00 each. Not bad for a burger!
Your entries must contain a grilled patty of either ground beef or other ground alternative foods. The patty must be served on a bun, other bread products or alternative wraps. Lots of condiments and toppings are allowed but they just need to be on the burger and not on the side. Got that???
So what are the qualified independent judges who are picked by Sutter Home looking for??
Perceived Taste Appeal (40%) Does the recipe sound appealing?
Creativity (25%) Is this recipe creative and one of a kind?
Ease of Preparation (25%) Could anyone create this burger by following the recipe?
Perceived Wine Pairing (10%) Does the wine complement and enhance the burger?
My mind starts thinking about taste, creativity and ease of preparation. The wine pairing comes along side after I decide on my ingredient list lineup. My chicken burger deserved to be paired with a white wine or at least that is what I thought. 🙂
Rumaki…you say, "What is that?" Well let me tell you, chicken livers with a piece of waterchestnut, wrapped in bacon, skewered and marinated in a ginger, brown sugar and soy sauce mix. Broiled until the bacon is crisp is the key and served hot! I will take one right now please!
In my younger years, LOL, I don't even feel old enough to be saying that but I am. My parents had many dinner parties and appetizer trays were always a must. Rumaki was one of those appetizers. If I would have tried to make this for my kids when they were young, I am not sure if they would have enjoyed them. Here we are years later, kids all grown up and their taste buds are ready to try new things. An updated sauce and black forest ham instead of bacon was my new twist. I made a test run of the burgers for one of my daughters open house. Grand reviews and an empty plate to take home. Score!!
My recipe is entered, time goes by, the judges work on their decisions and the final winners are announced. An Indonesian Satay Burger was the Grand Prize winner by Sarah Broomer. Congratulations to her for an amazing creation!! Check out their website for the other finalists, all are great entries!!
My Black Forest Rumaki Chicken Burger did not make the winners list but it has at my household. Anytime the family asks you to make one of your recipe creations over and over, that is a winner in my book.
Black Forest Rumaki Chicken Burger
This flavorful Polynesian style chicken burger will be a memory throw back to the older generation. Rumaki was an appetizer that was popular in the 50's and 60's. Today, the newer generation will appreciate the protein power pack this burger offers with the added chicken livers. When your family asks to you make it over and over again, they have no worries about chicken livers!!
Ingredients
8 oz can slice water chestnuts drained and finely chopped and divided
1 pound ground chicken
½ pound finely chopped raw chicken livers, cleaned and trimmed
½ cup garlic herb bread crumbs
1 egg
Salt and pepper
Sheet of parchment paper
¼ cup ketchup
¼ cup brown sugar
2 dash Worcestershire
2 T sriracha sauce
3 T soy sauce, divided
½ cup mayo
1 tsp ginger paste
1 tsp garlic paste
6 ounces thinly slice black forest ham
Piece of foil
12 green lettuce leaves
6 potato hamburger buns
Instructions
Make burgers by mixing ground chicken, chicken livers, ½ cup finely chopped water chestnuts, 1 tablespoon soy sauce, bread crumbs and egg. Form into 6 burgers and season each side with salt and pepper. Set on parchment paper and set in the freezer.
Make the Rumaki Glaze by combining ketchup, brown sugar, Worcestershire sauce, sriracha sauce and 1 tablespoon soy sauce. Mix and set aside.
Make the Garlic Ginger Aioli Sauce by combining ½ cup mayonnaise, 1 teaspoon ginger paste, 1 teaspoon garlic paste, 1 tablespoon soy sauce and the remaining finely chopped water chestnuts.
In a large piece of foil, arrange the black forest ham and brush with the Rumaki Glaze. Fold close and place on grill while cooking the burgers.
Heat grill to medium heat. Brush both side of the burger with the Rumaki sauce and grill until heated through to 165 degrees and no longer pick. (Turn the burgers over after several minutes and brush on more glaze.) Cooking time will be approximately 5 minutes each side. Remove the burgers and cover to keep warm. Turn the grill to medium and toast the potato buns over the grill until golden brown.
To assemble burgers, spread the bottom of each bun with the Garlic Ginger Aioli Sauce, top with leaf lettuce, chicken patty and sliced black forest ham. Cover with the top bun and enjoy!




by