Healthy Solutions 2015 Bloggers Recipe Challenge
Update 5/1/15 Congratulations to the Healthy Solutions Blogger winning recipe; GREEK STYLE BAKED TURKEY TAQUITOS WITH TZATZIKI DRIZZLE by Lauren Wyler of Fleur De-Lectable. A wonderful twist of flavors!!
My Cajun Kicked Cioppino recipe submission!
As a newer food blogger, I am honored to qualify for a bloggers contest. Earlier this March I received a notification over Twitter from Healthy Solutions Spice Blends @SpiceBlendss to check out their bloggers recipe challenge. I read over the details and agreement of the challenge, looked over the product and it's company and decided to submit the form to see if they would accept my website for the challenge.
A short time later I received an email with the great news!! Wonderful to find that this company takes "healthy" very seriously. They do not add salt or sugar to their spices, no MSG, fillers or preservatives. Most spices on the shelves of the store are loaded with salt and sugar. I would rather be the one adding the salt and sugar to my recipes if they need them at all.
Part of the challenge is to choose one of their spice packets. They have a great selection for meat, poultry and seafood. I noticed that the closest store for me to buy them from is Whole Foods. Thankfully they have an online store because the drive to Whole Foods is a bit far. So, I looked over the selection and chose Healthy Solutions Cajun Seafood Blend. I know, I am a seafood junkie. I never realized how much I like seafood until I started to post my recipes. I promise to work at expanding my proteins for those of you who are not as crazy about seafood as me. But you need to understand, I live on the west coast where seafood is always available. I feel privileged to be able to buy fresh steamers and mussels when a lot of the country buys them frozen.
I think it took me about 2 minutes to decide what recipe I wanted to create with the Cajun Seafood packet. I just needed to wait for the packet to come in the mail so I could actual cook with it.
When I go to the Oregon beach, one of my favorite dishes to order is Cioppino. My last visit was in August when we took my sister and her family who were here from North Dakota for my daughter's wedding.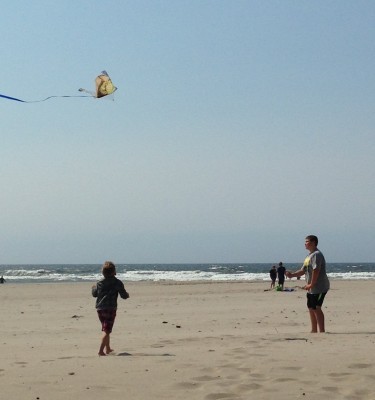 It had been a long time since they were there and their youngest son had never seen the Pacific Ocean. Always a great day with sand, kites and kids.
Did you know that Cioppino is not an Italian dish but rather a dish originate in San Francisco? I didn't. Years ago fisherman came back from the waters with their catch. According to Wikipedia it is " traditionally made from the catch of the day, which in San Francisco is typically a combination of Dungeness crab, clams, shrimp, scallops, squid, mussels, and fish all sourced from the Pacific Ocean. The seafood is then combined with fresh tomatoes in a wine sauce, and served with toasted bread, either local sourdough or French bread. " Thanks Wikipedia for your endless information.
Dungeness crab, the best crab around. Also the hardest to find right now and the most expensive it has been in many years due to the terrible season they had this year. Even my fish monger didn't have any. 🙁 So I opted for Snow crab instead. The fresh steamers and mussels were bountiful and rather decently priced. My fish monger only had squid tubes and tentacles that were already cleaned and frozen. No problem there, I am not much into cleaning squid. I also chose large prawns and cod to add to the stew.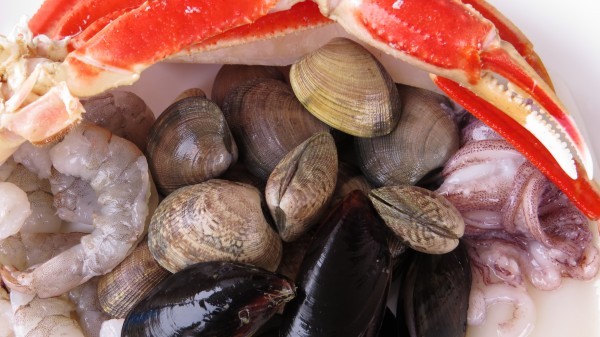 Most Cioppino that I have eaten is not spicy but rather heavy in tomato, herbs and wine. Not a bad thing, but this is a contest and I chose Cajun Seafood spice so spicy it is. I also decided to add a touch of New Orleans by adding chopped okra and for a little extra something, I added chorizo crumbles on the top.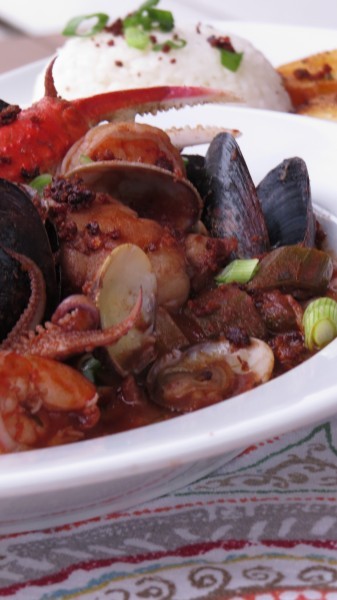 I know when my food has hit the spot with my husband, He loves spicy food but not so hot that it knocks his socks off. But when he makes that Mmmmm sound and he asks for a napkin to wipe his forehead (and his mouth too but mainly his forehead) I know I have got it right.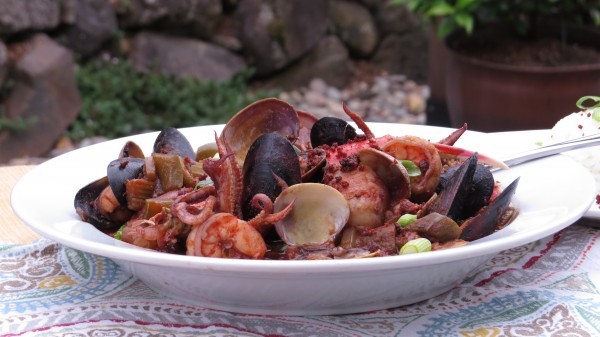 Cajun Kicked Cioppino-Healthy Solutions Spice Blends Recipe Entry
A classic San Francisco seafood stew with a kick of Cajun spice. A great combination of West and East coast favorites. Serve with a side of rice and toasted garlic bread for sopping up that sauce.
Ingredients
Seafood
2 pounds halibut, cod, or other firm white fish, cut into 1 ½ inch pieces
1 large (approx 2 lbs) cooked Dungeness crab, in the shell or Snow crab
1 pound squid tubes and tentacles, thawed if purchased frozen
1 pound large shrimp, thawed, peeled and deveined
2 pounds steamer clams and/or mussels (mussels need to be scrubbed clean and beards removed right before steaming)
Tomato Wine Sauce
4 tablespoons butter
1 1/2 cups chopped onion
1 cup chopped green bell pepper
1 cup chopped celery
3 cloves garlic, minced
1 tablespoon plus 2 teaspoons Healthy Solutions Cajun Seafood Spice Blend
1 28-ounce can whole tomatoes, cut with a kitchen scissors
2 cups broth from the steamers and mussels after steaming them
1 cup red wine
2 cups tomato juice
3 cups fish stock or seafood stock or clam juice or a combination
3 bay leaves
1 tablespoon dried basil
2 cups frozen chopped okra
1 teaspoon salt
½ teaspoon pepper
1/2 cup fresh basil, chopped
Garnish
9 ounce tube of uncooked Chorizo, browned and crumbled
½ cup chopped green onions
Sliced fresh lemons
Instructions
In a skillet, brown chorizo until it is fully cooked and develops a deep caramelized color and is broke up into crumbles, set aside in a bowl for garnish later.
Prep your seafood by removing the crab legs from the body and crack each one slightly; this will allow the sauce to reach the crab meat. Save the cleaned body as well for the stew pot. Cut the squid bodies into ½ inch rings. Cut any tentacle that is very large in half. Cut fish into 1 ½ inch pieces and set aside.
In a large Dutch oven, sauté the onions, celery and bell pepper in the butter for 5-8 minutes or until soft and translucent. Add the minced garlic and Healthy Solutions Cajun Seafood spice. Mix and continue to sauté to let the garlic soften but not darken.
Add the canned tomatoes that have been cut up slightly, tomato juice, red wine, 3 cups of fish stock (or other stock of your choice), bay leaves, dried basil, okra, salt and pepper. Allow to slowly simmer uncovered for 20 minutes to combine flavors.
Bring 2 cups of water to boil in another large pot with a steamer basket. Add steamers and mussels and cook for several minutes. When they open up, they are done. Set the steamers and mussels aside and add the cooking broth to the tomato sauce in the Dutch oven. Continue to simmer the sauce.
Add all of the crab and fish to the sauce. Allow to cook for several minutes. Be careful to not overcook and over-stir or the fish will start to fall apart. Stir in the fresh basil along with all of the steamers, mussels, squid and shrimp. Cover and allow to cook about another 3 minutes. Remove bay leaves!
Serve stew in bowls filled with the seafood still in the shells. Garnish each with crumbled chorizo and green onions. Provide lemon slices, empty bowls for cleaned shells and lots of napkins!!
Notes
I used Mexican chorizo for my spice crumbles on the top. I liked how fine it cooked up for crumbles. You could use an andouille sausage finely minced over the top as well.




by