Oh what happens in ones mind when you read about the prize for a recipe contest that pays:
$5,000.00
Roundtrip coach airfare for two (2) people to/from New York City
A two-night stay at the Waldorf Astoria New York in a deluxe guest room (blackout dates will apply)
Sunday brunch for two (2) at the Waldorf Astoria's Sunday Brunch at Peacock Alley, up to a maximum of $275.00 (blackout dates will apply)
One (1) spa treatment, up to a maximum of $300 at the Waldorf Astoria's Guerlain Spa
Winning Waldorf Salad recipe to be featured on the Waldorf Astoria's Sunday Brunch menu at Peacock Alley during the month of September 2015
I have never been to New York and long to go. The goal is to use California Walnuts, celery and apples. From there it is open to adding more ingredients to make a refreshed Waldorf Salad. Here is my take on a spicy cold shrimp cocktail that is blended with crispy celery, apples, candied chipotle walnuts and creamy avocado.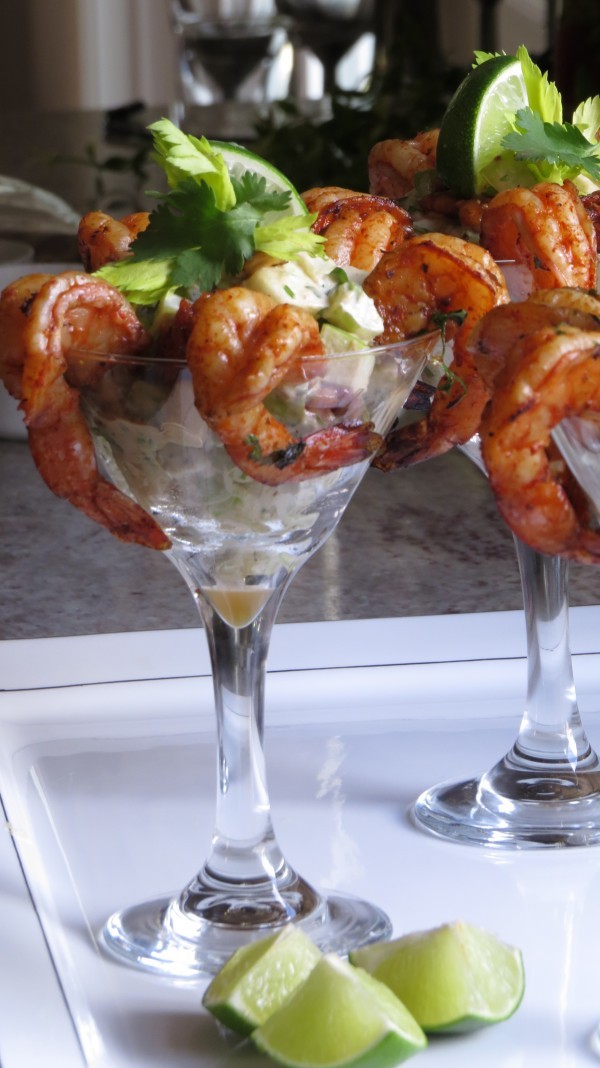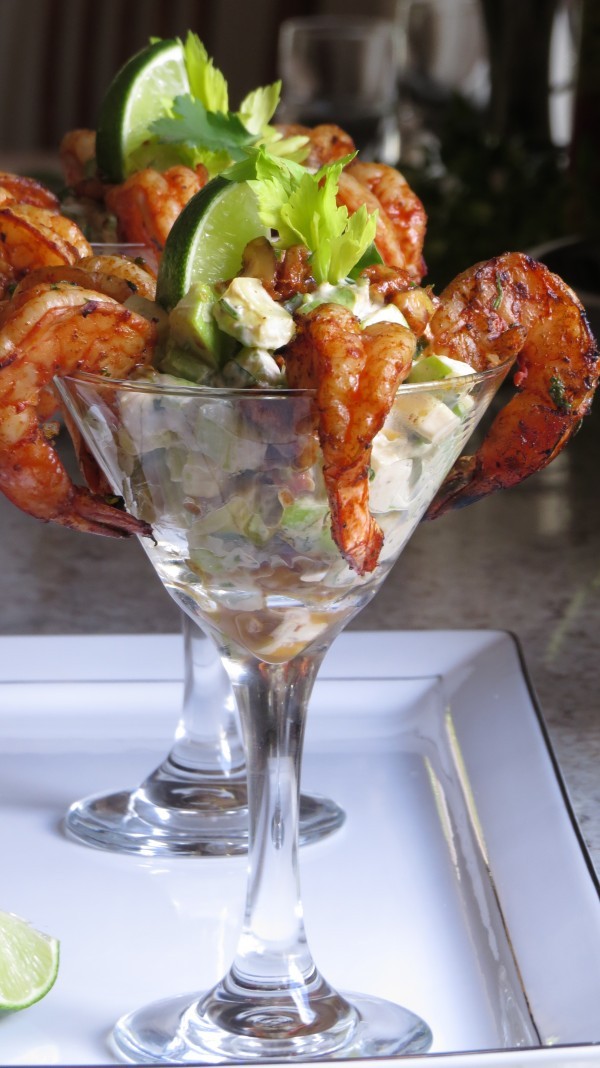 Chipotle Waldorf Shrimp Cocktail
Serves 4
Candied Chipotle Walnuts:
¾ cup sugar
½ cup water
8 oz California walnuts halves
1 tsp chipotle powder
Dash of cinnamon
Spicy Prawns:
20 prawns, 16-20 count, extra large, peeled, deveined with tails on
3 tablespoon butter, melted
¼ tsp salt
1 tablespoon chipotle pepper with adobo, finely minced
Juice of ½ lime
1 tsp smoked paprika
1 tablespoon olive oil
¼ cup chopped cilantro
Waldorf Salad
4 teaspoons mince jalapeno, stem and seeds removed
1 ¼ cup celery, diced
¼ cup mayonnaise
¼ cup Mexican crema
1 avocado, diced
1 granny smith apple, cored, diced with peel on
1 tablespoon creamy horseradish sauce
2 teaspoons chipotle peppers with adobo sauce, finely minced
Juice of ½ lime
1/4 teaspoon of salt
¼ teaspoon black pepper
Garnish:
4 Sprigs of cilantro
4 wedges of lime
Sprinkle of coarse sea salt to finish
Heat the oven to 350 degrees.
Marinate the shrimp: In a small bowl blend together the melted butter, ¼ teaspoon of salt, 1 tablespoon minced chipotle in adobo, juice from ½ lime, ¼ cup chopped cilantro, smoked paprika and olive oil. Add the cleaned prawns to the marinade and mix until well coated. Refrigerate for 20-30 minutes.
Make the candied walnuts: Bring sugar, water, chipotle powder and dash of cinnamon to a boil. Add walnuts and boil for 10 minutes. Pour nuts onto a baking sheet that has been lined with parchment paper. Bake for 10 minutes or until the walnuts are dry and crispy but not dark. Allow to cool, lightly chop to break into smaller pieces then set aside.
Grill the shrimp on an indoor grill or outdoor BBQ grill over medium high heat for 2 minutes each side or until they are no longer opaque. Remove from heat and allow to cool. Chill in the refrigerator is not serving right away.
Mix together mayonnaise, crema, juice from ½ lime, creamy horseradish sauce, 2 teaspoons minced chipotle in adobo, 1/4 teaspoon salt and ¼ teaspoon black pepper to make the dressing for the cocktail salad.
Toss together the diced apple, avocado, celery and 1 cup of the chopped candied chipotle walnuts. Pour the dressing over the top and gentle toss until well coated. Divide the salad into 4 stemmed glasses or bowls. Arrange 5 shrimp around each rim of the glasses or bowls. Add the sprig of cilantro and lime to each serving and sprinkle with the coarse sea salt. Serve immediately!!
Note: there may be a few candied walnuts left, only if they have not been snacked on!!! If any remain they can be served in a small dish alongside the cocktails.




by