A pesto worth making and a shrimp worth serving. I made these cilantro-lime pesto shrimp over a year ago for my co-workers. It was a huge hit. You can be certain that they liked it when they ask for the recipe and later tell you they made it at home. This past month I made these yummy shrimp for my daughter's wedding. We decided to serve appetizers and desserts along with the wedding cake. It was an evening wedding on a hot August day so I decided to serve the shrimp cold. All I can say is there were none left and all I heard was how great the shrimp were. I love that!!
I made this pesto with pine nuts. I know they are more expensive but they are so worth the price. I decided to toast them to give a little more flavor.
I prepared the pesto days in advance to making them for the wedding. After I finished the pesto I drizzled extra virgin olive oil over the top and refrigerated it until I was ready to cook the shrimp.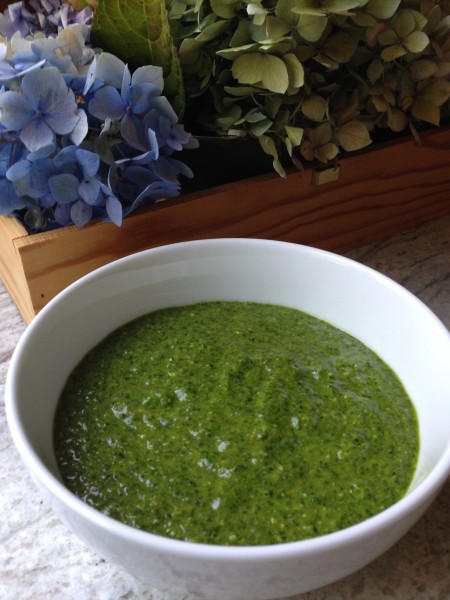 Once the shrimp are thawed and cleaned, it is time to toss the shrimp in pesto. I use just enough pesto to coat the shrimp but not drowned them. I let the shrimp marinate for 20-30 minutes in the pesto. If you allow the shrimp to marinate to long the citric acid from the lime juice will begin to cook the shrimp.
My favorite way to cook the shrimp is in the oven. I have grilled them on the BBQ before and they turn out great but I love the ease of setting the timer for 8 minutes and knowing they are all done and come out perfect. I do not even need to turn them over halfway through. After we cooked nearly 300 shrimp, we skewed them while they were still warm and then stored them in the refrigerator until serving time. I hope you give these shrimp a try. They would be great served over Alfredo Pasta or a chilled salad!!
Cilantro-Lime Pesto Shrimp
The recipe for the pesto makes 1 cup. This will cover a lot of shrimp! Freeze the remaining pesto in small containers with a little bit of Extra Virgin Olive Oil over the top to stop discoloration of the pesto. These are great served hot or cold.
Ingredients
Shrimp, medium size, raw, thawed, deveined and shelled. Tail on is fine.
3 cups fresh cilantro
Juice of 1 small lime
2 tablespoons of toasted pine nuts
1 garlic clove
1/2 cup Extra Virgin Olive Oil
1/4 teaspoon ground cumin
1/4 teaspoon salt
1/8 teaspoon black pepper
Instructions
Blend all ingredients in food processor except EVOO until smooth, stream in EVOO slowly while processor runs.
Marinate shrimp in enough pesto to lightly cover. Allow to set for 20 minutes. Grill shrimp on each side for several minutes until no longer opaque or bake at 400 degrees for 8 minutes.




by