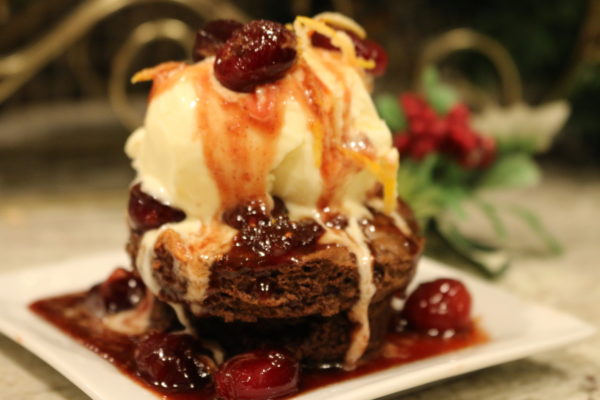 Cranberry Orange Foster Brownie Dessert, my second recipe entry I am submitting for the Cape Cod Select Premium Frozen Cranberry Holiday Blogger Challenge. This entry is for the baked category. Not only are there fresh frozen cranberries in the sauce but they are also tucked into the chocolate loaded brownies. Check out my first entry here, Holiday Turkey Party Pockets with Cranberry Chimichurri.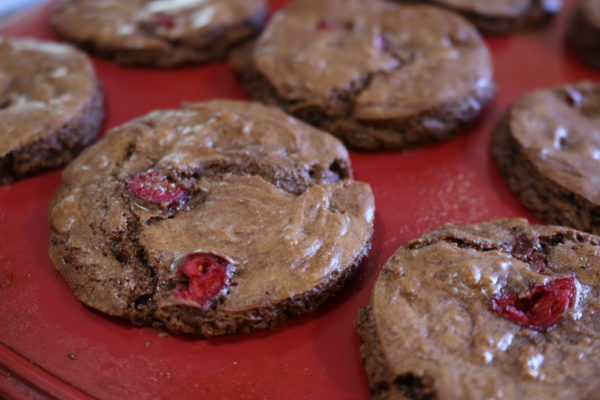 Fresh squeezed orange juice with the orange zest go so well with the Cape Cod Select Frozen Cranberries. To add a bit of extra orange, each brownie dessert is topped with candied orange zest.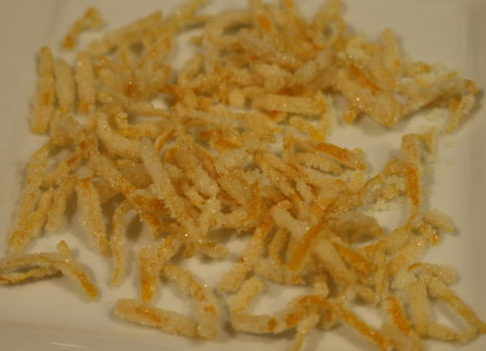 A Holiday Bloggers Challenge was offered to the first 75 qualifying bloggers by Cape Cod Select, a company that packages and sells premium quality cranberries that are both fresh and frozen as well as many other premium frozen cranberry/fruit combinations. The company has two basic goals; Provide the public with "Cranberries for All Seasons", and make them THE BEST quality on the market. Want to find them at a store near you? Cape Cod Select Premium Cranberries can be found in nearly 5000 stores nation wide. Click here to go to their store locator!!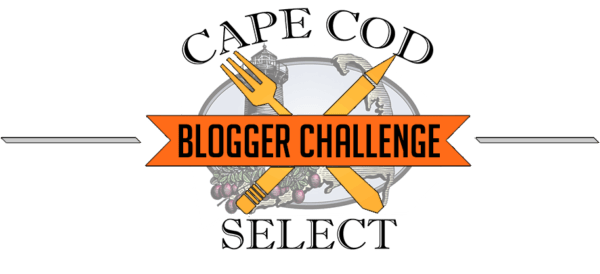 The prizes are great…CASH…I love cash. There are three categories that can be entered; beverage, entree and baking. Each one of these categories will have a $500.00 winner. Then, of those three winning recipes there will be one overall Grand Prize for $1000.00 so that means one person will take home $1500.00 in CASH.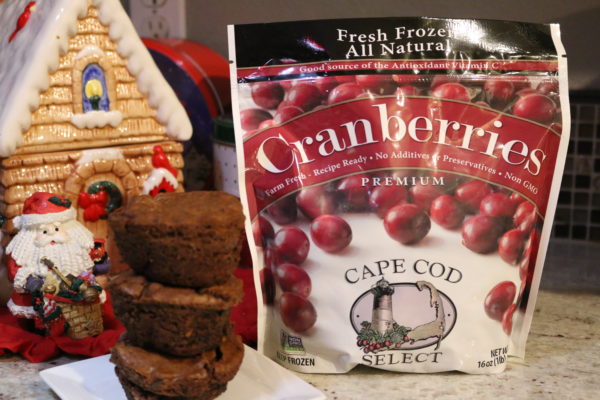 Cape Cod Select sent each blogger two bags of their Premium Frozen Cranberries which are the required ingredient. The product came neatly packed with ice packs and was perfectly frozen when it arrived. I opened the first bag to take a peek at the cranberries and I will say that these are some of the nicest frozen cranberries I have ever seen.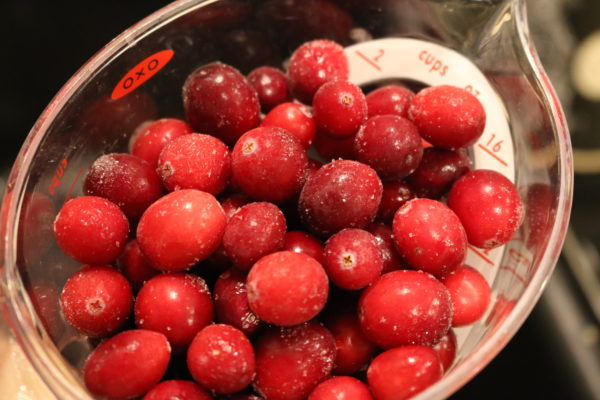 They are rich in color, and in size. Please note that these comments are my own opinion! As a competitive cook, I love to take challenges from companies, use their products and create something they would be proud to add to their recipe line-up.
As a food blogger, I am always happy to share where you can find these companies and how to get their products. Cape Cod Select (@CapeCodSelect) can be found on Facebook, their online website , Twitter, Pinterest and Instagram.
Once the Cranberry Orange Brownies are baked and cooled, it's time to start the sauce. My idea for this sauce is a play on Bananas Foster. The caramelized buttery brown sugar goodness is a the perfect carrier for the bursting cranberries and orange zest. A little splash of cranberry liqueur and aged rum at the end seal the deal.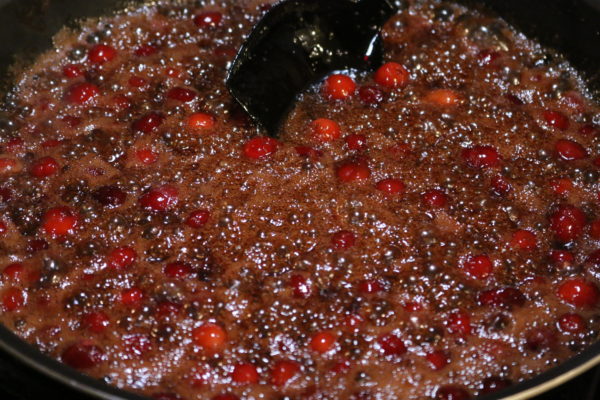 At first I assembled the Cranberry Orange Foster Brownie Dessert in glass cups. The dessert looked great but you could not see the decadent brownie at the bottom.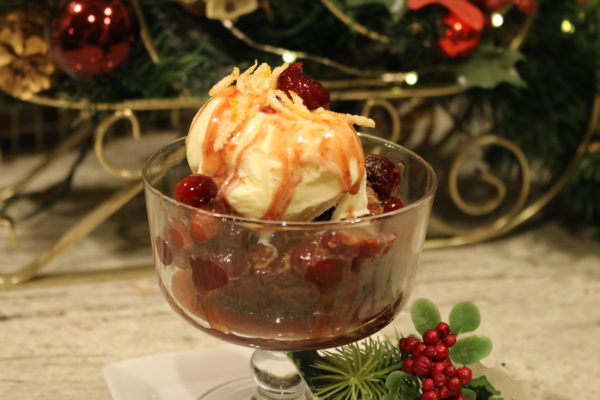 So did the remaining desserts on little plates! All piled high with vanilla ice cream and overflowing with cranberry orange sauce. A few pieces of candied orange zest on top to complement the cranberries.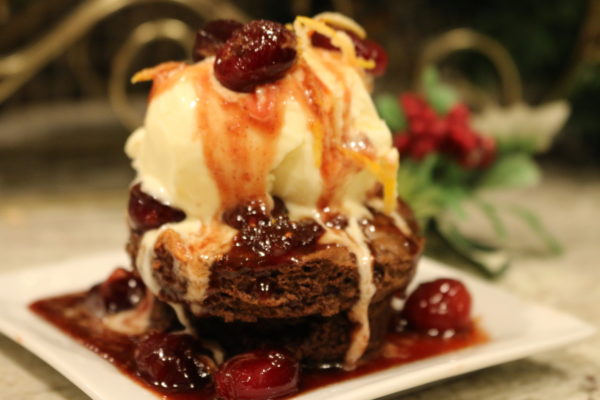 Another option for baking the brownies, is to pour the batter into a greased and floured pan, bake until set, cool and cut into small squares or circles. This will allow you to make the size of brownie that will work best for your family and friends. In fact the brownies without the cranberry sauce topping are so good you will want to make them over and over.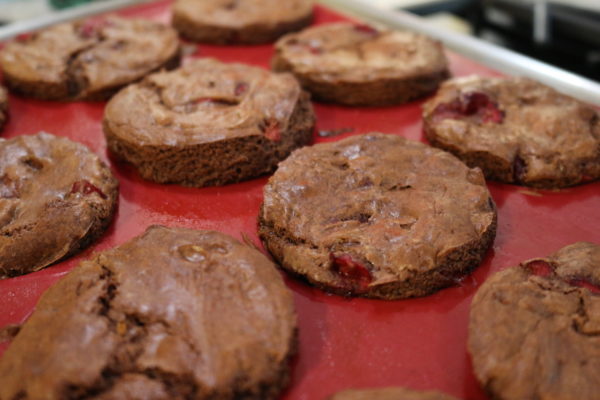 If you want to flambe the sauce like a traditional Bananas Foster before spooning over the ice cream, you will need to use a high proof rum like 151 Rum. I chose to use an aged rum that did not flame up. I just simmered the sauce to help cook off the alcohol before serving.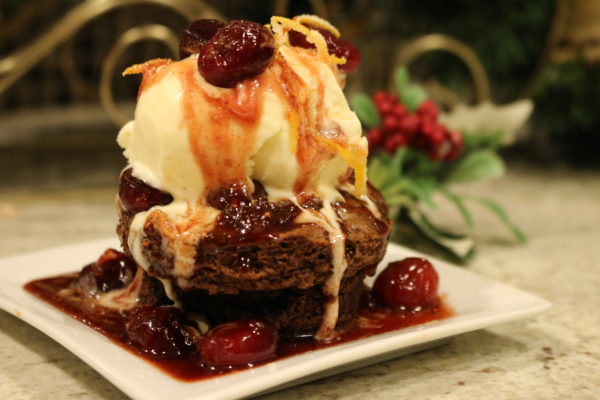 Cranberry Orange Foster Brownie Dessert #CapeCodSelect
When you can't decide if you want a decadent chocolate cranberry orange brownie or vanilla ice cream covered with caramelized cranberry orange rum sauce...you have both!!
Ingredients
Brownie Cups:
4 ounces unsweetened baking chocolate, squares
2/3 cup unsalted butter
1 cups granulated white sugar
1/2 cup brown sugar
2 eggs (whole)
1-1/4 cups all-purpose flour
1 teaspoon baking powder
2 teaspoons vanilla extract
1/2 teaspoon kosher salt
1 cup dark chocolate chips
1 cup Cape Cod Select Premium Frozen Cranberries
Zest of one orange
Cranberry Orange Foster topping:
3 cup Cape Cod Select Premium Frozen Cranberries
Zest of one orange, divided in half
2 tablespoons granulated sugar
½ stick unsalted butter
1 cup brown sugar
1 teaspoon ground cinnamon
1/8 teaspoon kosher salt
4 tablespoons cranberry liqueur (optional)
¼ cup fresh squeezed orange juice
¼ cup aged rum (151 rum if you want to flambé the sauce)
Instructions
Heat oven to 350 degrees, grease and flour a 12 cupcake pan.
In a bowl, mix together the flour, baking powder and salt, then set aside.
In a medium sized saucepan, melt the unsweetened chocolate and 2/3 cup of butter over medium heat. When melted, remove from the heat.
Whisk 1 cup of white granulated sugar and 1/2 cup of brown sugar into the melted chocolate/butter mixture.
Add the eggs, one at a time, whisking until smooth after each addition. Whisk in the vanilla.
Gently fold in the flour mixture, 1 cup of dark chocolate chips, 1 cup of frozen cranberries and orange zest from one orange until just blended.
Divide batter into the cupcake pan and bake for 30 minutes or until the top of the brownie feels firm.
Prepare the orange zest garnish by tossing half of the divided orange zest in the 2 tablespoons of granulated sugar. Remove the zest pieces and allow to set on a paper towel to dry.
When the brownies are baked and cooled and you are ready to serve the dessert begin the sauce in a large skillet. Melt the butter, cinnamon, salt and brown sugar over low heat until the sugar is dissolved. Add in the 3 cups of cranberries, orange juice and simmer until the cranberries begin to burst.
Stir in the cranberry liqueur and rum. Simmer for another minute if you want to remove the alcohol in the sauce.
Spoon the cranberry orange sauce over each brownie cup that has a scoop of vanilla ice cream on the top. Sprinkle each with the sugar coated orange zest and serve.
(To flambé the sauce, carefully add 151 rum instead of the aged rum, heat through and then gently tip the edge of the pan so the mixture comes to the rim and ignites into flames. Allow the flame to burn off, stir sauce and serve)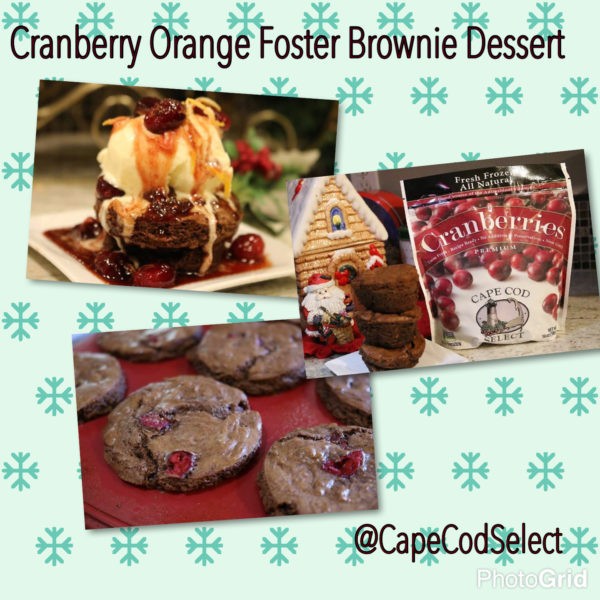 by