Do you stand in front of the refrigerator and wonder what to make for dinner? What a silly question. Yes, yes, yes and all the time yes!
The good thing is sometimes I see past the individual ingredients and  make a dish for dinner that everyone loves. We had been given two large bundles of asparagus. I did not have time to use them right away. They were still in great shape but the tips were slowly loosing their freshness.
The challenge is the heat outside. Today it is near 100 degrees so eating a hot meal and heating up the kitchen is not what I want to do. The compromise is a simmering pot on the stove top for a short time.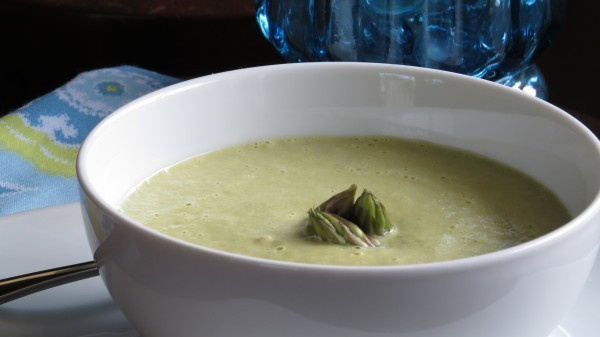 Over to the pantry and the spice cabinet. A can of coconut milk, not the light kind, chicken stock and curry powder that I have left over from Simon Majumdar's visit. Fresh onion, garlic and ginger are also hanging out. All into the pot, quick spin in the blender and that is a wrap.
Creamy Asparagus Curry Soup
Fresh asparagus cooked with spicy curry flavors and blended with creamy coconut milk. This soup is great served hot or cold.
Ingredients
1/2 onion, diced
3 garlic cloves, minced
1 1/2 pounds fresh asparagus, cut in large pieces (save back some of the tips for garnish)
1 cup low sodium chicken broth
1 inch fresh ginger root, peeled and chopped
1 14 ounce can full fat coconut milk
1 1/2 teaspoons curry powder
2 tablespoons olive oil
salt and pepper to taste (1/2 tsp-1 tsp salt and 1/4 tsp pepper)
Instructions
In a large pot, sauteed the onion in the olive oil for several minutes until tender.
Move the onions to one side of the pot and add the curry powder. Allow the powder to warm in the pot and begin to release its flavor. Stir the powder into the onions, add the garlic, ginger, salt and pepper.
Continue to saute for several more minutes to allow the garlic and ginger to soften.
Pour in the chicken broth and asparagus. Continue to simmer until the asparagus is tender. This will take 5-7 minutes.When the asparagus is tender, stir in the coconut milk and heat through.
Remove from the heat and transfer the mixture to a blender. Cover and blend slowly until smooth. Work carefully with the hot mixture.




by