Creamy Reuben Soup!! What a special honor and privilege it is to be asked to return to compete for my second year in "Soup for Your Supper" for Grace House's Fourth Annual Benefit Fundraiser.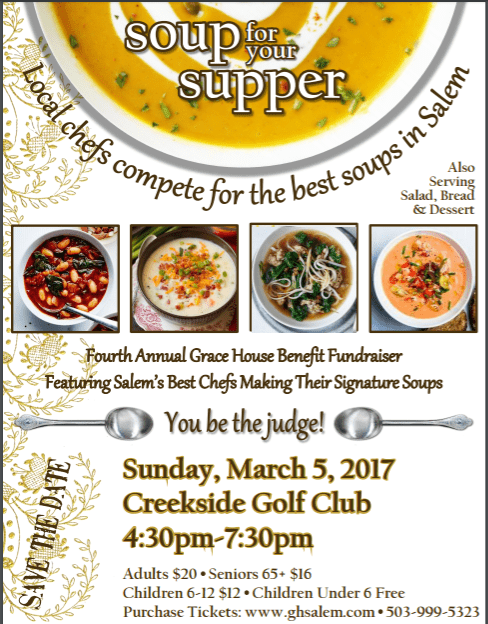 Last year and this year, I pondered over what soup I should make. There are 8 local chefs plus me (a lucky home cook) that will be serving our signature soups to 150 people. Each attendee will stroll around the room gathering small bowls of amazing soups. Some of the soups will be offered with toppings while others will stand on their own. As the guests collect the soups, they will be able to enjoy them with salad, bread and more. Last years winning soup, Lobster Bisque, was made by Chef David Curtin, Executive Chef of Creekside Golf Club.
This year I flashed back to my family roots, German style food. I grew up in North Dakota and we ate our fair share of sauerkraut. I will admit that many years went by before I started eating kraut after I moved to Oregon. I loved my Grandma Meschke's sauerkraut with cheese buttons or spaetzle and no one made it like hers.
Funny thing is I decided to make a soup based on a Reuben sandwich which is not German but rather has an American origin. It does however have yummy sauerkraut on it. In my creamy soup recipe you will find all of the components of a Reuben sandwich including the crispy dark rye croutons, chopped sweet pickles and a drizzle of Russian dressing over the top.
When making my homemade Russian dressing, I used an several of Saucy Mama's products. They are an Oregon family company that makes award winning mustards, dressings, marinades and wing and hot sauces. They ship orders from their online website. I promise you will love their product. FYI, I was not compensated to say that or use their product. I truly believe in their great products.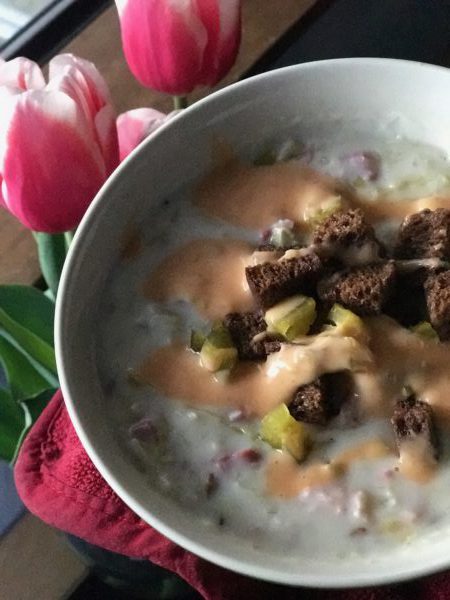 Creamy Reuben Soup #SoupforYourSupper
This creamy soup has all the great flavors of a Reuben Sandwich served in a bowl. For great crunch and flavor, serve the Garlic Dark Rye Croutons, chopped sweet pickles and a Russian dressing drizzled on top.
Ingredients
1/4 cup unsalted butter
1 cup celery, chopped small
1 cup onion, chopped small
2 teaspoon caraway seeds
1/2 teaspoon ground white pepper
3/4 cup flour
6 cups chicken broth or 6 cups of strained cooking water from corned beef
1-16 ounce bag of shredded cabbage (DO NOT get the kind with purple cabbage)
1-14.5 can sauerkraut, drained and rinsed (I use the kind that is preserved in only water and salt)
2 cups cooked corned beef, chopped or shredded *see notes below
1 tablespoon pickling spice (use this only if you are cooking your own piece of corned beef)
2 cups Swiss cheese, shredded (I used Emmentaler)
2 cups half and half
Additional salt to taste
Garlic Dark Rye Croutons
8 slices dark rye bread
1/2 cup unsalted butter
1/4 teaspoon kosher salt
1/4 teaspoon granulated garlic
Russian Dressing ingredients
1 tablespoon minced onion
1 cup mayonnaise
1/4 cup chili sauce (I used Saucy Mama Zesty Cocktail Sauce)
1 tablespoon creamy horseradish sauce (I used Saucy Mama brand)
1 teaspoon hot sauce (I used Saucy Mama Hot Wing Sauce)
1 teaspoon Worcestershire sauce
1/4 teaspoon sweet paprika
1 teaspoon kosher salt
Sweet pickles, small size, chopped
Instructions
Prepare the croutons; Heat oven to 225 degrees. Melt 1/2 cup unsalted butter, blend in the granulated garlic and kosher salt. Brush both sides of the rye bread, cut into cubes and arrange on a baking sheet. I line my sheet with parchment paper for easy clean up. Bake for 50 minutes or until crispy. The croutons will continue to harden after they are removed from the oven,
Prepare the dressing; Place all of the dressing ingredients into a blender and mix until all of the ingredients are well blended.
If you are not buying corned beef already cooked then prepare the corned beef in a large pot covered with water and a tablespoon of pickling spice. Cook until tender, Add more water if needed, remove corned beef and strain the broth. Reserve the broth and use in place of the chicken broth. Chop or shred the corned beef and set aside.
In a large dutch oven pot over medium high hear, saute the onion and celery in the 1/4 cup of unsalted butter, ground white pepper and caraway seeds. Saute for several minutes until the onion and celery are tender. Add in the flour and allow to cook for several minutes. The mixture will be thick.
Once the flour has had a chance to cook and blend in, add 2 cups of water and return to a simmer. Add the cabbage, sauerkraut and corned beef to the mixture and allow to simmer. Add the 6 cups of corned beef stock or chicken stock and return to a simmer. Salt to taste as needed.
Finally add the Swiss cheese and the half and half. Heat through until the cheese is melted but not to a boil. Serve the soup with the Garlic Dark Rye Croutons, chopped sweet pickles and a drizzle of the homemade Russian dressing.
Notes
I bought a 3 lb piece to make sure I had enough, some pieces cook down quite a bit or have a large fat cap that needs to be discarded after cooking.If you are cooking your own corned beef, I added a tablespoon of pickling spice for more flavor. The packets that come with the corned beef just don't cut it. After the corned beef has simmered for several hours and is tender/pull apart, strain the broth through paper towels or cheesecloth to produce a clean broth.




by