Curry Chicken Mandarin Orange Yakisoba Noodle Salad I finally decided and this is my recipe entry to JSL Foods Fortune Asian Noodle Blogger Recipe Challenge.
I started created recipes for this contest some time ago. I chose the companies Mandarin Orange Yakisoba Stir Fry Noodle packet. I also chose to compete in the cold noodle challenge.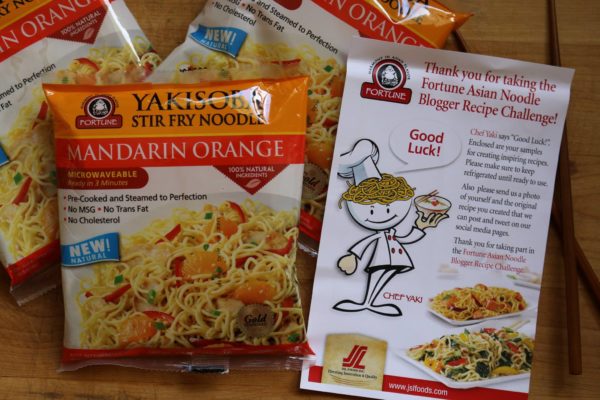 Once I received the complimentary noodle packets in the mail, I started my recipe creations. I couldn't resist starting with a family favorite, Vietnamese Shrimp Summer Rolls.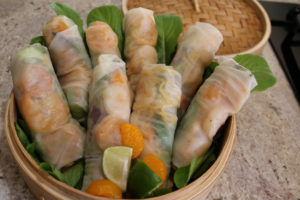 I infused the Yakisoba noodle packet into the shrimp roll. The rolls are so cute.
You can see the shrimp, noodles and mandarin oranges showing through. I made a dipping sauce with some of the seasoning packet. So good, I promise I will post this recipe too!! Next I steps up the gourmet style and went for a special cold noodle dish for two, Mandarin Orange Lobster Yakisoba Salad.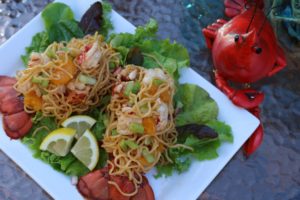 This cold salad is a blend of lightly poached lobster, Yakisoba noodles, mandarin oranges, chopped celery, green onions and a vinaigrette that is made with the seaoning packet. A gorgeous dish that is easy to make and can be served for an everyday meal or for a special occasion. You can only imagine how my kids are loving this recipe testing session, shrimp, lobster, and next crab meat. I will say that the next test dish does contain imitation crab chunks. This is not so much of a shock anymore because it is one of the most popular ingredients used in sushi rolls.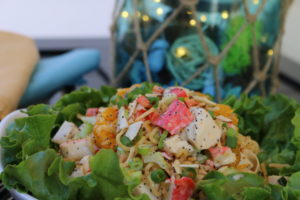 This salad, Mandarin Poppy Seed Crab Yakisoba Salad is so refreshing and would be great for serving at a brunch or any backyard party. The poppy seed dressing is mixed with the seasoning packet and then tossed with the Yakisoba noodles, mandarin oragnes, imitation crab chunks, celery, green onions and sliced almonds. Check back to get all three of these recipes soon.
You can find Fortune's ready to use noodle products in the produce isle at stores such as Fred Meyers, Safeway and local market places. I was so thrilled to find my local Roth's was carrying the Mandarin Orange Yakisoba Stir Fry Noodle packet. Not able to stop myself, I bought more packets and headed back home, called the family and said I was doing an Indian inspired noodle salad next. This is one great way to get your adult children to come see you, simple cook and they come. 🙂 Blending the noodles with the seasoned coconut cream, cauliflower, chicken, curry paste, crunchy nuts, sweet raisins and more, was the perfect move.
One last recipe, taste buds ready and the vote was in. The Curry Chicken Mandarin Orange Yakisoba Salad is the winner for us. I hope that JSL Foods thinks so too. I would love to see this cold noodle salad be their pick!!
Curry Chicken Mandarin Orange Yakisoba Noodle Salad
An Indian inspired cold chicken Yakisoba noodle salad that is blended with the flavorful seasonings from the Fortune noodle packet, smooth coconut cream, curry paste and a few more ingredients that are perfect in Indian dishes. Chill this salad to allow all of the wonderful spices come together.
Ingredients
7.7 oz package Fortune Mandarin Orange Yakisoba Stir Fry Noodles
1 cup canned coconut cream (full fat canned coconut milk can be used)
11 oz can mandarin oranges, drained
12 oz cubed chicken breasts meat, trimmed
1 tablespoon minced Serrano pepper, membrane and seeds removed
1 teaspoon salt
¼ teaspoon black pepper
1 tablespoon oil
1 teaspoon ginger paste
1 teaspoon garlic paste
3 tablespoons mild curry paste, concentrated
2 cups cauliflower, cut into small floweret's and blanched
2 tablespoons slivered almonds
3 tablespoons unsweetened coconut flakes
¾ cup green bell pepper, diced
3 tablespoons raisins
2 green onions, chopped
½ cup cilantro, chopped
Instructions
Bring a large pot of water to a boil to blanch the cauliflower and to warm the cut noodles. First blanch the cauliflower in the boiling water for 3 minutes, remove from the pot but do not discard the water, rinse the cauliflower with cold water and refrigerate. Next place the cut noodles in the hot water with the heat turned off for several minutes, strain from the water, cover with plastic wrap and set aside.
Remove the seasoning packet from the Fortune Mandarin Orange Yakisoba Stir Fry Noodle packet and blend it with the coconut cream in a small bowl and set aside.
Toast the slivered almonds and coconut flakes in a small skillet over medium heat until golden brown. Remove from the heat and add the raisins, take 1 tablespoon of the mix and set it aside for garnish.
Heat the oil in a large skillet over medium high heat. Add the minced Serrano pepper and sauté for a minute to soften. Add the cubed chicken breast and begin to cook. After a few minutes, add the ginger paste, garlic paste, curry paste, salt and pepper. Continue cooking 5-8 minutes or until chicken is no longer pink. Remove from the heat, add the cut noodles and the seasoned coconut milk and refrigerate until the salad is cold.
When the noodle and chicken mixture is cold, gently toss in the green bell pepper, green onions, almond/coconut/raisin mixture, mandarin oranges and most of the cilantro. (Keep a small amount of the cilantro for garnish.)
Serve the cold curry noodle chicken salad and enjoy!!




by