[whohit]-Dinner for Encouragers-[/whohit]
Every now and then my husband and I get asked to prepare food for our friends. February 15th we prepared dinner for the "Encouragers" Adult Sunday School Class at our church. We gave them a few menu ideas to choose from. Here was the menu for the evening.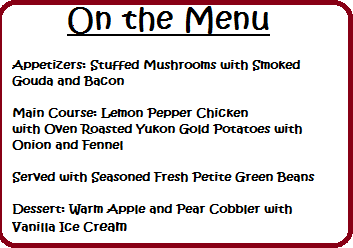 Starters, appetizers, whatever you want to call the food you start out the meal with, it is all good. Stuffed mushrooms are great as long as you are a fan of mushrooms. If you don't like mushrooms maybe the cheese and bacon will do it for you and if not, more for the others.
Stuffed Mushrooms with Smoked Gouda and Bacon
Smoked cheese and bacon make these mushrooms so delicious. Make them ahead and store in the refrigerator. When ready to bake, remove from the refrigerator to come to room temperature.
Ingredients
1 1/2 pounds button mushrooms (this will be about 30 mediums sized)
1 small onion, finely chopped
6-8 ounces of bacon, crispy and crumbled
2 cups smoked gouda cheese, (1/3 lb) finely grated
1 -8 ounce package cream cheese, room temperature
Instructions
Clean mushrooms only by brushing them off with a clean cloth. Carefully remove the stem. (keep for an omelet tomorrow) Clean any remaining stem with a small tool small enough to fit in the mushroom such a tomato/strawberry huller.
Mix together the gouda cheese and cream cheese and set aside.
Cook bacon until crispy, cool and finely chop. I like to cook my bacon in the oven on top of a baking rack at 375 degrees. Reserve some of the bacon fat for sautéing the onions. Add cooled bacon to the cheese mixture.
Finely chop the onion and sauté in the bacon fat. If you do not have enough fat, add a small amount of olive oil. Sauté until the onion are translucent about 5-7 minutes over medium high heat. Let cool slightly. Add the onions to the cheese mixture and thoroughly mix.
Fill each mushroom with the cheese filling. Mound the filling so the mushroom has a good amount.
Bake at 400 degrees for about 15 minutes. The mushrooms should be cooked to a soft touch but not so soft that they become soggy.
Moving onto dinner. Lemon Pepper Chicken seems to be such a simple dinner, Really it is a very simple dish to prepare but the flavor impact is huge. I think it is a meal that will please many. The chicken rests overnight in a fresh lemon juice and garlic marinade, topped with seasoned panko and then baked. Find the Lemon Pepper Chicken, Green Beans and Roasted Potato recipes here.
Hope you saved room for dessert! Warm Apple and Pear Cobbler. Fresh peeled and sliced granny smith apples and bosc pears tossed in brown sugar spice mixture then topped with a buttery batter that bakes to a golden topping. Don't forget to serve it with a scoop of vanilla ice cream. Click here to get this great Apple and Pear Cobbler recipe.




by