Every now and then I crave something fried. Most days I stay far from it. Not just because fried foods are unhealthy but rather most fried food are loaded with flour either as a breading or ingredient.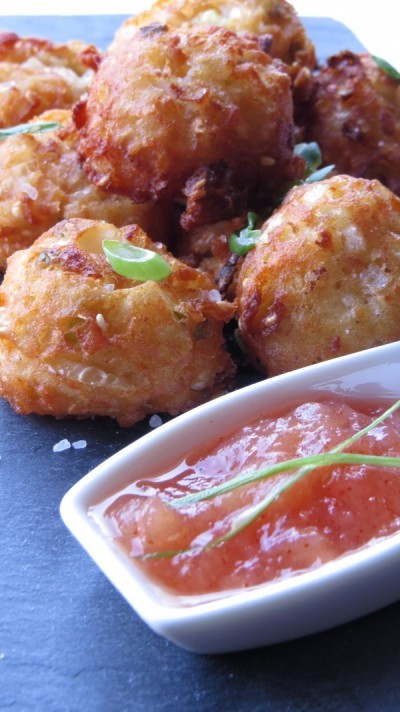 One side dish that I miss eating is hush puppies. You know, the ones that are served with ribs, coleslaw and baked beans. Oh goodness!
Gluten free ingredients are a must with my Crohn's disease. Taste and texture are important as well. It's disappointing buying a gluten free product only to have it taste odd. Granted more and more gluten free products are tasting better but I am cheap. Making it myself is always a goal. I also get to control what goes in it and hopefully save money.
The other night I had that craving. Checking through my cupboard, I came across Bob's Red Mill white rice flour and an open bag of Masa corn flour. I diced an onion, mixed up the two flours, added an egg and thinned it with buttermilk. They fried up a beautiful golden brown. Eating my fair share was a done deal. When I was done, all I could think about is making more and how I could change them up to go with a special jar of homemade Pear and Ginger Preserves from my friend Betty. I was inspired by the ginger she added to the preserve and so Asian flavor was the plan. Since I have a hard time leaving things alone, I added a good pinch of cayenne pepper to the preserves, making a spicy pear and ginger sauce to go with my fritters.
I love my veggie chopper. If you do not own one, you should really consider getting one. Even chopping every time and it is super fast. Like in a slap happy fast kind of way!! (This is my own opinion with no endorsement!!)
Chop, chop go the onions.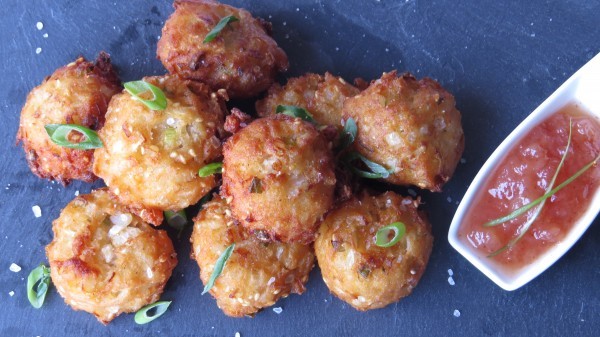 Fried to a golden brown and sprinkled with a coarse sea salt and green onion.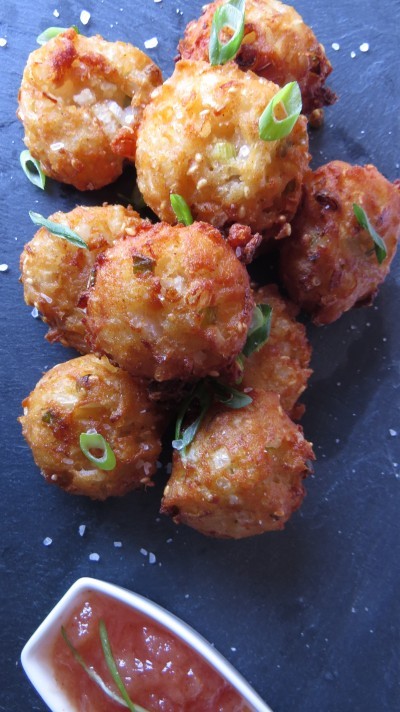 I will say that I am not done yet. I can see many more gluten free fritters coming my way…Cajun fritters, Tropical fritters, Mexican fritters, Italian fritters. Hahaha are you with me?
Gluten Free Asian Onion Fritters
Gluten Free Asian Onion Fritters are a perfect addition to any meal or served as an appetizer. Makes 10-12 fritters
Ingredients
1 1/2 cups sweet onion, diced
2 green onion, sliced (use one for garnish)
1/2 cup buttermilk
1/4 tsp Chinese Five Spice
1/2 tsp salt
1/2 tsp sugar
2 Tablespoons white rice powder, (Bob's Red Mill)
3 Tablespoons Masa corn flour
1 egg, beaten
Coarse sea salt for finish
Oil for frying
Instructions
In a large bowl, pour buttermilk over the diced onion and one green onion and allow to marinate for 20 minutes.
In a large dutch oven, heat oil to 350 degrees. (Several inches deep is needed)
To the onions, mix in the salt, Chinese Five Spice, sugar and egg. Blend in the white rice flour and Masa corn flour.and mix until all of the ingredients are incorporated. .
Use a small metal scoop to help shape the fritters. Carefully lower the scoop into the oil with the batter facing down. Allow the fritter batter to heat in the scoop for several seconds, then press the handle to release the fritter into the oil. Fry for several minutes until golden brown, turning as needed. Remove from the oil and allow to drain on paper towels. Sprinkle with a coarse sea salt and green onion for garnish.
Notes
To make a tasty spicy dipping sauce, add a dash of cayenne pepper to your favorite jam or jelly. Plum or pear flavors will make a great sauce. To add more Asian flavor, add a pinch of ground ginger or stir in chopped candied ginger.




by