What a great surprise when I came home to the house smelling like a bakery. My husband had been busy making a gluten free dessert with one of the hard cider samples that 2Towns CiderHouse gave us to create recipes with.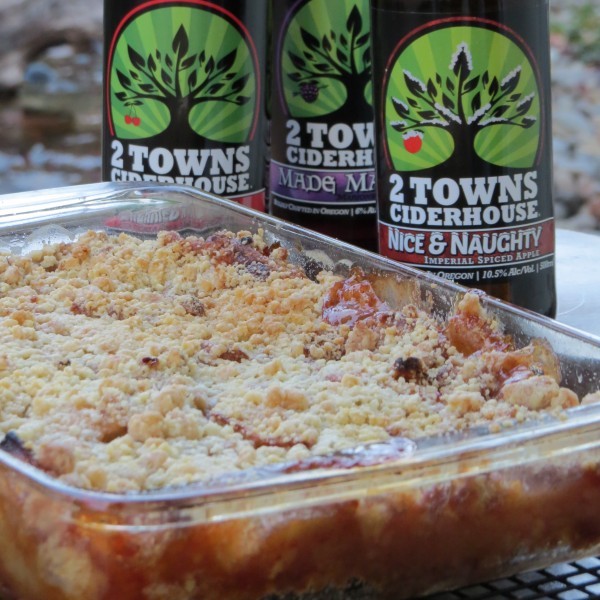 2Towns CiderHouse has a great variety of flavors and they are gluten free!! 2Towns was so gracious to sponsor us for our trip to the World Food Championships Cook off this month. We used their "Bad Apple" flavor in our short rib chili. We took 2nd place in the People's choice with that chili. I promise to get that recipe on the blog soon!!
The best part for me is the dessert was baked, the dishes were cleaned and it was gluten free!!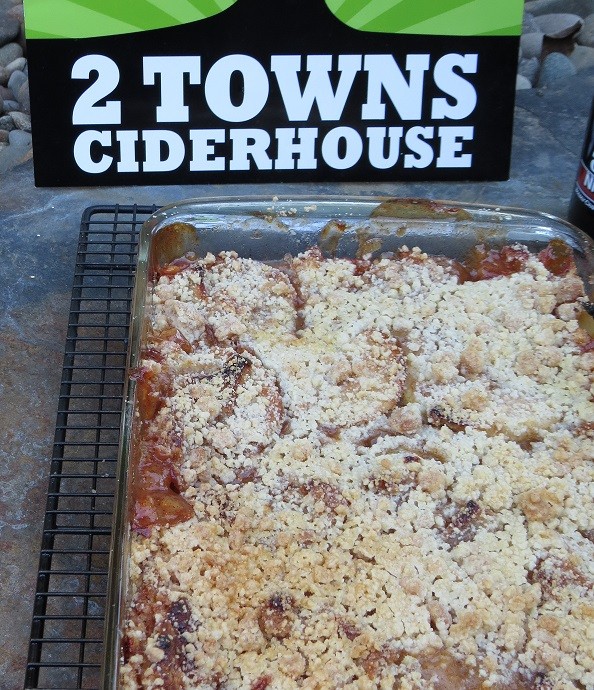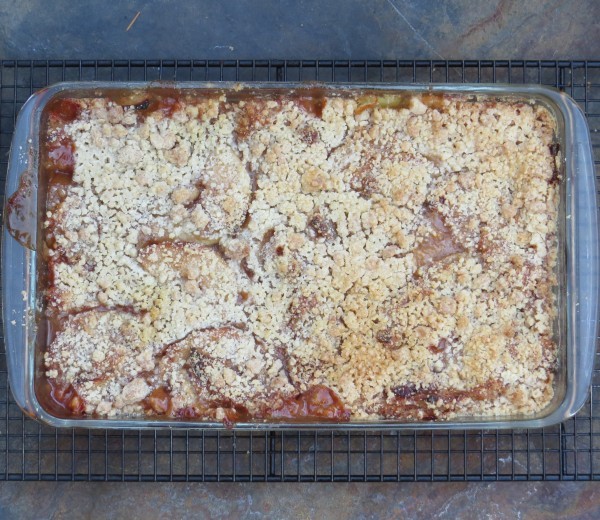 Thank you dear for making such a delicious dessert!
---
Nice and Naughty Apple Pie Crumble
Pie crust crumbles:
2 cups Bob's Red Mill Gluten Free 1 to 1 Baking Flour
½ teaspoon salt
2/3 cup shortening
1 tablespoon white vinegar
5-6 tablespoons milk
Combine the gf flour and salt; cut in the shortening, sprinkle the vinegar over and gradually add the milk working the mixture until it crumbles but not until it makes a ball. Cover and refrigerate for 30 minutes.
Apple Pie filling:
6 cups peeled sliced granny smith apples
¾ cup plus 2 tablespoons 2Towns Cider House "Nice and Naughty" hard cider
¾ cup sugar
1 teaspoon ground cinnamon
3/4 -1 teaspoon Chinese Five Spice (this adds a ginger flavor)
2 tablespoons cornstarch
½ teaspoon vanilla extract
1 stick unsalted butter, melted
In a saucepan, add apples, ¾ cup hard cider, sugar and spices and bring to a boil over medium heat. Stir occasionally. In a small bowl, combine the remaining 2 tablespoons of cider and the cornstarch until smooth. Add to the simmering apples and stir thoroughly. Continue to simmer for 1 minute to allow the liquid to thicken. Remove from the heat and add the vanilla extract.
In a 9X13 casserole dish, sprinkle ½ of the pie crust crumbles. Pour the apples over the crumbles and arrange to fit in the dish. Sprinkle the remaining crumbles over the apples. Drizzle the melted butter over the top crust and bake at 400 for 45 minutes or until the crumbles are golden and the filling is bubbly!
Note: The pie crust crumble is not too sweet since it is a pie crust. If you like a sweeter crumble, add a small amount of sugar (1 tablespoon) to the flour mixture.




by