Harvest Ale Chicken Sausage Poutine over Oven Roasted White Sweet Potato Fries.
I have never purchased or made a poutine dish before, but I have read all about this Canadian gravy masterpiece online. I started this recipe awhile ago working on a seafood chowder with a harvest flavor.  My chowder recipe has a lot of fall veggies like parsnips, rutabaga, turnips and golden beets. All veggies that I grew this year in my garden for the first time. (a side note about the garden, I will grow way more golden beets next year because they are super delicious)
After reading about poutines, I decided to hold back on some of the garden veggies and concentrate on making more of a ale gravy for the fries.
So why the white sweet potatoes. To start with they are more nutritious than regular potatoes but most of all they are not a nightshade vegetable. Nightshades are a family of veggies that I can not currently tolerate so I work to stay away from them when possible. It is such a bummer but I am learning to cook around the issue! I love cooking to much to let food sensitivities stop me.
Because of my Crohn's disease, I can not tolerate gluten either so I made sure this recipe used a gluten free beer as well as other products that are safe.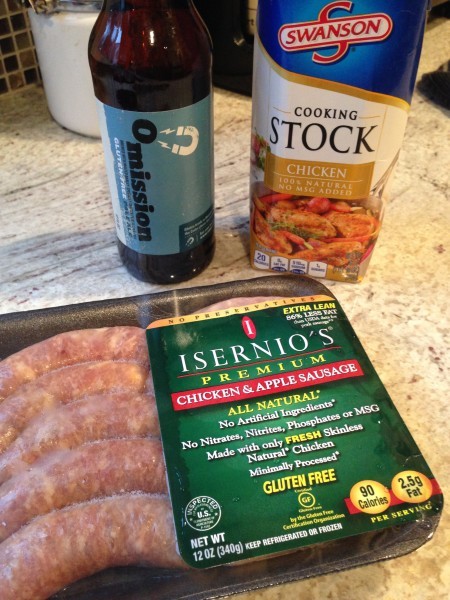 I went to the store looking to buy cheese curds which are traditional in poutine. Unfortunately the store did not have any.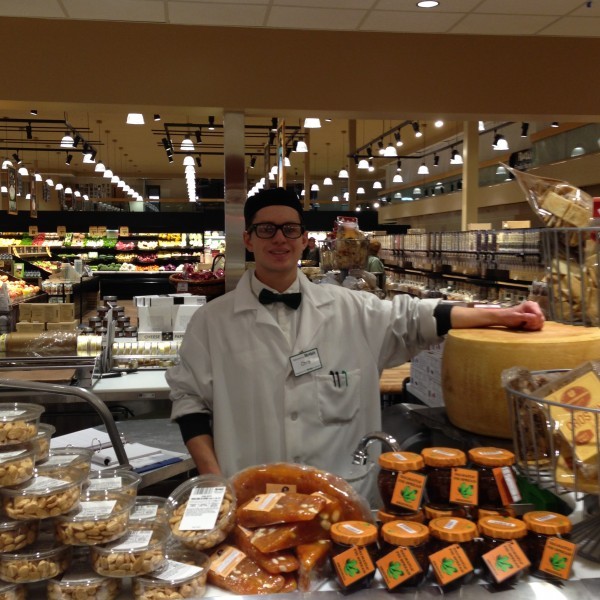 I spoke with Chris in the cheese department at the newly remodeled Roth's Market. He was so kind to ask me what I was making. When I told him that I was making a poutine, he told me that when he was young, he and his brother rode their bikes to Gallivan Avenue in downtown Salt Lake City to the many food trucks to buy poutine. He knew just what I was making! Chris continued to help me by opening different cheeses so I could taste them. I decided to go with Willamette Valley Cheese Smooth Havarti. It is always a pleasure to use local products!!
A great tip for making this dish is too make the gravy before hand. It can be made days ahead and heated before pouring over the sweet potato fries. The flavors seem to blend together even more.
Making crispy sweet potato fries is a task I am out to succeed. I have spent plenty of time on the internet reading lots of tips for making great sweet potato fries. I can say that I am happy with what I finally came up with!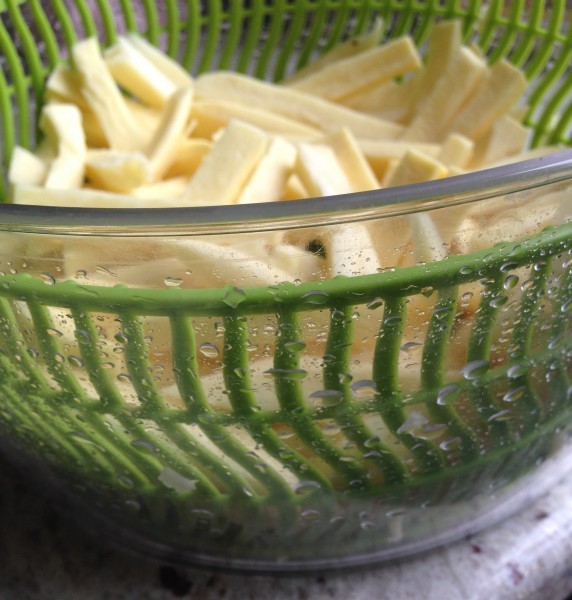 Cutting the sweet potatoes into 1/4 inch pieces is one way to ensure a crisp fry. Now if I could just master my cutting skills to make them all uniform.:)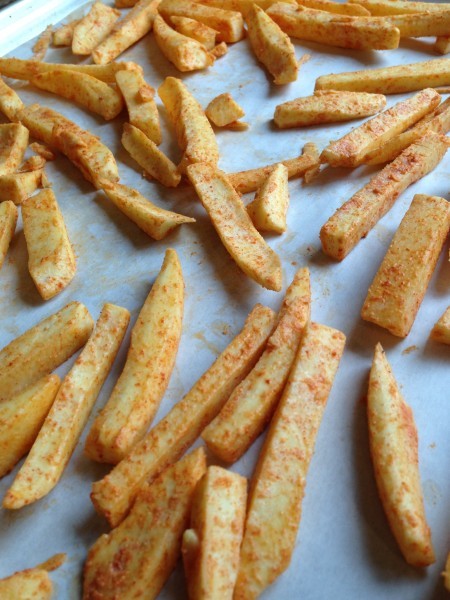 Crispy sweet potato fries, creamy ale gravy with tasty chicken apple sausage, smooth cheese and fried sage leaves make a fabulous fall or winter meal.
Harvest Ale Chicken Sausage Poutine
Serves 4-6
Ingredients for the poutine
1 cup diced celery
1 ½ cup diced onion
1 cup diced carrots, peeled
1 cup diced sweet potato, white skinned variety, peeled
2 tablespoons butter
2 minced garlic cloves
1 teaspoon salt
½ teaspoon black pepper
12 oz bottle Pale Ale beer, I used a gluten free beer
12 oz package of Isernio's chicken apple sausage, casings removed
Fresh sage leaves, (1 tablespoon minced sage leaves and 10-12 leaves for frying to crumble over the top)
2 tablespoons oil, I used olive oil
26 oz container chicken stock
1/3 cup milk
1/3 cup cornstarch
6 oz Havarti cheese, broke up into large pieces or cheese curds if you can find them!!
Ingredients for the Sweet Potato Fries
4 large sweet potatoes, white skinned variety, peeled and cut into 1/4 inch slices
4 teaspoons cornstarch
2 teaspoons white rice flour
2 teaspoons tapioca flour
1 teaspoon smoked paprika
4 tablespoons vegetable oil, this oil is better for high temperature oven heat not to create smoke
Salt to taste
Peel and cut the 4 large sweet potatoes into ¼ slices. Making them as uniform as possible for even roasting. Soak the potatoes in water for at least 30 minutes (overnight is even better if possible). Mix the 4 tsp of cornstarch, rice flour, tapioca flour and smoked paprika in a bowl and set aside.
Crumble the chicken sausage in a skillet and brown until no longer pink. Set aside. (note: you if can't find Isernio's in your area you could use a mild chicken sausage and add 1/2 cup peeled and grated sweet apple instead.)
In a dutch oven over medium heat, sauté celery, onions, carrots, 1 cup of diced sweet potatoes in the butter for several minutes. Add minced sage leaves and garlic cloves, 1 tsp of salt and pepper and cook for a few more minutes to incorporate the flavors.
Deglaze the vegetables by adding the beer to the dutch oven. Add the chicken stock and bring to a simmer. When the vegetable are tender, remove 1 ½ cup of the vegetables and liquid and process in a blender until smooth. Return the blended mixture back into the dutch oven and stir together. Add the crumbled cooked chicken sausage to the poutine. Mix together the 1/3 cup cornstarch and milk until smooth and add to the poutine. Heat until the mixture begins to thicken. At this point the poutine can be covered and reheated if needed before serving over the fries.
In a small skillet add 2 tablespoons of oil and heat over medium high. Add the whole sage leaves to the oil. Be careful as they may splatter due to the moist in the leaves. Fry the leaves on each side for only a minute or until they appear darker and crispy. Remove the leaves from the oil and drain on a paper towel. Crumble into large pieces and set aside to garnish the poutine.
When the poutine and garnish are finished it is time to oven roast the sweet potato fries.
Preheat the oven to 425 degrees and line two baking sheets with parchment paper. (I like using the parchment paper, it makes for easy clean up. You can line with foil but you should spray with non-stick spray to help ensure they do not stick. Drain and dry off the fries. I use my salad spinner to help remove the extra water. It works great.
Once dry, add half of the fries to a large zip lock bag or a strong paper bag. Sprinkle half of the starch mixture over the fries, close and shake to coat. (Do not salt them until they come out of the oven.) Open the bag and drizzle with 2 tablespoons of vegetable oil, close and shake again. Now arrange the fries on the baking sheets in a single layer. Return to finishing the remaining fries.
Roast in the oven for 15 minutes. Take out and carefully turn fries over. Return the baking sheets to the oven but turn and rotate the sheets to help make sure the fries are evenly heated. Cook another 15 minutes, watching to make sure they are not turning to dark. When they are golden brown, turn the oven off, open the oven door and leave the pans in the oven for another 10 minutes. This will help add a crispier crust to the fry. Remove after 10 minutes and lightly salt.
In serving bowls or dishes, add the fries, pour heated poutine over the fries, add some crumbled cheese and fried sage leaves. That's it, a comfort food that will make you want to cuddle up afterwards!




by