Hoisin Beef and Broccolini Penne #TresOmega #OrganicsforLife #Glutenfree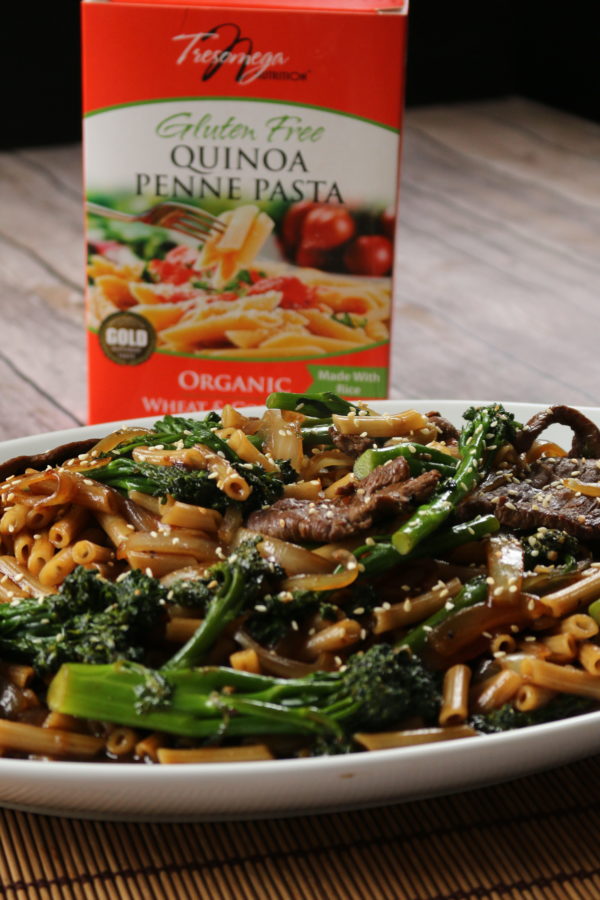 When I first realized that I needed to eliminate gluten from my diet, I had huge concerns about having to give up my favorite foods. Years ago when this happened, I will say the gluten free products on the market were lacking in flavor and texture. I was better off leaving them out instead of trying to substitute to make the dish digestible for me.
Fast forward to today and the market has changed in a big way. Companies like TresOmega Nutrition have helped bring tasty, good quality pasta back to the shelves.
I was so excited to sign up for this bloggers challenge. Not only do I get to try out new product but I get to make delicious meals I can test myself. My awesome husband is my guinea pig. Ok, I will be nice, my taste taster. He graciously endures my spoonfuls of samples that are awaited with critique and advise for changes needed.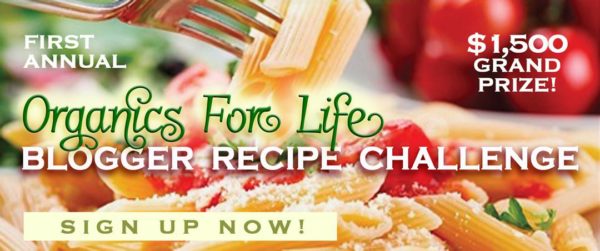 The company mailed each blogger four products to work with. All of the pastas are made with quinoa and rice. They are GMO free, no preservatives, certified organic, wheat and corn free which makes them perfectly gluten free. Along with the pastas, the company mailed a beautiful jar of smooth cold pressed organic virgin coconut oil.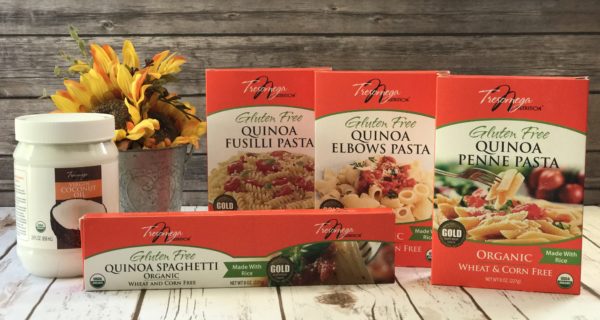 The challenge begins with the three recipe categories; appetizer, baking and entree as well as one Grand Prize winner who takes home $1000.00.
One Grand Prize Winner: $1,000.00 Cash Prize
One Appetizer Category Winner: $500.00 Cash Prize
One Entree Category Winner: $500.00 Cash Prize
One Baking Category Winner: $500.00 Cash Prize
This Asian dish is based on one of my favorites, Beef and Broccoli. When I make it at home, I am always doctoring up the sauce with all of my favorite ingredients like fresh garlic, hoisin sauce, fish sauce and brown sugar. I also use a gluten free soy sauce to keep the dish ready for me to eat.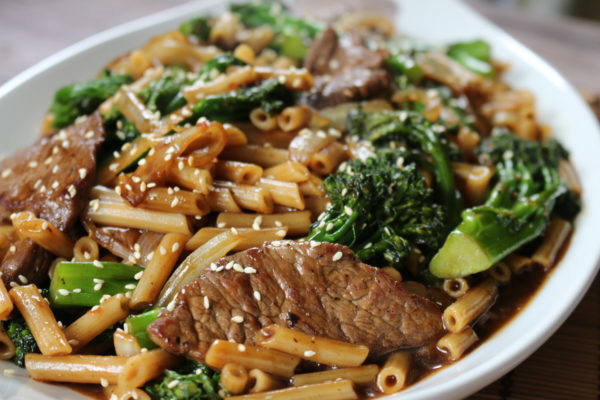 Deciding to make a spin on my standard Beef and Broccoli led me to adding the TresOmega Nutrition Gluten Free Quinoa Penne Pasta.
I seared the top sirloin roast slices in their TresOmega Nutrition Virgin Coconut Oil then quickly brought the dish together with by stir frying the vegetables and adding in the sauce and cooked penne pasta.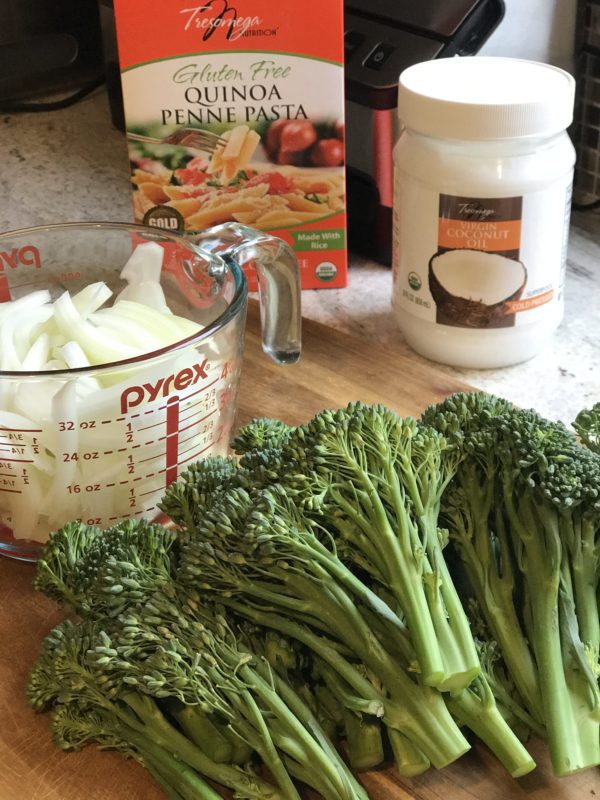 Noodles with lots of sauce, yes please!! All I can say, it that your family will thank you and so will your gut. Or at least mine will. 🙂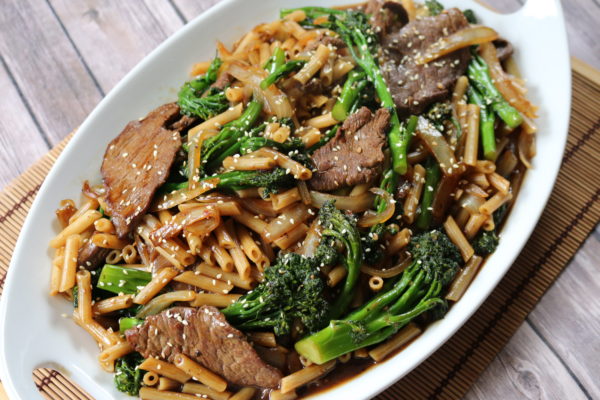 You can find TresOmega Nutrition products at: Tresomega.com, Sams.com, Amazon.com and Walmart.com.
Don't forget to follow TresOmega Nutrition on these social media platforms for great updates and recipe ideas.
Website: http://www.tresomega.com/
Facebook: https://www.facebook.com/TresomegaFoods/
Twitter: https://twitter.com/TresomegaFoods
*All comments and opinions are my own. I received these products complimentary as part of the bloggers contest.
Hoisin Beef and Broccolini Penne #TresOmega #OrganicsforLife #Glutenfree
A gluten free Asian beef and broccolini penne pasta dish that is sure to satisfy the entire family. Not only is this dish gluten free but it is also quick to make. So the next time they want take out, go no further.
Ingredients
1 tablespoon TresOmega Virgin Coconut oil
24 ounces top sirloin roast, cut into super thin strips
4 cups onion slices, cut in half then into slices
1 tablespoon minced garlic
2 lbs. broccolini spears, trim ends as needed
1/3 cup hoisin sauce
½ cup soy sauce, gluten free
1 tablespoon sesame seed oil
1 teaspoon ground ginger
1 ½ teaspoons cornstarch
½ teaspoon crushed red pepper flakes
2 teaspoons fish sauce
3 tablespoons brown sugar
8 ounce box of TresOmega Gluten Free Quinoa Penne Pasta, cooked as directed on box.
1 tablespoon toasted sesame seeds
Instructions
In a large bowl, whisk together the hoisin sauce, gluten free soy sauce, sesame seed oil, ground ginger, cornstarch, crushed red pepper flakes, fish sauce and brown sugar, set aside.
Cook the pasta as directed on the package, drain and set aside.
In a large Dutch oven or wok, heat the coconut oil over medium high heat. Sear the sirloin strips in batches until all of the meat is browned, set aside.
In the same pot, sauté the onions for several minutes to soften, add in the minced garlic and broccolini spears. Cook for several minutes then add in the sirloin strips and pasta. Toss in the hoisin sauce and cook for several more minutes to allow the sauce to thicken.
Arrange on a serving platter and sprinkle with toasted sesame seeds.




by