Holy Mole Corny Beef Chili with Chichi Corn Croutons
The contest was Riunite Ultimate Chili Challenge. It was all about tailgate and pairing the chili with Riunite wine. My brain started to churn, what kind of original chili shall I make for this contest? I happen to live in the Pacific Northwest, which is one of the regions that Riunite was running the contest. Idaho, Washington and Oregon were the three states that could compete for this region.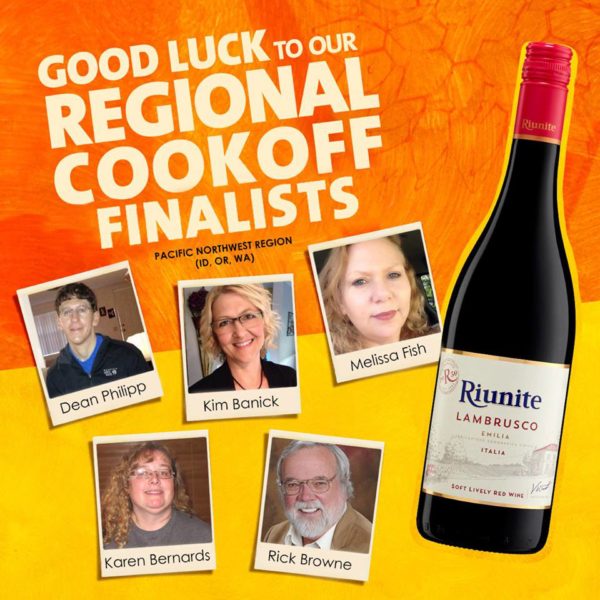 Tailgating is something we do often and sharing great food is what we look forward to doing. Most of the time we potluck. We send around an email so everyone can share what they would like to bring. This avoids having to many bowls of baked beans, LOL. Some games we go all out and have smoked elk, moose and salmon. It just depends upon if our friend Stan has had some good hunting trips. But as much as I love the gourmet tailgate meals, I do love a grilled hamburger.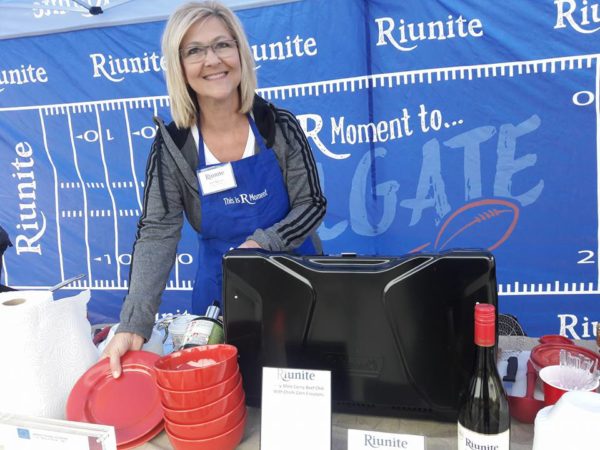 Chili is a great tailgate dish. The versatility of proteins and flavors are endless. Chicken has become a big meat for chili. Some of my chili-heads competitors will tell you that they only make their chili with cubed tri-tip that is lightly seared. Once the chili is made then comes the toppings. Will it be corn chips, cheese, onion, sour cream??? Who can stop with just one, right?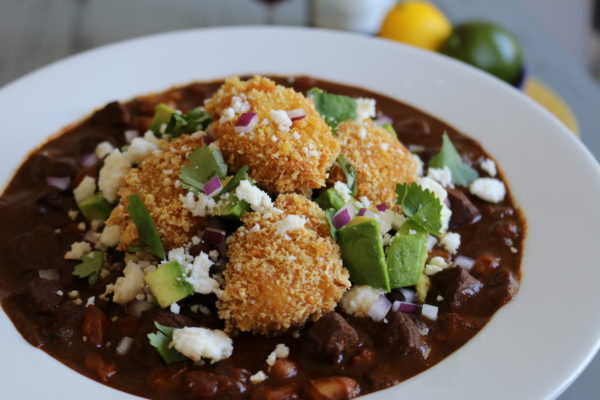 I decided to make this chili with beef top round roast. I found that is simmered well in a short time and turned out so tender. I went with a mole flavor base and added hominy instead of beans. I then decided to have fun with my toppings by making a crispy fried chicharrone crusted sweet Mexican corn croutons. A little red onion, avocado, cilantro and crumbled queso fresco cheese also garnish the chili to finish off the Tex-Mex flair.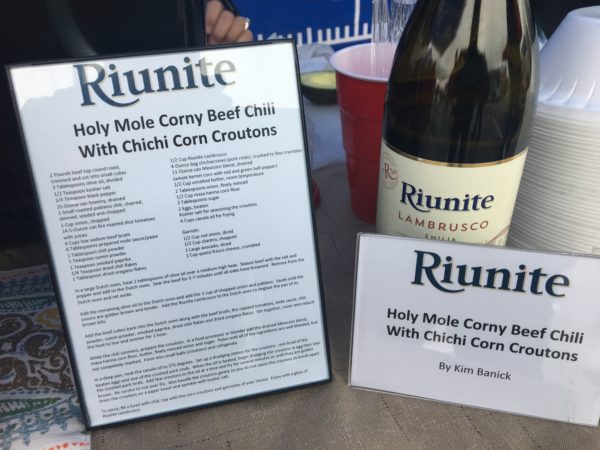 The crew at Riunite made all of us competitors feel special. They definitely went out of their way to make sure we all had what we needed and more.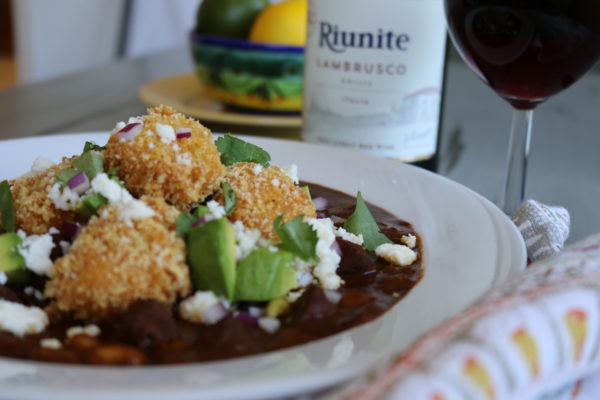 I got the phone call that I was a finalist while I was still in Orange Beach Alabama for the World Food Championships. Once we arrived home it was a quick turn around and back out the door for Seattle. Riunite put on a great contest. We all received a $300.00 gift card for groceries and travel, game tickets for two to the Seattle Seahawks vs Philly Eagles game and then they gave us the campstove, cookware and utensils we used during the cook-off.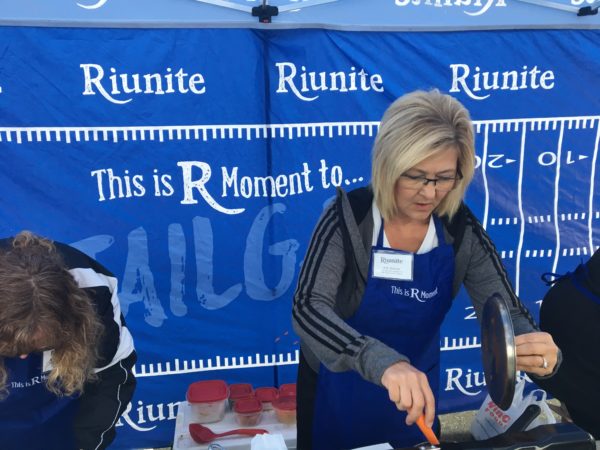 Always fun to meet a special retired football player like Jim Zorn, a past Seattle Seahawk quarterback. Very intimidating to have him judge your chili.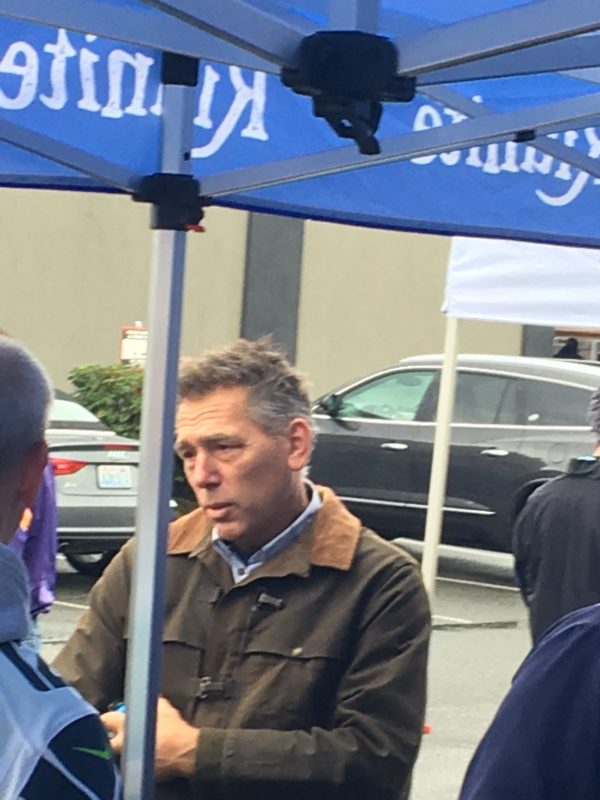 One of the challenges of a cook-off is learning to work within your given space, even in cool weather and rain.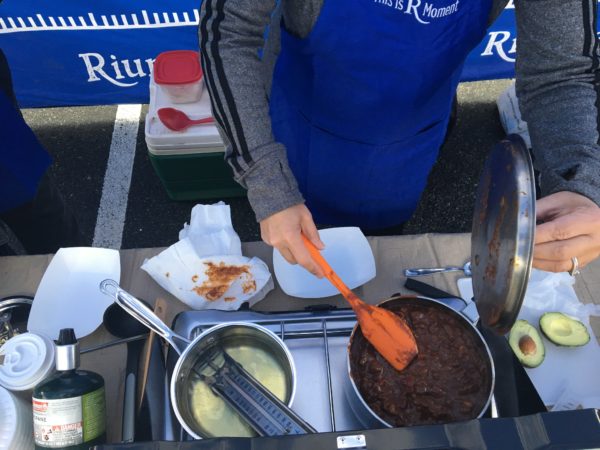 I was so happy with how my chili turned out, especially since I had to deep fry onsite. My Chichi corn croutons were bomb. In fact I think they out shined my chili. But it was about the chili. They complimented how they loved my chili but in the end it went to my wonderful food competitor friend, Karen Bernards. After a quick clean up and cheers to Karen, we enjoyed watching the Seahawks beat the Eagles!!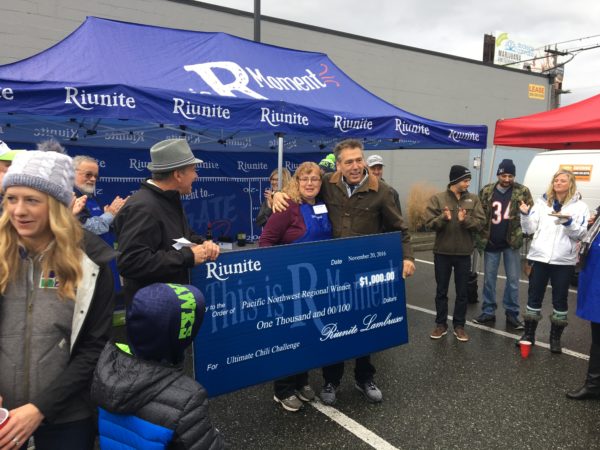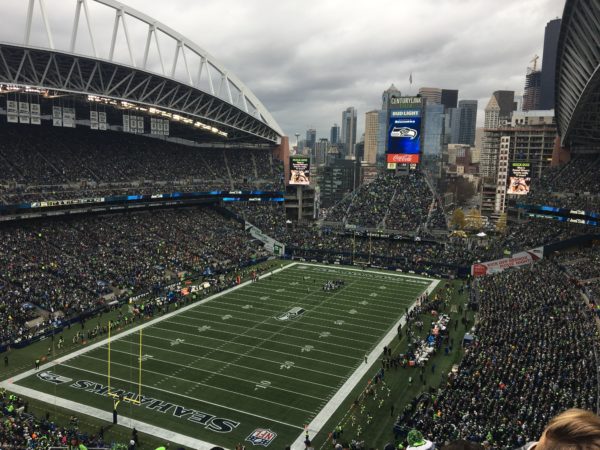 Holy Mole Corny Beef Chili with Chichi Corn Croutons
Ingredients
2 pounds beef top round roast, trimmed and cut into small cubes
3 tablespoons olive oil, divided
½ teaspoon kosher salt
¼ teaspoon black pepper
25 ounce can hominy, drained
1 small roasted poblano chili, charred, skinned, seeded and chopped
1 cup onion, chopped
14.5 ounce can fire roasted dice tomatoes with juices
4 cups low sodium beef broth
6 tablespoons prepared mole sauce/paste
1 tablespoon chili powder
1 teaspoon cumin powder
1 teaspoon smoked paprika
¼ teaspoon dried chili flakes
1 tablespoon dried oregano flakes
½ cup Riunite Lambrusco
4 ounce bag chicharrones (pork rinds), crushed to fine crumbles
11 ounce can Mexicorn blend, drained (whole kernel corn with red and green bell pepper)
½ cup unsalted butter, room temperature
2 tablespoons finely minced onion
½ cup masa harina corn flour
3 tablespoons sugar
2 eggs, beaten
Kosher salt for seasoning the croutons
4 cups canola oil for frying
Chili garnish: ½ cup diced red onion, ½ cup chopped cilantro, 1 large diced avocado and 1 cup crumbled queso fresco cheese.
Instructions
In a large Dutch oven, heat 2 tablespoons olive oil over medium high heat. Season beef with the salt and pepper and add to the Dutch oven. Sear the beef for 5-7 minutes until all sides have browned, remove from the Dutch oven and set aside.
Add the remaining olive oil to the Dutch oven and add the 1 cup of chopped onion and poblano. Saute until the onion are golden brown and tender. Add the Riunite Lambrusco to the Dutch oven to deglaze the pan of its brown bits.
Add the beef cubes back into the Dutch oven along with the beef broth, hominy, fire roasted tomatoes, mole sauce, chili powder, cumin powder, smoked paprika, dried chili flakes and dried oregano flakes. Stir together, cover, reduce the heat to low and simmer for 1 hour.
While the chili simmers, prepare the croutons. In a food processor or blender add the drain Mexicorn blend, masa harina corn flour, butter, finely minced onion and sugar. Pulse until all of the ingredients are well blended but not completely mashed. Form into small balls (croutons) and refrigerate.
In a deep pan, heat the canola oil to 375 degrees. Set up a dredging station for the croutons; one bowl of the beaten eggs and one of the crushed pork rinds. When the oil is heated, begin dredging the croutons in egg then into the crushed pork rinds. Add few croutons to the oil at a time and fry for several minutes or until they are golden brown. Be careful to not over fry; also handle the croutons gently so you do not cause the croutons to break apart.
Drain the croutons on a paper towel and sprinkle with kosher salt.
To serve, fill a bowl with chili, top with the corn croutons and garnishes of your choice. Enjoy with a glass of Riunite Lambrusco!




by