Island Ahi Tuna Delights with Mango Daikon Salsa, my Oroweat's America's Better Sandwich entry that was tasty and light!!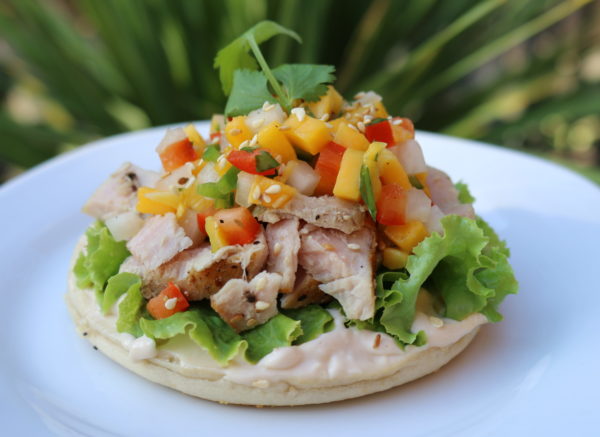 I will admit that I loved this open face sandwich and I thought it had great chances but just not today. I am however, overjoyed to see four of my fabulous food competitors as finalists. A winner from each category will take home $5000.00 and an overall winner will be blessed with $25,000.00. I am cheering on Debbie, Lidia, Kim and Jill, go it that money girls!!!!
Below you will find the recipe I entered for my  Island Ahi Tuna Delights with Mango Daikon Salsa. Anyone up for a tropical lunch break?
Island Ahi Tuna Delights with Mango Daikon Salsa
A light and tropical open face sandwich that is sure to please your castaway break time or in other words your snack or lunch break!!
Ingredients
¾ cup finely diced white daikon radish, peeled
1 cup finely diced fresh mango, peeled
1 small finely minced jalapeno, membranes and seeds removed
2 tablespoons fresh lime juice
1 teaspoon sesame seed oil
1 teaspoon honey
2 tablespoon finely diced red bell pepper
1 tablespoon chopped fresh cilantro, plus leaves for garnish
1 teaspoon kosher salt, divided
½ cup light mayonnaise
1 teaspoon low sodium soy sauce
½ teaspoon ginger paste
½ teaspoon garlic paste
6 halves of Oroweat Sandwich This Rolls, Everything flavor
Head of leaf lettuce
1 tablespoon toasted sesame seeds
12 ounces raw Ahi tuna, room temperature
Cooking spray
½ teaspoon black pepper
Instructions
Begin by making the salsa; combine together the finely diced mango, daikon radish, jalapeno, honey, sesame seed oil, lime juice, red bell pepper, cilantro and ¼ teaspoon kosher salt and refrigerate.
Make the garlic ginger mayonnaise; combine together the light mayonnaise, low sodium soy sauce, ginger paste, garlic paste and refrigerate until assemble time.
Heat a large non-stick skillet over medium high. Spray both side of the Ahi tuna with cooking spray and season with kosher salt and black pepper. Sear the first side of the tuna for 4-5 minutes or until the bottom half of the tuna has turned a soft. white color, turn and continue to cook for another 4 minutes. (If you like your tuna with no pink, continue to cook until all visible pink is gone on the sides.) Remove the tuna from the skillet and allow to cool on a plate.
Making the open face sandwiches; When tuna has cooled slightly, carefully flake the tuna into large pieces. Spread the Oroweat "Sandwich Thins" rolls halves with the ginger garlic mayonnaise, place a layer of lettuce leaves over the mayonnaise, arrange a nice stack of flaked tuna on the lettuce and top each with 2 tablespoons of salsa.
Garnish each open face sandwich with toasted sesame seeds and cilantro leaves.




by