Mandarin Orange Shrimp Yakisoba Summer Rolls with Sweet and Spicy Mandarin Orange Dip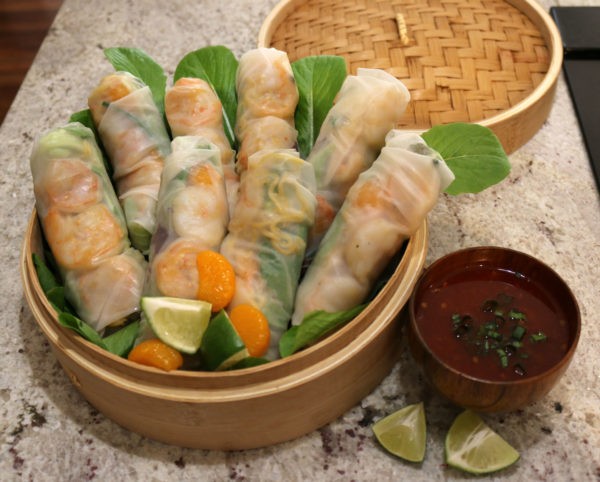 When I took Fortune's Asian Noodle Blogger Recipe Challenge I chose their Yakisoba Stir Fry Noodle packet to create my recipe. I also chose to compete in the cold noodle category. Starting out with the first of three packets they sent me I created these colorful shrimp and noodle summer rolls. Even though this recipe is not the one I chose to enter, it made for a tough decision.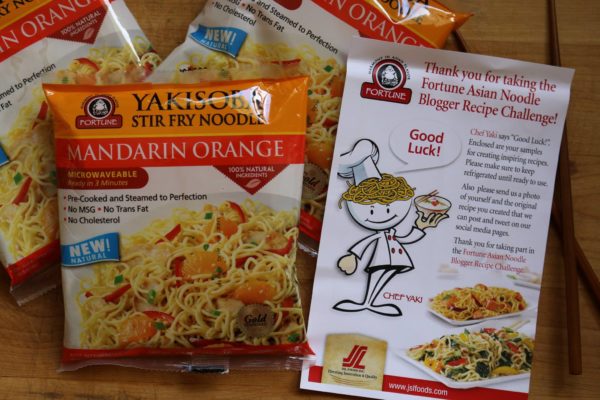 I have made summer rolls many times over but never with a yakisoba noodle. Most of mine contain thin rice noodles. I also have never added fruit to my summer rolls. I really enjoyed the sweet note that the mandarin oranges added to the rolls. The seasoning packet that is included adds great flavor to the noodles. I decided to divide the seasoning packet and use some of it for a dip.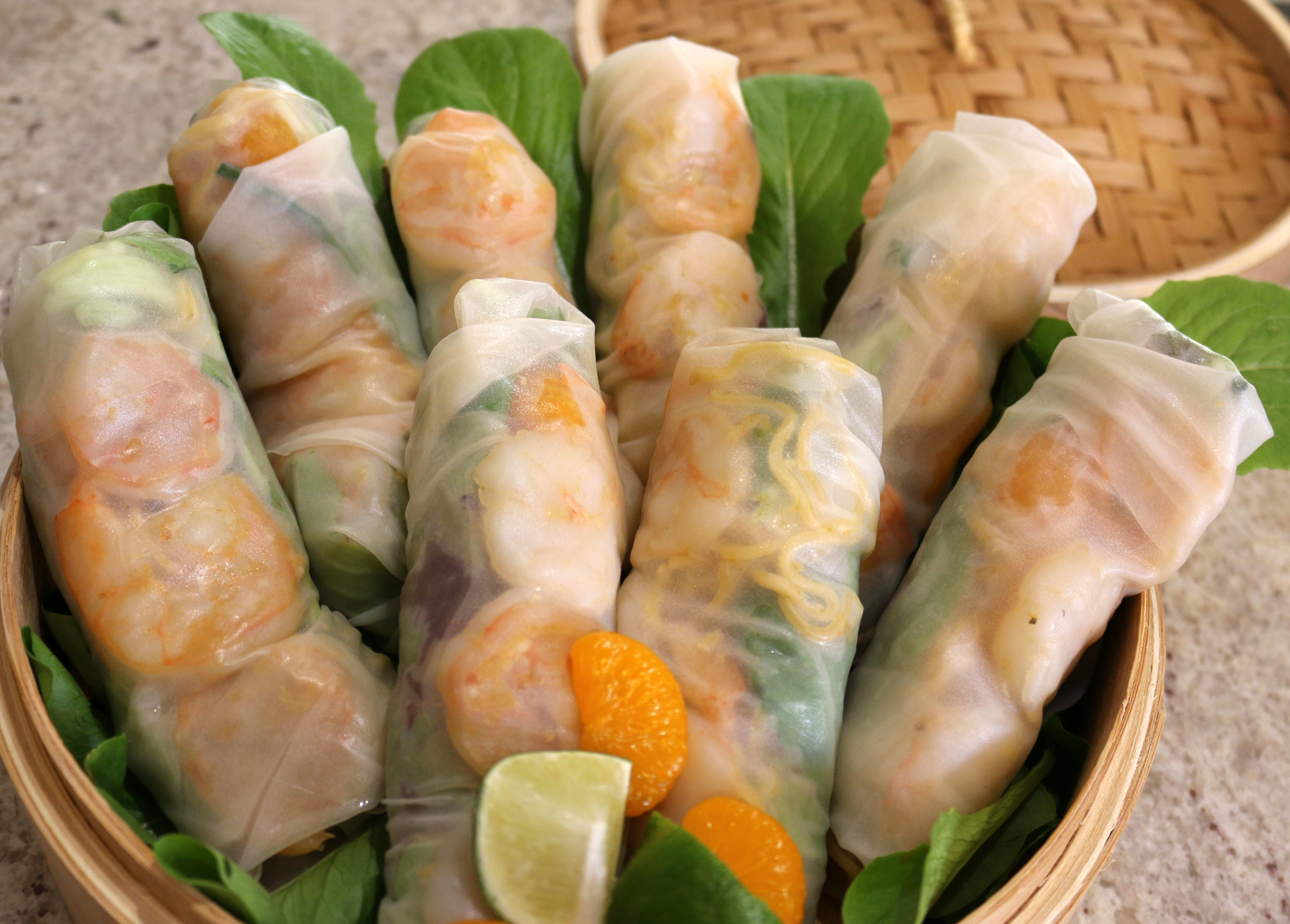 Every summer rolls needs a dipping sauce. Once the rolls are cut in half, the dip can be drizzled on top of the open roll. Sorry for no photo of the cut rolls, the family was waiting. Something that seems to happen often in this house, wait until mom has taken her food photos!!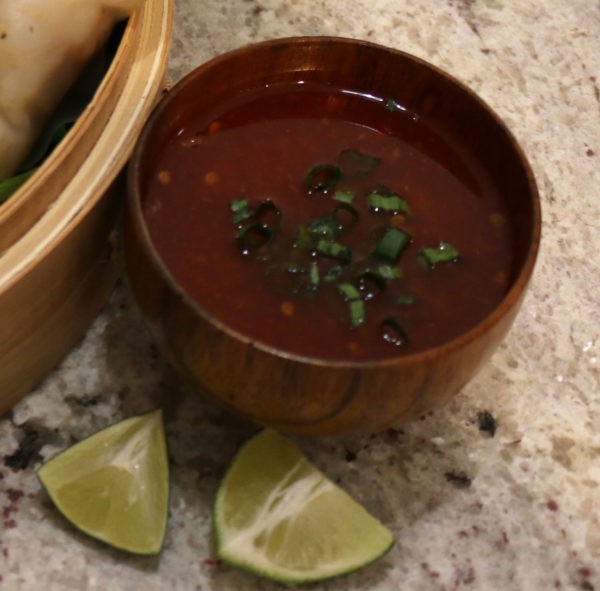 The dip is so easy to mix up and can be made ahead. Once the summer rolls are prepared, they too can be stored in the refrigerator covered with a damp paper towel and wrapped in plastic wrap. This allows both the summer rolls and dip to chill.
I enjoyed serving the rolls with fresh lime wedges, it adds the perfect tartness with the sweet and spicy dip. Don't wait to long to make these. Your family will not let them sit around for long either, guaranteed.
Mandarin Orange Shrimp Yakisoba Summer Rolls with Sweet and Spicy Mandarin Orange Dip
A playful infusion of Japanese Yakisoba noodles and Vietnamese Summer Rolls. The crispy veggies and sweet mandarin oranges are so tasty with the seasoned noodles and shrimp. The sweet and spicy orange dip is a must with the rolls.
Ingredients
1-7.7 ounce Fortune Yakisoba Stir Fry Noodle packet
8 summer roll rice wrappers
1 head red leaf lettuce, leaves separated
1 English cucumber, peeled and julienne cut
1-11 ounce can mandarin oranges, drained
12 raw jumbo shrimp (21-25 count), thawed and peeled
1 bunch of green onions, chop one green onion to garnish the dipping sauce and the rest can be cut into long slivers for the rolls
1 teaspoon minced garlic clove
1 teaspoon fresh grated ginger
2 tablespoons oil
1/4 cup sweet chili sauce
1 lime, cut into small wedges
Instructions
Mix together the Mandarin Orange flavor packet with 1/2 cup of water until dissolved and well blended. Measure 1/4 cup of the Mandarin Orange sauce and mix it with the sweet chili sauce and refrigerate.
Loosen the noodles by placing punctured inner bag of noodles in the microwave for 1 minute.
Heat the oil in a large skillet, add the garlic and ginger and saute for several minutes. Add in the shrimp, noodles and the remaining Mandarin Orange sauce. Simmer together for 4-5 minutes or until the shrimp are cooked through, pink and no longer opaque. Remove from the heat, pour into a bowl, cover and refrigerate to cool.
Once the shrimp and noodles are cool. Prepare your working station with all of the ingredients you will need to assemble the rolls: yakisoba noodles. julienne cut cucumber, shrimp cut into half down the body, green onion slivers, drained mandarin oranges and lettuce leaves.
Soak the rice wrappers in very warm water in a large shallow dish, I use a pie plate. Allow the wrapper to soften. I count to 15 and that usually is enough time. Lay the wrapper on the counter in front of you. Arrange a couple of lettuce leave, pieces of cucumber and green onion, noodles and a few mandarin oranges near the end closest to you. Fold over the end closest to you so you cover the ingredients, fold each side end inwards and roll the wrap over. Now add three shrimp halves with the cut side down and finish rolling the wrap.
As you finish each roll make sure to cover them with a damp paper towel. When you have completed all 8 rolls, cover all with damp paper towels and plastic wrap unless you are serving them right away. The rolls can be stored in the refrigerator for several hours. Before serving, garnish the dip with the chopped green onions.
Serve with rolls with the remaining mandarin oranges (if you have any), lime wedges and dip.




by