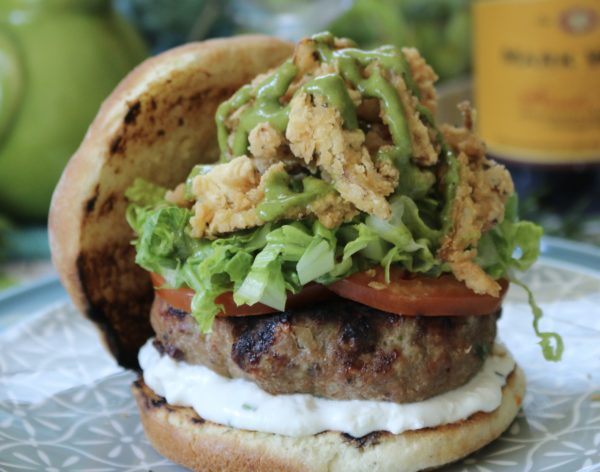 Mediterranean Turkey Burger with Rosemary Fried Onions
Well the winner have been announced for the Mark West Wines Grilling Challenge and sadly my tasty grilled burger was not chosen for the $10,000.00. Happily, my friend Veronica Callaghan did win with her Chili Rubbed Grilled Duck and Beet Chip Nachos. Are you ready for this? This is her second time winning the $10,000.00. Her grilled pizza won last year. Congratulations Veronica!!
Veronica is super talented when it comes to creative and unique ideas for food. Her photography with food styling is also spot on. Checkout her Instagram page and you will see what I mean.
As for my entry, I am not sure what I liked more, the Feta Yogurt Spread or the crispy fried Rosemary Onions with Lemony Mint Dressing. Guess I will have to make it again and decide, LOL.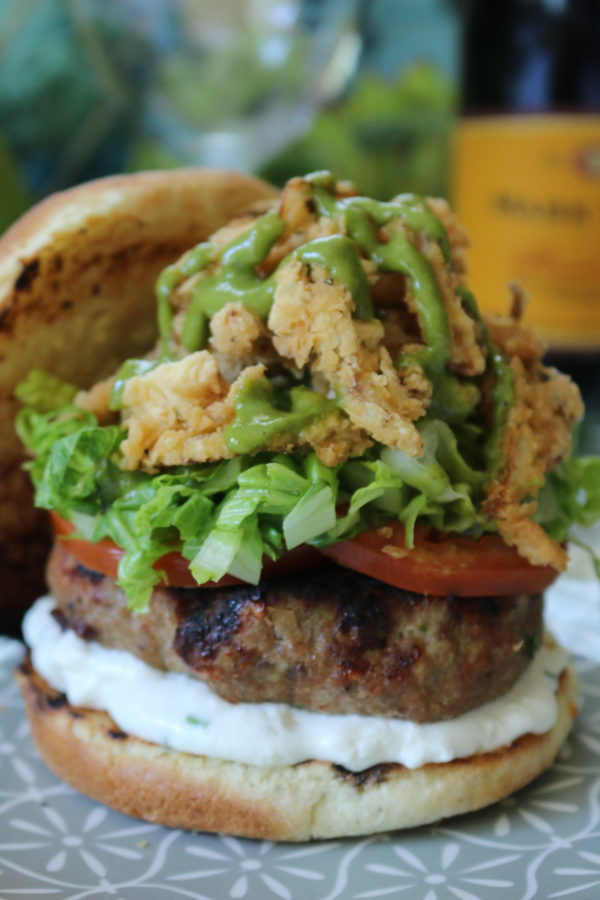 Mediterranean Turkey Burger with Rosemary Fried Onions
Serves 4
Burgers:
32 oz ground turkey
2 tbs fresh parsley, chopped
¼ cup Kalamata olives, pitted and chopped
3 tbs sun-dried tomatoes, packed in oil with Italian herbs, chopped
¼ cup onion, grated
1 tsp kosher salt
½ tsp black pepper
2 tsp kosher salt for seasoning the patties
Cooking spray
Feta Yogurt Spread:
8 oz Greek yogurt, full fat
7 oz feta cheese crumbles
2 tsp garlic, finely minced
2 tsp fresh lemon juice
½ tsp kosher salt
1 tbs onion, grated
2 tbs fresh chives, minced
Lemony Mint Dressing:
½ cup fresh mint leaves, packed tightly
¼ cup fresh parsley leaves, packed tightly
2 tsp garlic, minced
6 tbs light olive oil
2 tbs fresh lemon juice
1 tsp kosher salt
½ tsp black pepper
2 tsp sugar
2 tsp Dijon mustard
Rosemary Fried Onions:
2 cups onion, cut in half and sliced
1 ½ cups flour
1 tsp kosher salt plus some for sprinkling over fried onions
½ tsp black pepper
2 eggs, beaten
2 tsp fresh rosemary, finely minced
4 cups cooking oil
Additional ingredients:
8 slices of tomato
2 cups shredded lettuce
4 large buns
Gently mix together all of the burger ingredients except the last 2 teaspoons of kosher salt. Form into 4 patties, season with kosher salt and spray both sides with cooking spray. Refrigerate until grilling time.
In a bowl, mix together the Feta Yogurt spread ingredients until well blended then refrigerate until serving time.
In a small blender, process all of the Lemony Mint dressing ingredients until smooth and well combined. Refrigerate until serving time.
In a large deep sided pan, heat the oil to 350 degrees. Blend the flour, 1 tsp kosher salt and black pepper for the Rosemary Fried Onions in a large bowl. Add the minced fresh rosemary to the beaten eggs. Add the sliced onions and toss until well coated. Transfer the egg coated onions to the flour mixture and toss to coat in the flour.
Heat the grill to medium high heat. Grill the patties for 5-6 minutes on the first side and then for approximately 5 minutes longer on the other side. Make sure that the patties have reach 165 degrees for proper cooking. Place the buns cut side down over the grill to toast. Remove when they are warm and begin to get grill marks.
While the burgers are grilling begin frying the onions. Fry for a few minutes or until golden brown remembering to not over crowd the pan with coated onions. Remove the onions and place on paper towels, immediately sprinkle with kosher salt.
To assemble the burgers, spoon some of the Feta Yogurt spread on the bottom of the buns. Place on the burgers, top with tomato slices, shredded lettuce, Rosemary Fried Onions then drizzle with the Lemony Mint dressing. Serve the burgers with the top bun on the side for presentation. Then enjoy with a bottle of Mark West Pinot Noir!!




by