My Mexican meal made at home cooking demo for the Oregon State Fair…Mango-Jalapeno Chicken Meatballs, Mexican Style Rice and Mexican Black Beans.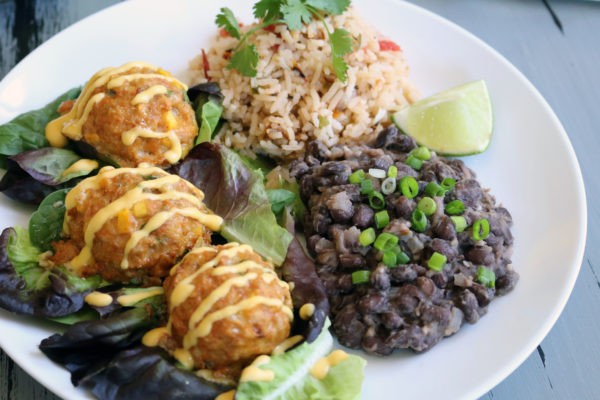 One of the many cooking demos I coordinated as the Oregon State Fair Creative Living Stage Coordinator was my very own!
My solo cooking demo was on our Hispanic Day at the Fair. The entire daily stage schedule was set to feature cultural events, art, info and cooking demos. Mexican flavors are one of my all time favorites. I have many go to Mexican dishes that I make at home, but who wanted to hear about making more enchiladas, tacos or quesadillas!! Ok, me!! 🙂
I realized that I also make a chicken meatball at least once a month. It is a recipe I found some time ago from The Whole Smith's website…Mango-Jalapeno Chicken Meatballs. The meatballs are gluten free and dairy free with a kick. I knew that the meatballs would be something different.
I contacted the blog owner of The Whole Smith's, Michelle and asked for permission to share her wonderful chicken meatball recipe at the Oregon State Fair. Thankfully she said yes with joy!! I was happy to share photos and copies of her recipe during my demo as well as a shout out to her with the crowd but my hubby took a photo that cut out most of the audience. So next time I will make sure to take a selfie with the group, LOL. Oh and you may notice that I added a sauce to the top of the meatballs, that is a Mango Lime Crema, just my "foodie" touch to the meatballs.
My next portion of my dish was a new recipe that learned from a World Food Championship Competitor friend, Anthony Serrano.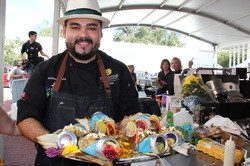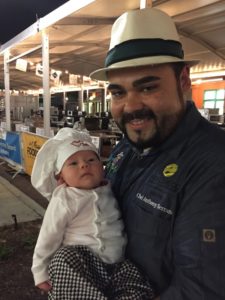 He is the owner and Executive Chef of El Palacio Mexican Restaurant & Cantina of Chandler and Desert Rose catering Company of Bullhead City, Arizona. He also shares recipes and stories on his blog. One day he posted about the one recipe he gets asked about often, his Mexican Style Rice. Not only did Anthony share his secret on his blog for the perfect Mexican rice but he also gave me the thumbs up to make it at the Oregon State Fair as part of my Mexican Meal made at home. Thank you Anthony, I will forever use your secret tips for great rice. (See the recipe below for Anthony's secrets!!)
One last part of the dish was my version of cooked beans. I have a love for black beans, so that is what I decided to use. My recipe is a combination of many recipes I have made over the years. The tang from the splash of vinegar and hint of spice is perfect for me. I hope you like it too!!
Mexican Black Beans
Serves 4-6
3 can black beans, drained and rinsed
2 tablespoon bacon fat or cooking oil
1 small onion, finely diced
3 garlic clove finely minced
1 teaspoon dried oregano
1 teaspoon ground cumin
1/8 teaspoon red pepper flakes
2 teaspoon sugar
2 tablespoons white vinegar or raw coconut vinegar
1 cup chicken broth
Salt and pepper taste
2 green onion, chopped for garnish
In a saucepan over medium high heat, sauté the onion in the bacon fat until soft.
Add the garlic in and continue to sauté for several more minutes.
Add the beans, oregano, cumin, red pepper flakes and chicken broth. Simmer for 20 minutes.
Add the sugar and vinegar. Simmer for several more minutes to blend the flavors then season with salt and pepper.
Garnish the beans with the chopped green onions and serve hot.
Mango Lime Crema
½ mango, cut into pieces
Juice from ½ fresh lime
1 teaspoon Sriracha sauce
¼ cup Mexican Crema
Pinch of kosher salt
Blend all of the ingredients together until smooth. Pour into a squeeze bottle or drizzle w/ a spoon. Refrigerate until ready to use.
Mexican Style Rice
Chef Anthony Serrano, El Palacio Restaurant & Cantina
1 tablespoon oil
1 tablespoon unsalted Challenge Dairy butter
1/8 cup diced onion
2 garlic cloves, minced
1 cup Jasmine rice
1/8 cup diced tomato
1 jalapeno, finely diced, (optional)
2 cups chicken broth
Sea salt and pepper
Heat oil in a skillet and sauté the garlic and onion for 2-3 minutes; add the uncooked rice and sauté for several minutes or until the rice begins to brown slightly. This is the "Pearly" process and will help your rice become fluffy. Add tomatoes, jalapeno and chicken broth. Add a pinch of sea salt and pepper and cover with a lid. Reduce heat to a low simmer and cook for 20 minutes. Lightly fluff the rice and serve.
MANGO-JALAPEÑO CHICKEN MEATBALLS
Author: the whole smiths
Recipe type: main
Cuisine: paleo
Prep time: 
Cook time: 
Total time: 
Serves: 6-8 servings
A dairy and gluten free meatball with a kick.
INGREDIENTS
2 lbs. ground chicken
½ onion finely chopped
1 C. mangoes chopped small
3 cloves of garlic minced
⅓ C. cilantro chopped
1 finely diced jalapeño* (feel free to add more for additional heat)
3 eggs
1 C. almond flour
1 tbsp. chili powder
2 tsp. salt
1 tsp. cumin
½ tsp. smoked paprika
½ tsp. ground black pepper
INSTRUCTIONS
Preheat over to 375*
Lightly grease glass baking dishes (I needed two) with some olive oil to prevent sticking
Add all ingredients into a bowl and combine thoroughly
Once combined, form into balls about the size of a lemon. I personally like larger meatballs as they tend not to dry out as much, but that's just my opinion!
Arrange in baking dishes and bake for about 25 minutes
Check doneness at 20 minutes as ovens may vary
They should be golden brown on top and cooked through




by