Are you in disbelief like I was when I first heard about making lemon curd in the microwave? My oldest daughter was getting ready to have a brunch at her home and wanted to make a lemon curd to serve over fresh fruit. She told me about using the microwave. I was so curious as I love lemon curd and thought how great this would be.
Well, I was getting ready to make food for a ladies tea for 300. I too was serving fresh fruit and planned to serve a lemon curd that would be blended with whipped cream. I needed to make a lot of lemon curd so this would be the perfect time to test this method out.
Sure enough, it works beautifully! Not only did I make a few batches, I made an entire gallon in a short period of time. Since most people don't need a gallon of lemon curd, here is the recipe for a single batch!!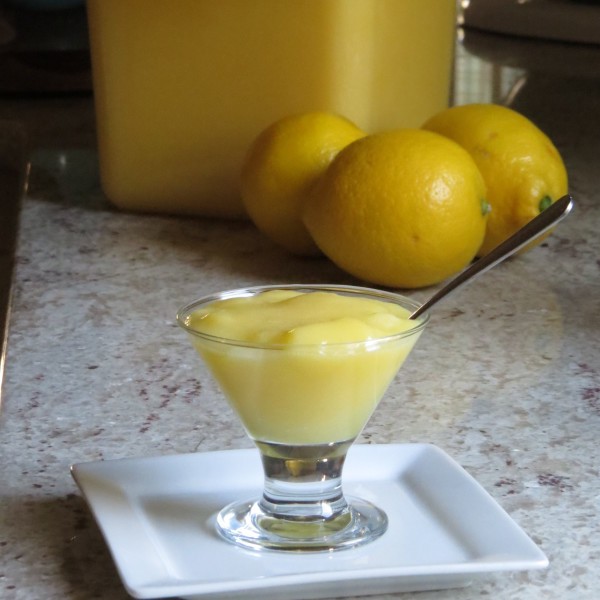 Microwave Lemon Curd
Whisk together 3 whole eggs plus one egg yolk with 1 cup of sugar until smooth, whisk in 1 cup of fresh lemon juice (I strain the juice) then slowly drizzle in 1/2 cup (1 stick) of melted unsalted butter and whisk until well blended.
Now into the microwave for 2 1/2 minutes, remove and whisk, return to microwave for another 2 minutes, remove and whisk. I then returned the curd back to the microwave for 1 more minute or until the mixture coats the back of a metal spoon.
*watch your first batch since all microwaves heat differently!!
Cover the curd with plastic wrap on the surface and allow to cool. It thickens even more as it cools!!
I did zest all of my lemons and decided to not add it into the whipped cream mixture. You could add the zest of the lemons when it cooks. I must admit that I like it smooth and without the zest!! Sometimes lemon zest can add a touch of bitterness. This makes about 3 cups or whatever is left after you taste test and taste test.




by