Oktoberfest Pops with Beer Cheese Mustard Dip #MakeItWithMilk @FWCon #SundaySupper
UPDATE: my recipe won 1st place at the Food Wine Conference!! Thank you Florida Milk for the fabulous gift basket.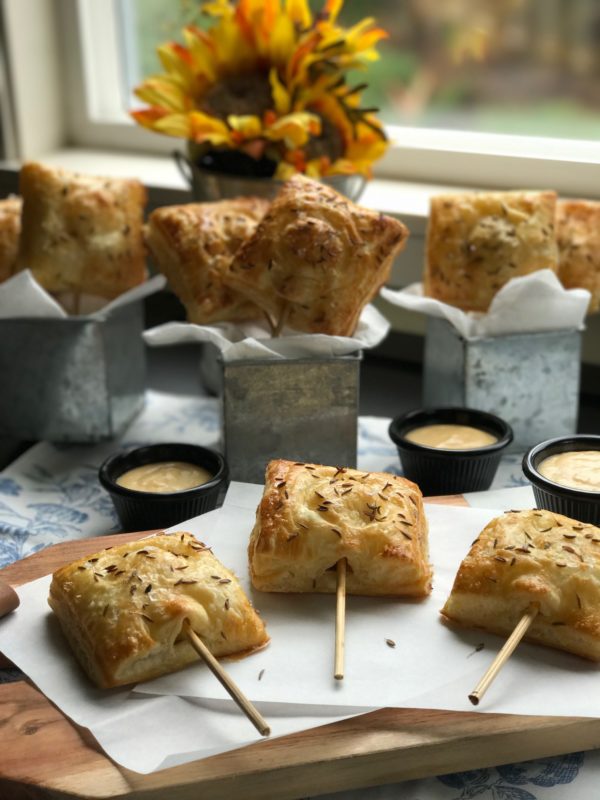 Next week I am headed to Orlando Florida to attend the 2017 Food Wine Conference presented by Sunday Supper Movement, May 19-21st. I am so excited to enjoy some time with old friends as well as new ones. One of the sponsors, Florida Dairy Farmers, is hosting a recipe contest for a chance to win one of the following prizes.
FIRST PLACE WINNER WILL RECEIVE:
Florida Dairy Farmers Gift Basket Featuring:
iPad mini
Snapchat Glasses
$150 VISA gift card
Cookbook
Reimbursement for their full conference pass to the Food Wine Conference in Orlando, FL.
The recipe featured on floridamilk.com
SECOND PLACE WINNER WILL RECEIVE:
Florida Dairy Farmers Gift Basket Featuring:
iPad mini
$150 VISA Gift Card
Cookbook
The recipe featured on floridamilk.com
THIRD PLACE WINNER WILL RECEIVE:
Florida Dairy Farmers Gift Basket Featuring:
_____________________________________________________________________
Having grown up in North Dakota, I was surrounded by German food. It is still and always will be one of those comfort foods that reminds me of home. But it wasn't until I was an adult when I learned how to make it myself. Sauerkraut is not something that everyone loves. You will think differently when you make it with butter, onions and a tart Granny Smith apple! Don't forget to add the caraway too!!
The steps to making these pops are simple. The beer cheese mustard dip and the kraut can be made ahead of time and assembled later. Here are a few photos of the making of these tasty puffy pops.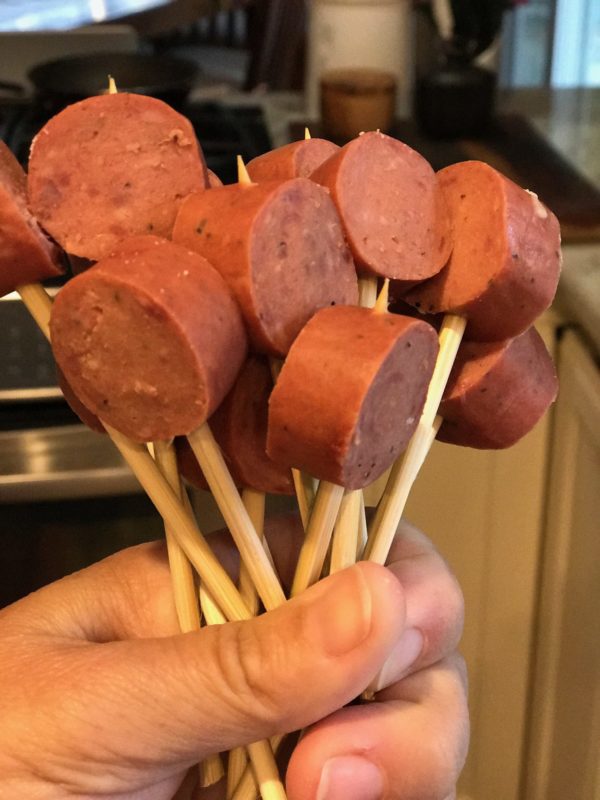 A stick for every pop. I used a heavy duty skewers that I cut down to 6 inches in length.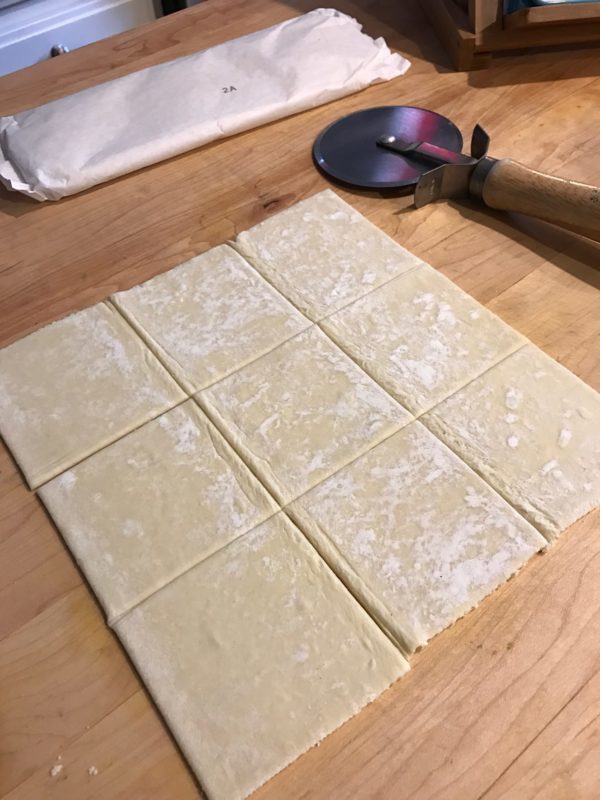 The puff pastry sheets are the perfect size for these pops. No wasted pastry here.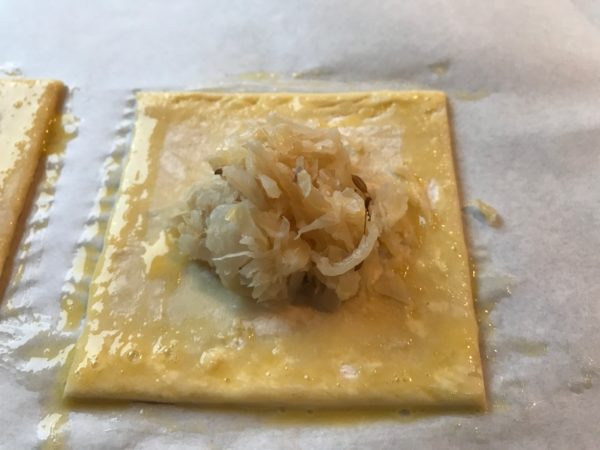 A tablespoon of sauerkraut apple filling and a round of egg wash to help seal the pastry together.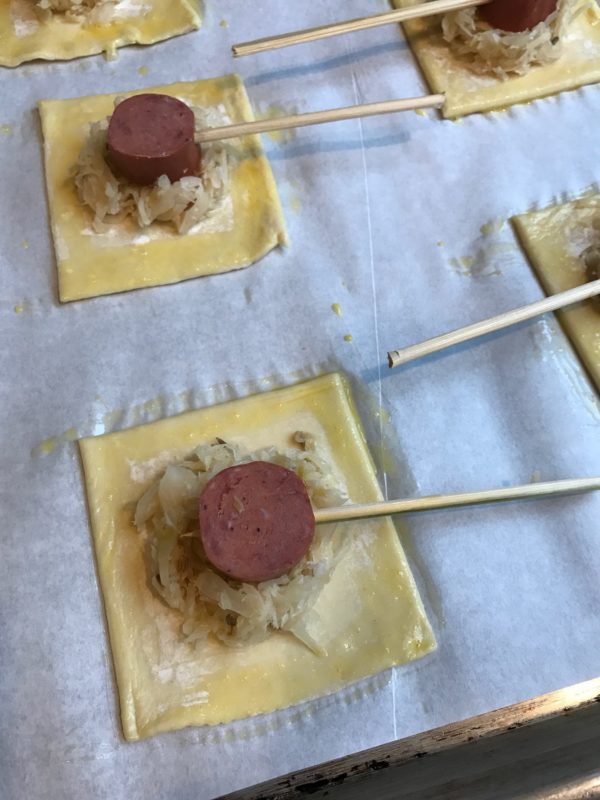 A sausage pop pressed on top of the filling. The stick will not be flat on the baking sheet. The pastry will bake around it.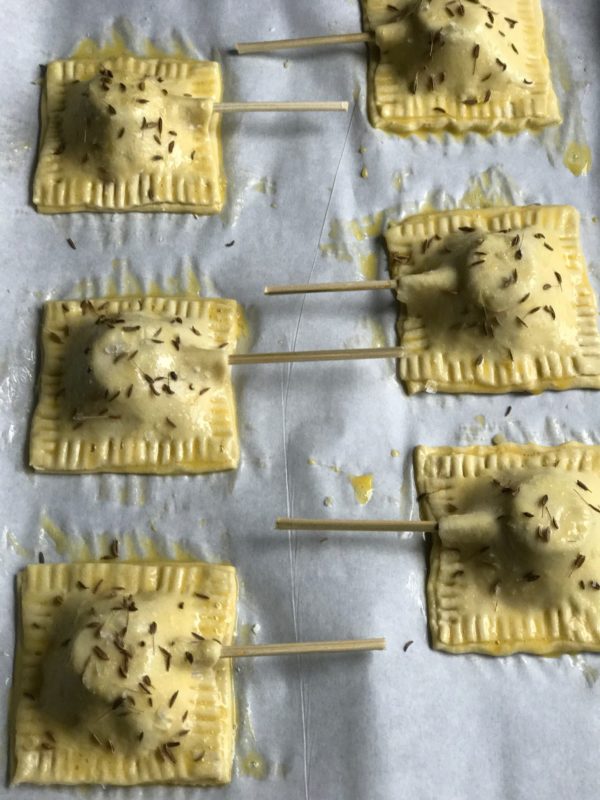 All sides crimped, the surface is washed with egg and garnished with more caraway and coarse flaky sea salt. Ready for the oven.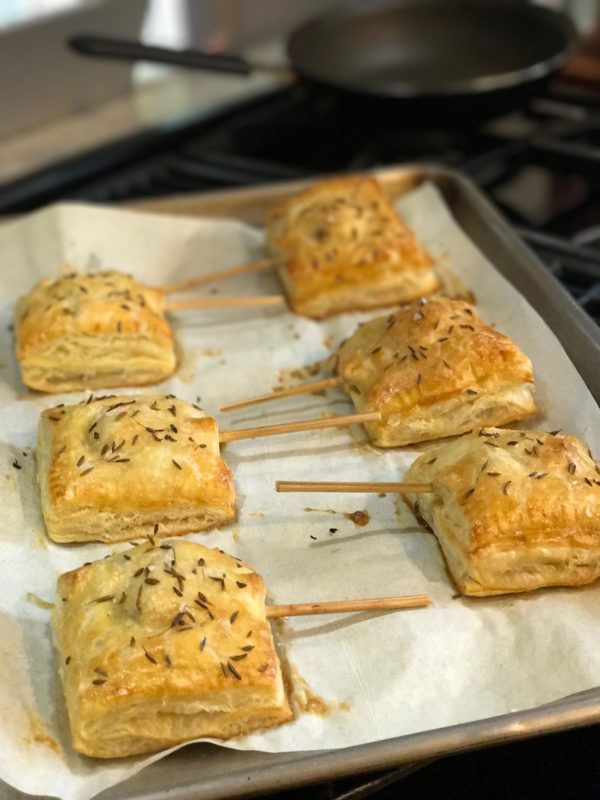 Allow the baked pops to rest and cool slightly before removing them from the baking sheet. Once they have cooled remove them with a spatula and arrange. They will be ready to pick up by the stick!!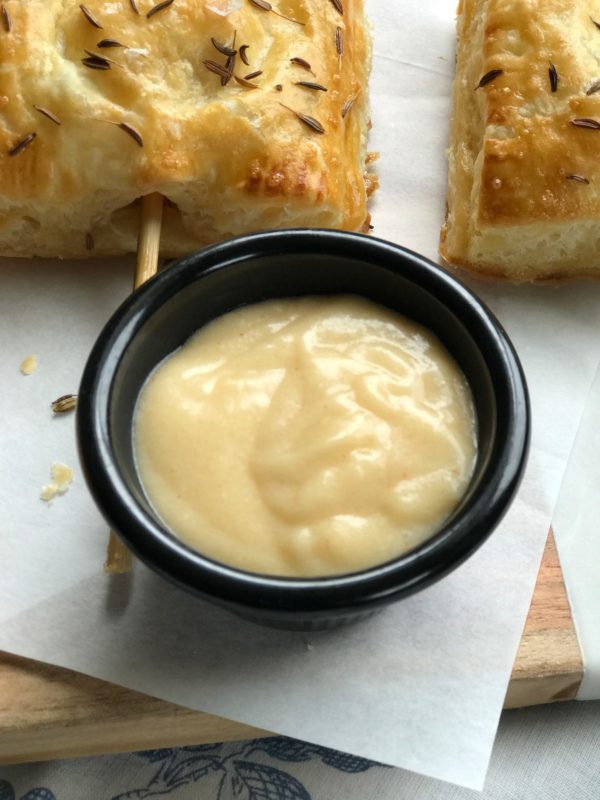 Serve each Oktoberfest Pop with the warm Beer Cheese Mustard Dip. I darn you to not lick the cup!!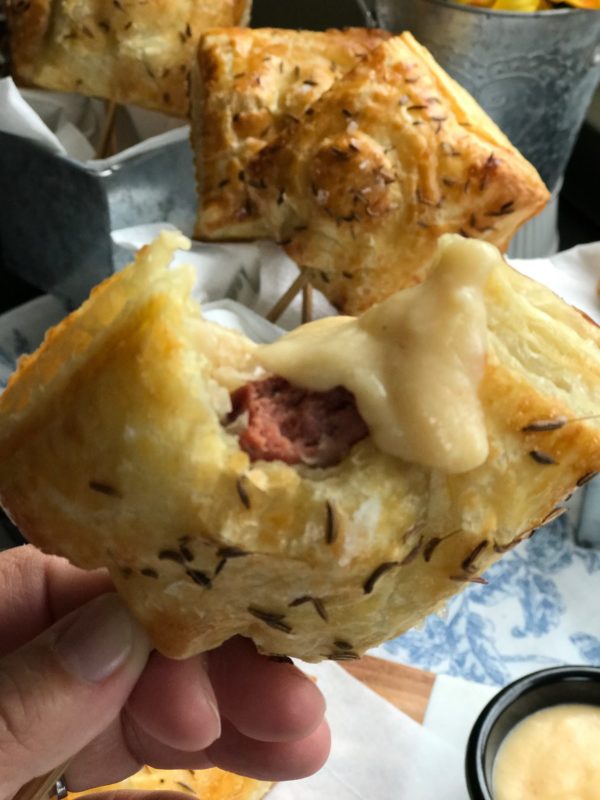 Oh yum, the sauerkraut apple filling and sausage wrapped in light puff pastry with the beer cheese mustard dip are perfect together.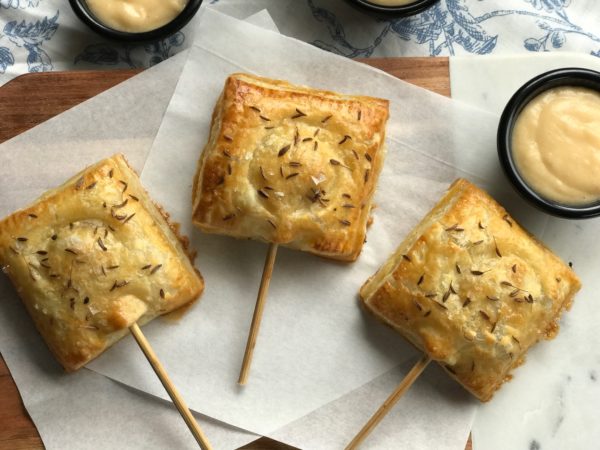 The recipe makes 12 pops or 12 servings but it is up to you how that works out! I can't eat just one.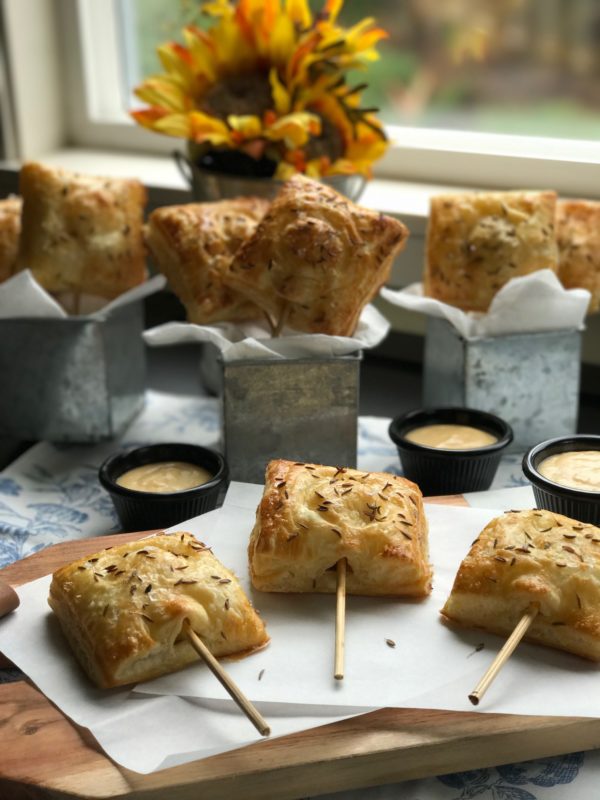 I am a Brand Ambassador and attendee of the 2017 Wine Conference by Sunday Supper Movement in Orlando Florida this May 19-21st. Read more on their site about how you can grow your business whether you are a blogger, small business owner, winemaker, chef or more.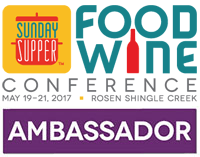 It's not to late to sign up to attend the 2017 Food Wine Conference and join me. You have until the end of the day, 5/12/17 to use my special promotion code (KimB2017) to receive a $50.00 savings on your conference pass.
Oktoberfest Pops with Beer Cheese Mustard Dip #MakeItWithMilk #FWCon
Light puff pastry pops filled with a sauerkraut apple filling and German sausage on a stick. Each pop is served with a warm Beer Cheese Mustard Dip. Great for serving at your Oktoberfest party or anytime you want to feed your German food cravings.
Ingredients
2 Oktoberfest German style sausage links, fully cooked
12 6" wooden sticks/skewers
3 sheets of puff pastry, thawed
1 egg beaten
Beer Cheese Mustard Dip:
2 tablespoons unsalted butter, divided
2 tablespoons flour
1 cup 2% milk, warm
½ cup Lager beer, room temperature
3/4 cup shredded cheddar jack cheese
1/4 cup grated parmesan cheese
2 teaspoons Dijon mustard
¼ teaspoon garlic powder
½ teaspoon onion powder
½ teaspoon kosher salt
1/8 teaspoon white pepper
1/8 teaspoon ground cayenne pepper
Sauerkraut Apple filling:
1 tablespoon unsalted butter
8 ounce can sauerkraut, drained and rinsed
3 tablespoon, finely minced onion
1/4 cup grated granny smith apple, peeled
¼ teaspoon kosher salt
¼ teaspoon caraway seeds
Garnish for pops:
Caraway seeds
Coarse flaky sea salt
Instructions
Preheat oven to 400 degrees.
Begin making the Beer Cheese Mustard Dip: In a small bowl, mix together the garlic powder, onion powder, salt, white pepper and ground cayenne pepper and set aside.
In a medium sauce pan over medium high heat, melt the butter, add the flour and stir for a minute to cook the flour. Slowly whisk in the warm milk then sprinkle in the dry spice mixture. Continue to whisk until the milk mixture begins to thicken. Add in the mustard and cheeses and stir until melted and smooth. Slowly add in the beer and stir until combined and smooth.
Remove the beer cheese mustard dip from the heat and cover with plastic wrap to prevent a film from developing on the top and set aside.
Cut the sausage into 12-½" pieces, discarding the ends (or eat them like I did, LOL), skewer each with a stick going through the outer side of the sausage all the way through and set aside.
Make the sauerkraut apple filling: In a skillet over medium high heat, melt the butter then add in the remaining ingredients. Sauté for several minutes until the mixture begins to soften and turn a light golden color. Remove from the heat and set aside.
Assemble the pops: Cut each thawed puff pastry sheet into 9 pieces (approximately 3"x3"). Using two baking sheets, arrange 6 pieces on each baking sheet lined with parchment paper. Place a tablespoon of sauerkraut filling in the center of each square. Brush the outside edges of the puff pastry square with beaten egg. Top the filling with a sausage skewer, then place another piece of puff pastry over the top. Gently pull the pastry edges down to meet the bottom pastry. Crimp the edges with a fork to close.
Brush each pop with beaten egg, sprinkle with caraway seed and coarse flaky sea salt.
Bake for 15-17 minutes at 400 degrees. Rotate at about 10 minutes for even baking. Allow the pops to cool slightly before handling them. Serve with warm beer cheese mustard dip.
Notes
1. Puff pastry can be thawed in the refrigerator overnight.2. The beer cheese mustard dip and sauerkraut filling can be made ahead and refrigerated until assembly. Reheat beer cheese mustard dip over low heat or microwave, stirring often until warmed.
Disclaimer: I received a reduced conference pass as a Brand Ambassador.




by