If you stopped by the Creative Living Stage while at the Oregon State Fair and watched our crazy fun cooking demo, you probably heard us tell you that I would be posting the recipes.
 
---
Saucy Mama Tailgating Cook Off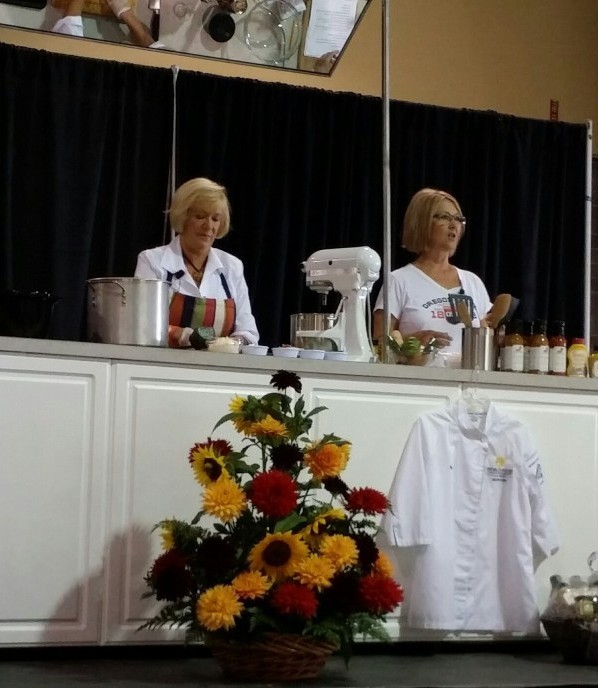 Creamy Hot Wing Chicken Dip
2 boneless, skinless chicken breasts
1 bottle Saucy Mama Hot Wing Sauce
2- 8oz packages of cream cheese
4 oz crumbled blue cheese (or more according to taste)
Marinate chicken breasts with half bottle of hot wing sauce. This can be done a day ahead or 10 minutes before you make the dip.
Place chicken in a small baking dish with marinade. Bake in a 375⁰ oven for about 30 minutes, until cooked through. Remove from oven and allow to cool.
Chop chicken into small pieces and place in large mixing bowl, along with remaining sauce from baking dish. Place room temperature cream cheese and blue cheese in mixing bowl. Beat until totally combined. If you want the dip hotter, just add more hot wing sauce!
Serve warm with pita chips or tortilla chips.
---
Saucy Mama White Bean Chili
1.5-2 lbs pounds boneless skinless chicken thighs
¾- 1 bottle Saucy Mama Lime Chipotle Marinade
2 15oz cans white beans
1 4oz can diced green chilis
1 14.5 oz can diced tomatoes
3 tablespoons chili powder
Place thighs and marinade in a medium sized slow cooker. Cook on high until thighs are cooked through and falling apart (about 3 hours). Not all slow cookers are created equal, and if the thighs are bubbling rapidly, turn to a lower temperature.
When chicken is cooked, use a wadded up paper towel held with tongs to blot any fat from the surface of the chicken mixture. See my photo for an example!
Add remaining ingredients and heat for 1 hour in slow cooker on high. Serve with your favorite chili toppings. I used sour cream,
The chicken thighs could always be cooked just in the Lime Chipotle Marinade to make a wonderful burrito filling, and it's so easy!
Thank you Suzie Barhyte for a wonderful cook off. The winner, Rebecca Terpack, is on her way to compete in the World Food Championships Nov 3-10th. More to come on that!! Find all of Suzie's Saucy Mama's and Barhyte products here!!
---
Retro Rad Chef Emily Ellyn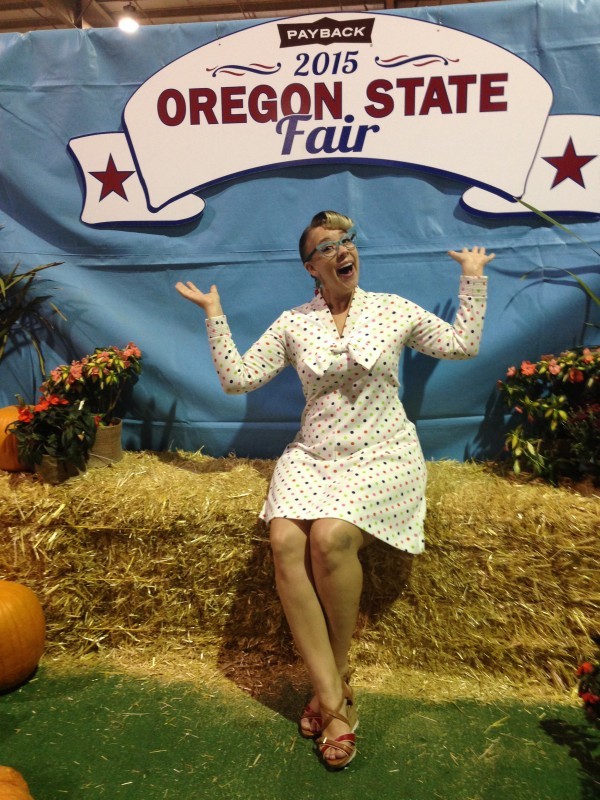 Find Food Network Chef Emily Ellyn's Chocolate Covered Cherry Jam recipe here
Don't miss Emily's fun and wacky Peanut Butter and Wine Jelly "Snow Cones" here
Thank you Emily for a spectacular "Retro Rad" day at the fair.
---
Third Street Oil and Vinegar- Cara Lagunas


Cream of Roasted Pepper & Tomato Soup with Tuscan Herb Olive Oil
Ingredients
2 – 28 oz. cans tomato puree
1/2 cup white wine
2 cups chicken or vegetable stock
2 large red bell peppers, roasted, seeded, peeled and chopped, or one jar of roasted red peppers, drained & chopped
3 tablespoons Tuscan Herb Olive Oil
1 medium yellow onion, finely diced
4 large cloves garlic, minced
1 bunch fresh basil leaves washed, dried, & torn, reserving 6 small sprigs for garnish
1 teaspoon dried oregano
1/2 cup grated Romano Cheese
1 cup heavy cream
sea salt and fresh ground pepper to taste
Directions
In a medium (5+ quart) heavy stock pot, heat one tablespoon of Tuscan Herb Olive Oil over medium-high heat.  Add the onion and saute until translucent, for about 3 minutes.  Add the garlic and saute for another minute.  Add the white wine and reduce by half.
Add the chicken stock, roasted peppers, tomato puree, basil leaves and oregano to the pot.  Lower the heat to medium and simmer for 20 minutes.  Remove the pot from heat.  Using an immersion blender, puree the hot soup until smooth and creamy in consistency.  Add the heavy cream and Romano Cheese and stir to combine.  Adjust seasoning with salt and pepper to taste.
Serve individual bowls of soup drizzled with approximately one teaspoon of Tuscan Herb Olive Oil and a sprig of basil.  Serve immediately.
---
Granola with Blood Orange Olive Oil, Apricots, Coconut and Almonds
6 cups old fashioned rolled oats
1 cup almonds
1 cup unsweetened large flake coconut
1 cup dried fruit , I like apricots, but you can use blueberries, dates, raisins, cranberries… etc.
1/2 cup Blood Orange Olive
1/2 cup honey
1 teaspoon vanilla extract
Preheat the oven to 325 F.
Line a large rimmed baking sheet with parchment paper.
Mix together the first four dried ingredients and spread out in to an even layer over the lined baking sheet.
In a medium pot set over low heat, or in your microwave gently warm the honey so that it becomes more fluid.  Whisk the olive oil in to the warm honey along with the vanilla.  It won't emulsify, but that's alright.
Even drizzle the honey-olive oil mixture over the oats on the baking sheet.  Toss everything gently to coat as much of the oats with honey and olive oil as possible.  Redistribute in to an even layer and pop in to the oven on the middle rack.
Every 10 minutes for about 1/2 hour, check and stir the granola, the honey and olive oil with continue to coat the remainder of the granola as you do this.  When the granola is fragrant and golden brown, remove it from the oven and stir it one last time to ensure even distribution of olive oil and honey.
Allow it to cool and store in an airtight container for up to 3 weeks.
Makes approximately 9 cups (9 servings of granola)
Read more about Cara's delightful shop here: Third Street Oil and Vinegar
---
Happy Curry Foods- Shiba Bhattarai
Cauliflower and Potato Known as Aloo-gobi in Nepal
Aloo=Potato and Gobi=Cauliflower.  One of the most favorite dish on the Indian Sub-continent; prepared often at homes and almost always at the parties.
Ingredients:
1/3 cup                                Oil
¼ tsp.                                   "Shiba's Turmeric"
1 tsp.                                     "Shiba's Popping Seeds"
2 Tbs.                                    Ginger, chopped finely
2 Tbs.                                    Garlic, chopped finely
2 medium                           Onions, sliced
1 lg.                                        (2 sm.) Potato, peeled, large diced
2 tsp.                                     "Shiba's Curry Powder"
¼ tsp.                                   "Shiba's Sweet Spice"
1 head (large)                   Cauliflower stem and leaves removed, cut into small florets
¼ cup                                   Water
1 tsp.                                     Salt
½ cup                                   Cilantro, or to taste, chopped
Preparation:
Heat oil in large frying pan or wok. Toast popping seeds, until dark brown.
Add ginger, garlic and onion, cook at high heat, until onion starts to soften.
Add potato. Stir and cook, until potato begins to soften.
Stir in curry powder and sweet spice, then mix cauliflower, water and salt. Mix well.
Cover pan and continue to cook at med. heat until cauliflower is desired tenderness. Stir from time to time.
Reduce heat to low.
Add cilantro. Mix all together.
Variation:  You can also turn this dish into a tasty gravy by adding 2 cups water and the desired amount of salt – bring to a boil and allow to simmer for a minute.
Visit Shiba's website here for products and more recipes!!
---
Food and Wine Editor for Statesman Journal and author of The Taste of Oregon-Victor Panichkul
Seared Bacon-crusted Albacore Tenderloin with Pomegranate Reduction
For the sauce:
1. 2 cups (480 ml.) red wine
2. 1 1/2 cups (360 ml.) POM pomegranate juice
3. 1/4 cup (60 ml.) balsamic vinegar
4. 1 tablespoon (15 ml.) extra virgin olive oil
• Combine first three ingredients in a saucepan and reduce over a low flame to half its volume and set aside until ready to serve.
• When ready to serve, whisk in olive oil before drizzling over fish and greens.
For the albacore:
1. One 2-inch-thick piece of albacore tuna loin per person
2. One strip of apple wood-smoked bacon per piece of tuna
3. 1 tablespoon (15 ml.) peanut oil
4. Watercress, radish sprouts, sunflower sprouts, or any other micro-green or spring salad mix that you like
5. White from one egg
• In a cast-iron skillet, heat the oil over medium heat and cook bacon strips until brown and crispy.
• Turn off the flame and keep the bacon fat in the pan; drain bacon in paper towels and set aside to cool.
• When bacon has cooled, break into pieces into a blender and blend at high speed until completely pulverized, then empty bacon onto a flat plate.
• In a bowl, beat the egg white then brush the sides of the albacore loin with egg white and gently roll in bacon, taking care to cover the sides of the loin with as many bacon bits as possible. Reserve remaining bacon bits.
• Turn your oven broiler to high and position the topmost rack about three to four inches from the top.
• Over a high flame, heat the cast-iron skillet that you cooked the bacon in, along with the reserved bacon fat, and gently place each albacore loin medallion into the skillet, then place the skillet into the oven.
• Broil for 3 minutes, remove the skillet and gently turn over albacore medallions, taking care not to knock off bacon bits.
• Place skillet back under broiler for 3 more minutes to sear the other side.
• Prepare individual serving plates with a small mound of micro-greens or salad mix and gently set one albacore medallion on each mound of greens.
• Whisk the olive oil into the pomegranate reduction and drizzle a little onto each medallion and mound of greens.
• Top off each medallion with the remaining reserved bacon bits and serve.
Follow Victor on social media here: The Taste of Oregon on Facebook, The Taste of Oregon food blog
---
The Sensitive Baker- Linda Anderson
Linda shared baking tips for those in our lives who have food allergies. Her recipes are all gluten free, egg free, dairy free, and soy free!
Chocolate Cupcakes 
7 g (grams) flax seed meal
44 grams water
220 grams rice milk
4 g apple cider
113 grams chocolate recipe below
120 g cocoa powder
118 g sugar
250 g rice milk Rice dream brand
105 g organic palm fruit oil
320 g flour mixture
6 g baking soda
4 g xanthan gum
2 g baking powder
Icing
200 g palm fruit oil shortening
100 g Powdered sugar
50 g cocoa (if making chocolate icing
1 tsp vanilla extract
---
Chocolate Chip Cookies
2 Tbsp flax seed meal
6 Tbsp hot water
Mix and let sit for at least 5 minutes
In mixer cream together
3/4 cup organic Palm fruit oil shortening
3/4 cup brown sugar
1/4 cup cane sugar
In separate bowl combine dry ingredients
1 3/4 flour
1 tsp Xanthan Gum
1/2 tsp salt
1/4 tsp baking powder
1 1/2 tsp baking soda
1/2 package of enjoy life chocolate chips – free of gluten, dairy, egg, and soy.
---




by