Peachy Coconut Chai Toddy #Stirrings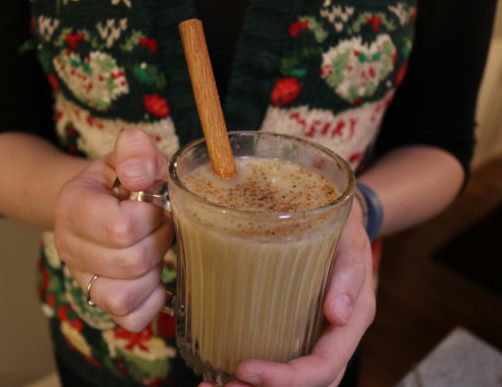 It's a "Stir It Up Holiday Blogger Mixology Challenge" from Stirrings, a company that sells Cocktail Mixers, Rimmer Garnishes and other bar ingredients.

As part of the recipe challenge, Stirrings mailed qualified bloggers their choice of two mixers and two rimmers. One of my daughters saw the products after they arrived and immediately commented that she uses Stirrings Lemon Drop Martini Rimmer and was now inspired to go home and make some that night. I had never used their Rimmer Garnishes before but learned very quickly how convenient they are to use and store.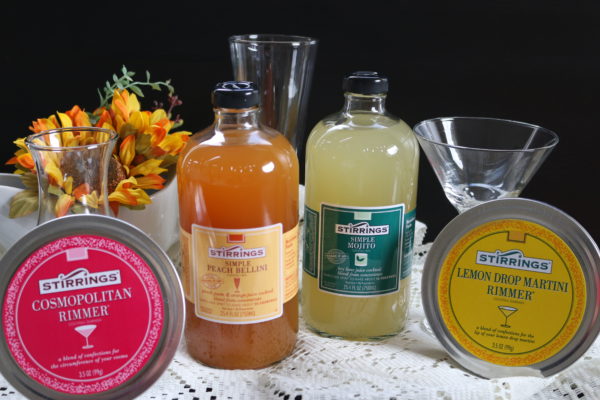 Stirrings company stated that "Qualified bloggers will compete to win one of three prizes. The top entry will be awarded $1,000.00; second place $500.00; and third place $250.00 and of course, bragging rights to friends and family."
They also stated that, "The winner of the Stirrings "Stir It Up Holiday Blogger Mixology Challenge" will be determined by judging all qualifying entrants' submissions based on the following criteria":
Taste: 50%
Visual Appeal: 25%
Creativity: 25%
Sounds like a lot of cocktail fun.
During my trial of mixing I made a Holiday Paloma Mojito Cocktail.  Traditionally a Paloma is a cocktail made with grapefruit juice and tequila. I decided to bring together two drink ideas into one, a Mojito and the Paloma!!!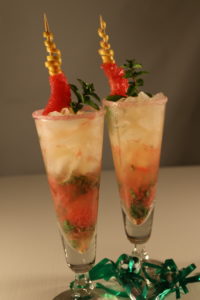 First, a cocktail glass was dipped in grapefruit juice then into Stirrings Cosmopolitan Rimmer. The glass was filled with fresh lime, mint and grapefruit sections that were muddled together, then the glass was filled with crushed ice, a shot of tequila and Stirrings Simple Mojito Mix. Lastly it was garnished with a mint leaf and section of grapefruit. The reviews were fabulous considering no one had ever had a Paloma let alone a Paloma Mojito. Some family members are big fans of grapefruit and loved the new flavor combination. The one thing that everyone agreed on was the convenience of using Stirrings cocktail mixes and knowing what kind of flavor to expect.
The Holiday Paloma Mojito is a cold drink which is refreshing and fun but our next drink hit the spot with the wintry weather we were having. The Peachy Coconut Chai Toddy was the one!!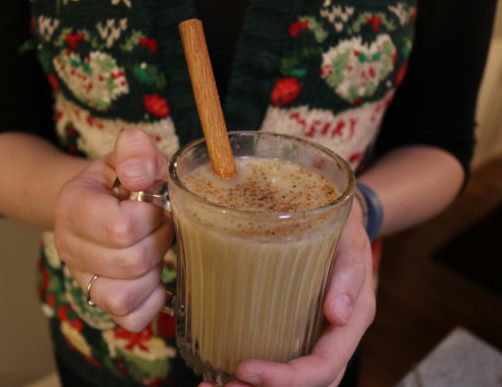 Let me introduce you to the Peachy Coconut Chai Toddy…a warm winter drink that all of your guests will love. A traditional Hot Toddy is not creamy but I couldn't help myself. But no worries here, I used coconut milk which keeps the drink dairy free for those who shy away from lactose like me!!
The weather being so cold outside, I wanted to use Stirrings Simple Peach Bellini Mix in a hot drink. I had rum in the cupboard along with a can of full fat coconut milk and Chai Tea bags. A quick mix of the ingredients in a saucepan and the Peachy Coconut Chai Toddy was ready. Not only was this drink delicious it was so easy to make. My family loved it and was sad to hear when the drink was gone. Time to order more mix!!
You can find Stirrings Products in stores such as Market of Choice, Manzanita Fresh Foods, Rosauers, St. Helens Market Fresh or use their store locator for Stirrings here. Need cocktail ideas, you can also follow Stirrings on Facebook, Twitter, Pinterest and Instagram by clicking on each of the highlighted social media names.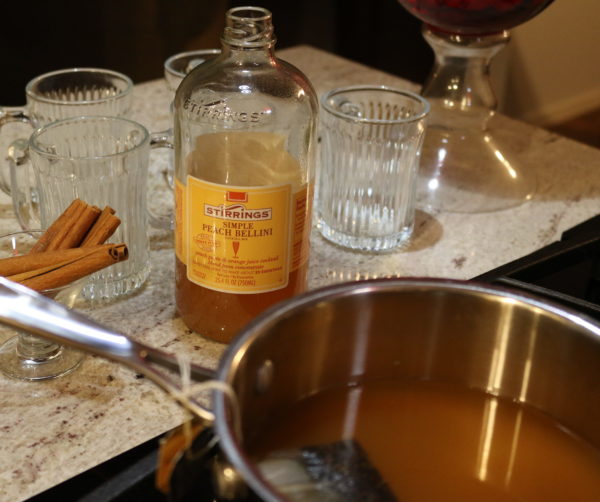 Peachy Coconut Chai Toddy is so easy to make and garnishes like cinnamon sticks and fresh grated nutmeg add a nice touch to the drink.
Peachy Coconut Chai Toddy #Stirrings
A hot toddy that is creamy, peachy and made with coconut milk. The sweet peach flavor comes from Stirrings Simple Peach Bellini Mix.
Ingredients
1-25.4 ounce bottle Stirring Simple Peach Bellini Mix
1-13.5 ounce can whole fat coconut milk, stirred
2 vanilla chai tea bag
Dark aged rum
Fresh ground nutmeg for garnish
Cinnamon sticks for garnish
Instructions
Add the Stirrings Simple Peach Bellini Mix and tea bags to a saucepan and heat over medium high for several minutes. Remove from the heat and allow the tea bags to steep for several minutes to release their flavors. Remove the tea bags and add the coconut milk and return to the heat, stirring to combine.
Add a shot of rum to each mug then fill with the hot peachy coconut mixture. Stir and garnish with a cinnamon stick and fresh grated nutmeg.
Facebook: https://www.facebook.com/Stirrings
Twitter: https://twitter.com/StirringsMixer
Instagram: https://www.instagram.com/stirrings/
Pinterest: https://www.pinterest.com/stirringsmixers/




by