Peanut Butter Delight Cookie Cake…the right combination of flavors for a decadent dessert to please the crowd.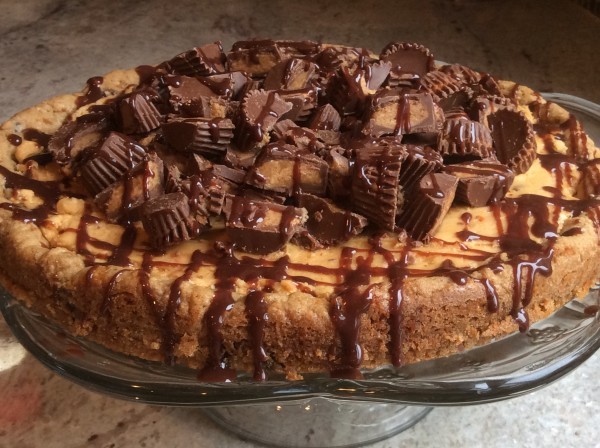 When asked by my youngest daughter if I would cook a birthday dinner for her best friend who was turning 20, I did not have to think long.
My daughter's friend is such a special young gal. These two have known each other for many years. I have a confession.
The first time I saw these two together, I was concerned. (They were sitting next to each other in church with the junior high students) I could see across the sanctuary all the chatting they were doing and not paying attention. I thought "oh my, this is not going to be good".  After a few warnings and many years together,  now I say, "Thank you Lord for bringing such a great friend into my daughter's life".
We planned the whole meal for a private group of her closest friends.  We thought about doing a fancy dinner, then we talked about making sushi, but decided on BBQ ribs, twice baked potatoes and 7 layered salad.
The dessert was as important as the main menu. Again we went through the list of possible desserts to make. I came across a Reese's Peanut Butter Chocolate Chip Cookie Cake made by Life Love and Sugar. The recipe become my inspiration. I loved how she layered the cookie cake with a pile of cut mini Reese's cups.
I happened to be making appetizers for another event just days before. One of the treats I made was Butterfinger Cupcakes. I had a bag of Butterfinger crushed candy left over as well as some Peanut Butter/Butterfinger frosting. I knew I could not go wrong by  adding Butterfinger to Reese's Peanut Butter Cups. Yes, the dessert is decadent, filled with the flavor of peanut butter and blended with chocolate, but it was worth every bite (and calorie)!!!!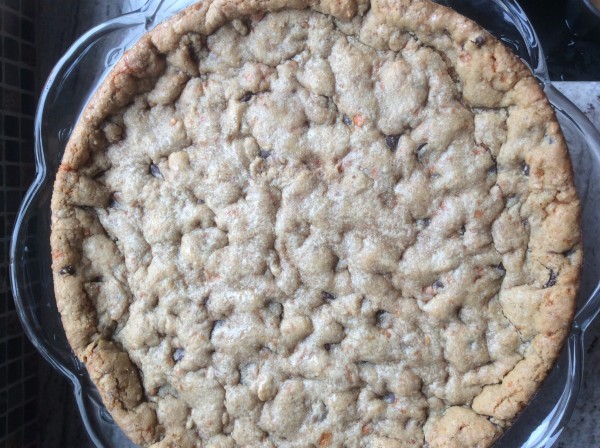 A crispy cookie crust with a soft center.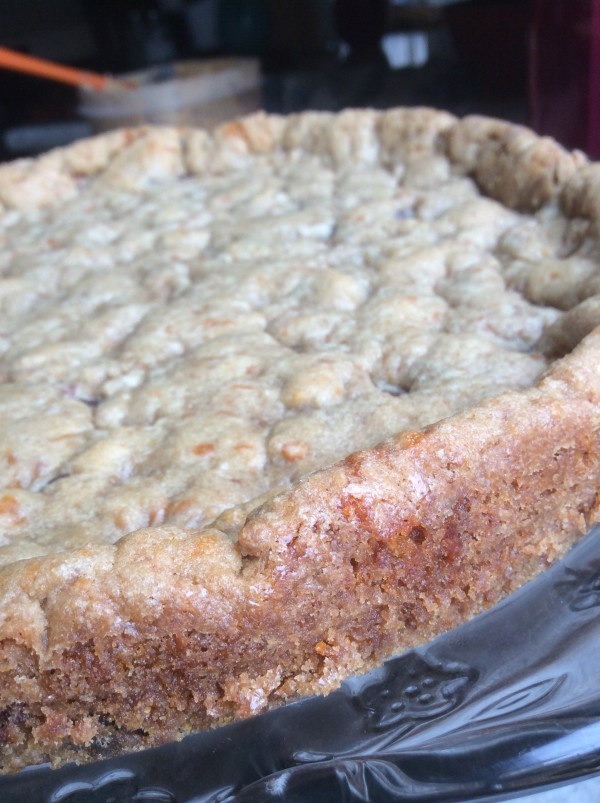 A springform pan creates the perfect edge and easy release.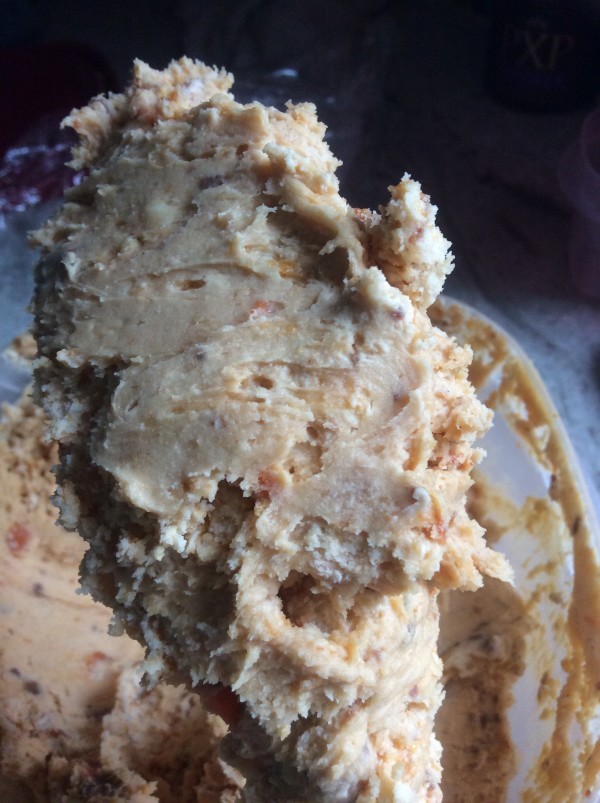 Peanut butter frosting with more crushed Butterfinger candy!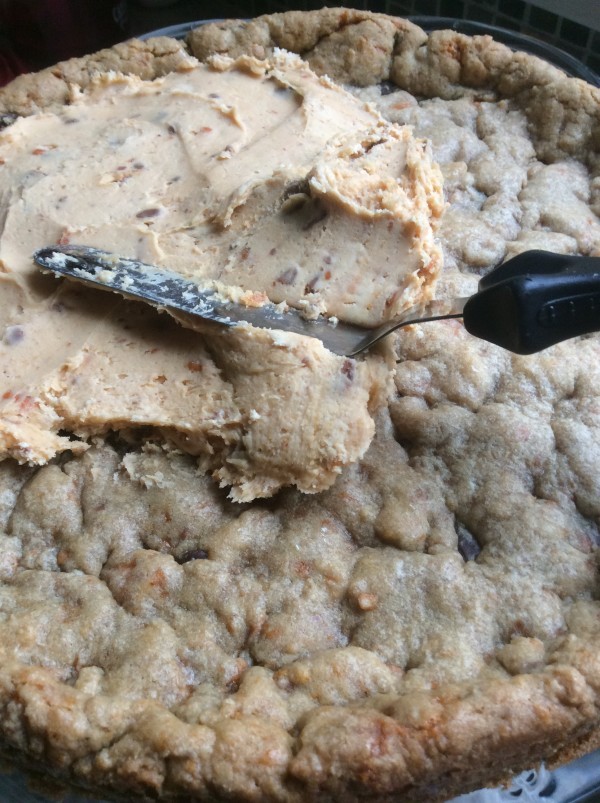 Peanut butter flavor on the inside and on top!!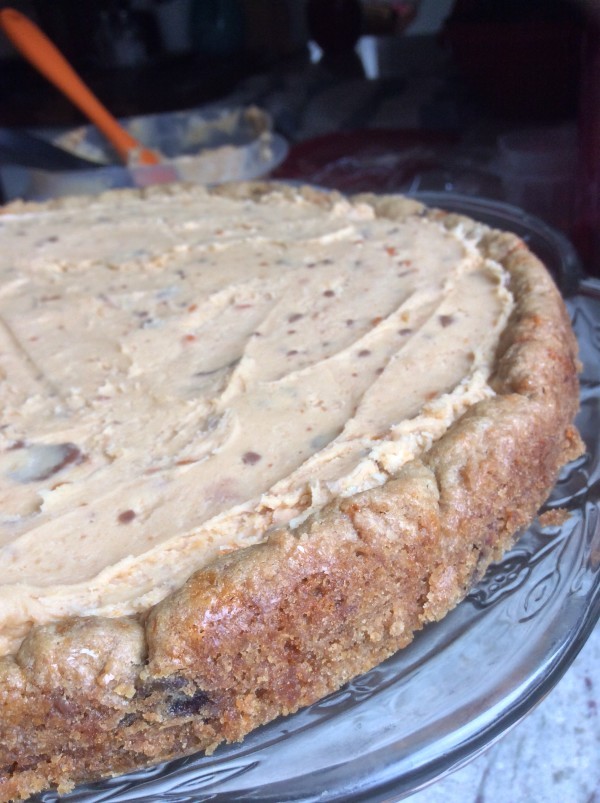 Spread the frosting up to the edge.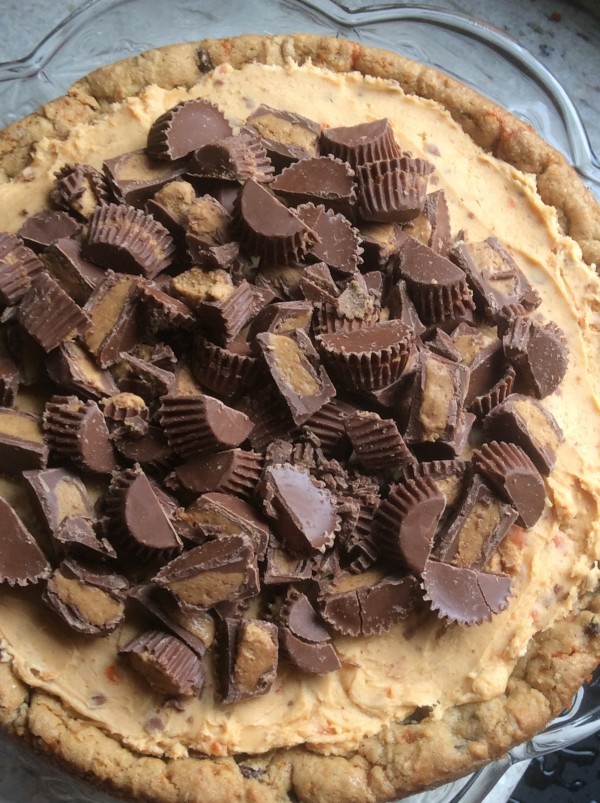 Have fun arranging the cut mini Reese's Peanut Butter cups.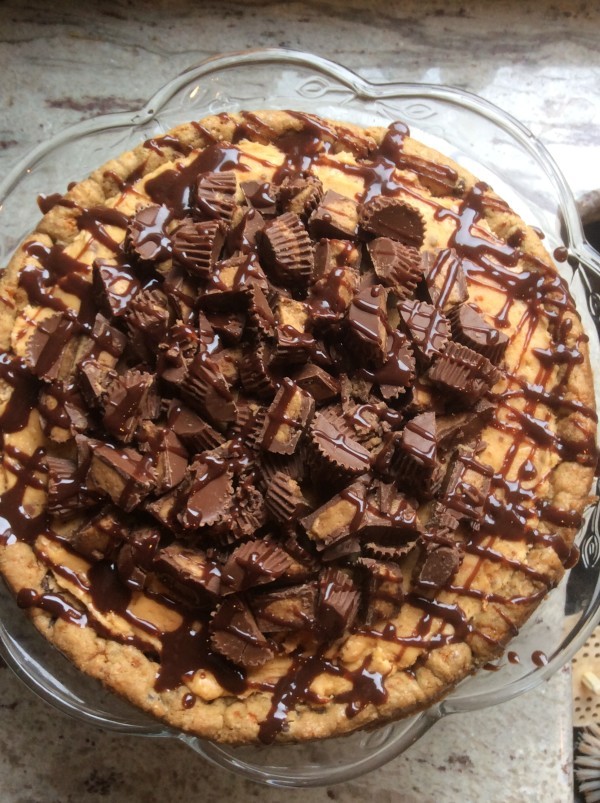 Drizzle on the glorious chocolate ganache. I like to go both directions!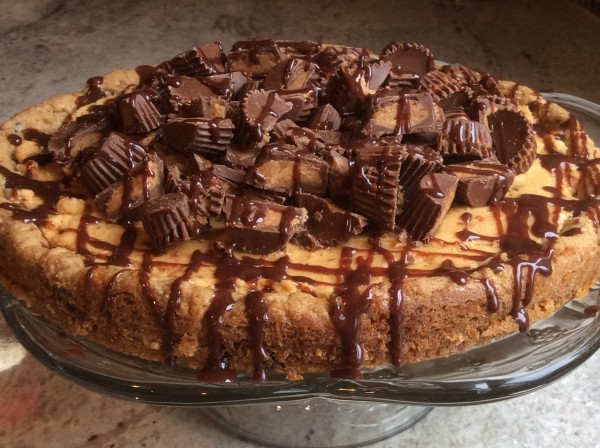 Be ready for the sounds of food joy!!
Peanut Butter Delight Cookie Cake
Ingredients
Cookie cake:
1/2 cup butter, softened
3/4 cup brown sugar
1/4 cup sugar
1/2 cup peanut butter powder or 3/4 cup peanut butter
1 egg
1 tsp vanilla extract
1 3/4 cups flour
3/4 tsp baking soda
1 cup crushed Butterfinger candy bars (they sell already crushed candy in a bag next to choc chips)
1 cup chocolate chips
pinch of kosher salt
Frosting, candy and ganache:
12 ounces cream cheese, room temperature
4 ounces (1 stick) butter, room temperature
2/3 cup creamy peanut butter
3 cups powdered sugar
2 teaspoons vanilla extract
1 cup crushed Butterfinger candy
12 ounce bag of mini Reese's Peanut Butter Cups, cut in half
1 cup chocolate chips
1/2 cup heavy cream
Instructions
Preheat oven to 350 degrees. Spray a 9 inch springform pan or cake pan with non-stick spray then line the bottom with parchment paper and spray the paper for easy release.
Make the cookie cake:
Cream butter and sugars together, mix in peanut butter powder, egg and vanilla extract.
Add flour, baking soda and salt.
Stir in 1 cup of crushed Butterfinger candy and 1 cup of chocolate chips.
Press dough evenly into the springform pan or pan cake.
Bake for 20-30 minutes, or until edges are slightly brown.
Remove cookie cake from oven and allow to cool for 15-20 minutes in pan.
Open the springform pan hing and carefully remove the outer ring and allow to cool completely.
When completely cool, carefully remove the bottom tin and the parchment paper. Place onto a serving platter and have ready for decorating.
Make frosting and ganache:
Cream together the cream cheese and butter on medium speed, about 2 minutes. Scrape down the sides with a spatula to ensure everything is evenly mixed. Add the peanut butter and mix on medium speed to combine. Scrape sides as needed. Mix in the powdered sugar, 1 cup at a time, on LOW speed. Add the vanilla and 1 cup crushed Butterfinger candy and mix once more. Set frosting aside.
In a small saucepan over medium heat, warm the heavy cream. Once the heavy cream is warm but not bubbling, remove from the heat and stir in 1 cup chocolate chips until well blended and smooth. Pour warm ganache into a pastry bag with a small tip or into a plastic storage bag and snip off a small tip of the corner. Set aside to decorate.
Once the cookie cake is completely cooled, frost the cake, top with cut Reese's cups and drizzle with the ganache.




by