Roasted Chickpea Pita Pockets with Avocado Garlic Cream
"No Salt/No Sugar"
"Blending Healthy with Great Taste"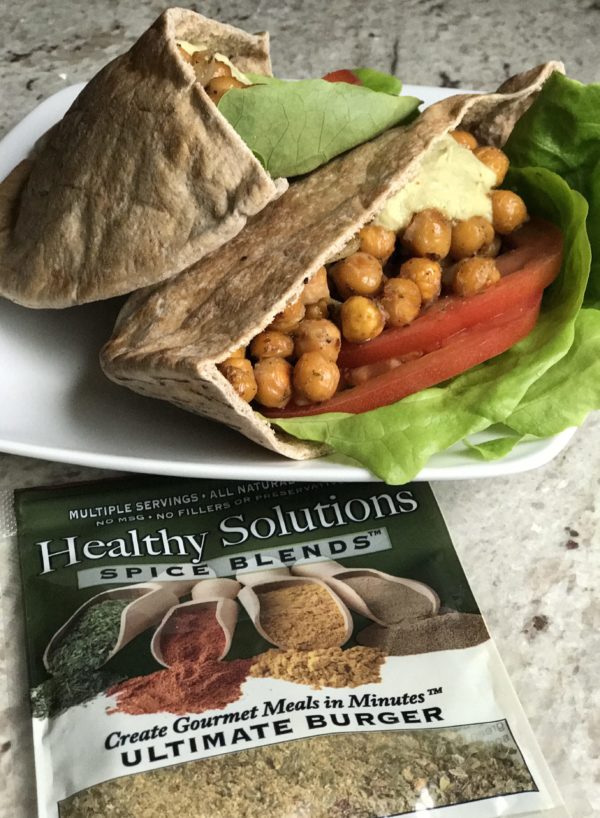 It's here again, the 2018 4th Annual Healthy Solutions Spice Blends Recipe Challenge. The c
hallenge begins at 12:00 am Eastern Standard Time on January 1, 2018 and ends at 11:59 pm Eastern Standard 
Time on April 30, 2018 (the "Deadline Date"). All entries must be received by 11:59 pm Eastern Standard Time on the Deadline Date. See the official rules here.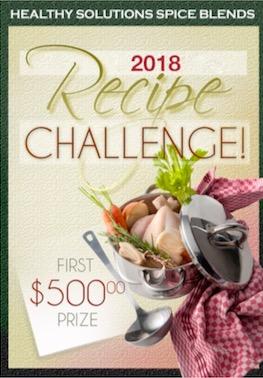 Some of the challenge details are as follows:
Recipe must be original
Entrants have a chance to win one of 3 top prizes
1st Place – $500
2nd Place – $100
3rd Place – The full collection of 16 spice blends
I am game for winning any of the following. I have enjoyed using Healthy Solutions Spice Blends since the 1st annual recipe challenge. Over the last four years I have tried almost all of their packets. FYI, the opinions in this post are mine and I was not paid to create this recipe or endorse.
Can one over complicate a recipe entry? Even when the rules talk about "easy of re-creation" or "would you want to make this dish again and again?" Oh, yes and that would be me.
Looking back at my previous recipe entries, I noticed that my thought process has changed over the last four years which has lead to the simplicity of this recipe as well as the healthy aspect of the dish itself. I have a tendency to think "competition style" entry instead of thinking about the average home cook and family recreating my entry.
Don't get me wrong. I love making a dinner for my family that has multiple steps and takes a good handful of ingredients but I feel that this years entry needed to focus on being protein packed, fresh, easy, no salt/no sugar added and blends healthy with good taste.  A great bonus to this entry is that it is an adorable meal to make as well.
Recently, my doctor asked me to reduce my red meat intake due to narrowed arteries leading to my kidneys. This wasn't as hard as giving up wheat and dairy so I feel like I still have some variety of foods to choose from. LOL
When I was young, I exchanged my meat for my sisters potatoes. Then when she didn't want it, I gave it to the dog. I know many of you probably did the same thing. What did you feed your dog under the table? Oh better yet, asked to be excused and take your napkin with you. 🙂
I love a grilled burger on a toasted bun.  My mouth is watering, just thinking about one. I could feel bad for myself but I refuse to do that. I am always looking for other great ways to cook food to best fit my life. Making veggie burgers is something I will do from time to time but they can be a lot of work. Buying good quality ones at the store are fine but I am not to happy about handing over that much of my hard earned money.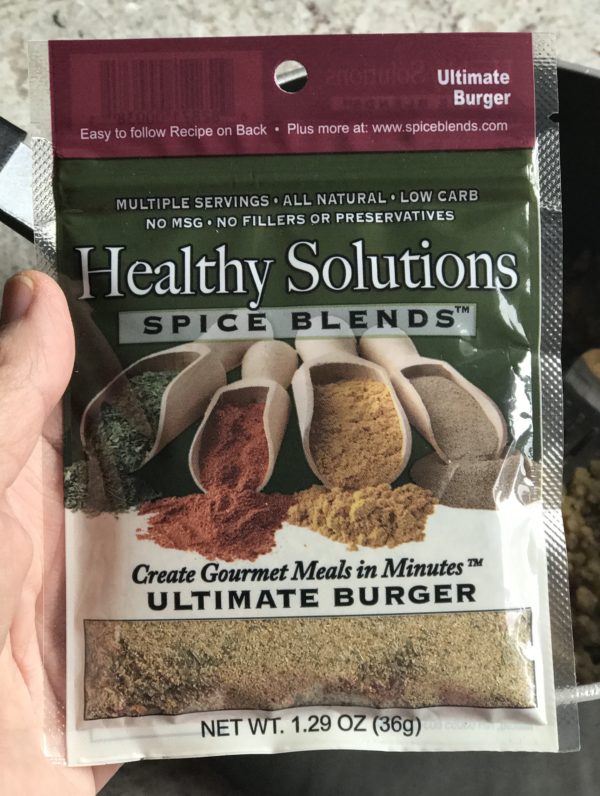 I chose to use Healthy Solutions Spice Blends Ultimate Burger mix. Just opening the spice pack and smelling the ingredients screams burgers. Next I decided to use chickpeas in place of meat. Chickpeas are high in fiber and protein. They also have a great texture when seasoned and roasted. I can say that I ate the first test round straight from the baking sheet. That's why I can suggest that they make a tasty snack.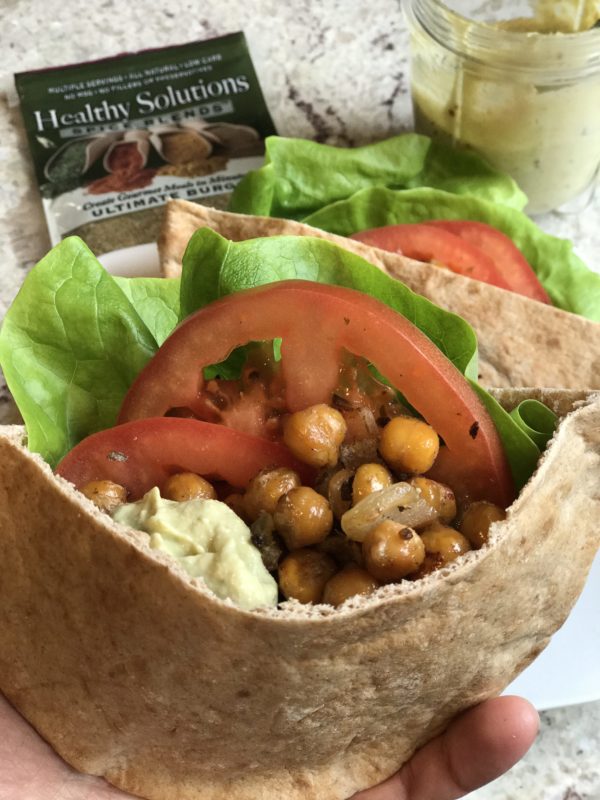 No cheese for this girl but my dairy free Avocado Garlic Cream makes a wonderful spread and helps pull all of the ingredients together.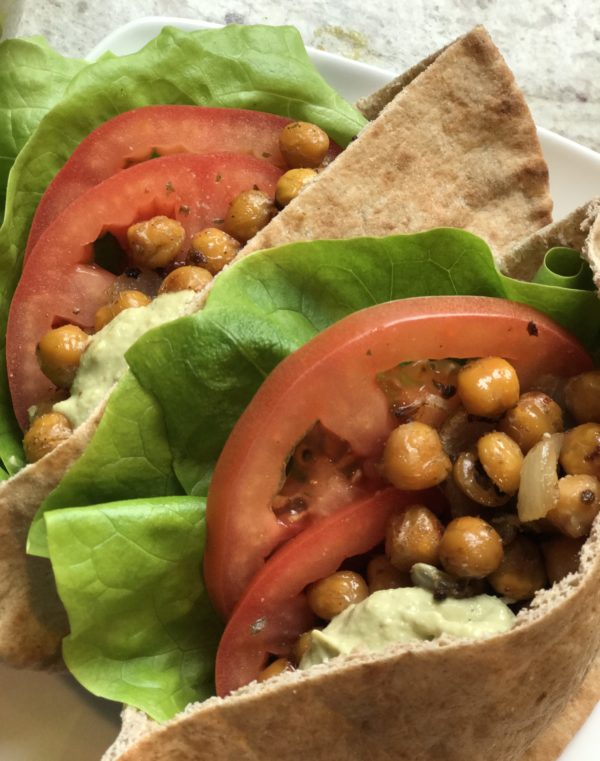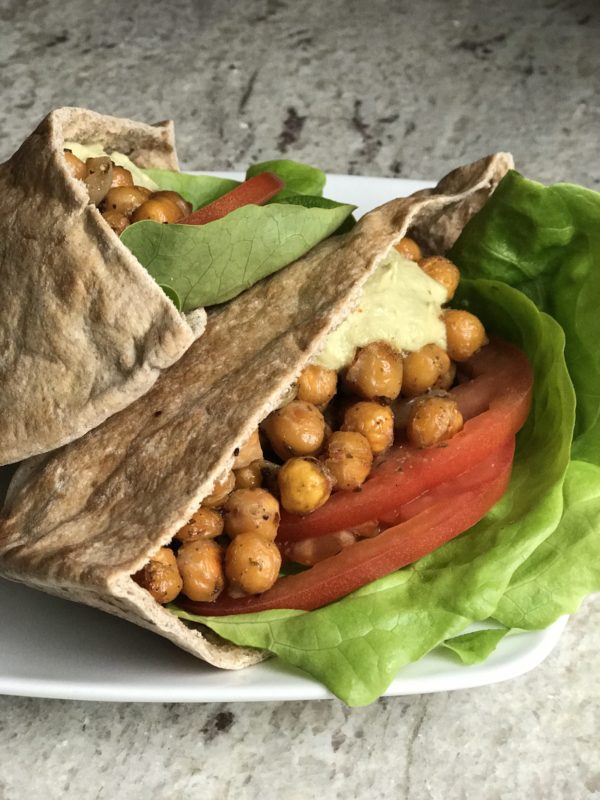 Roasted Chickpea Pita Pockets with Avocado Garlic Cream
A quick and easy protein packed chickpea pita packet. No added salt or additional spices, just Healthy Solutions Spice Blends Ultimate Burger mix. The avocado garlic cream is dairy free and seasoned with the Healthy Solutions mix too, perfect for topping the warm toasty chickpeas.
Ingredients
2-15 ounce cans chickpeas (garbanzo beans), drained and dried off with paper towels
1 cup chopped onion
4 tablespoon avocado oil, divided (other mild oil can be used)
5 ½ teaspoons Healthy Solutions Spice Blends Ultimate Burger mix, divided
1/3 cup raw cashews
2 teaspoons minced garlic
2 teaspoons fresh lemon juice
½ small fresh avocado
Butter lettuce leaves, approximately 8
8 slices of tomato, drained on a paper towel
2 whole wheat pita pockets, cut in half
Instructions
Heat oven to 400 degrees.
Bring one cup of water to a boil and pour over the raw cashews. Set aside and allow to soak 20-30 minutes to soften.
In a large bowl, toss together the chickpeas, chopped onion, 2 tablespoon of avocado oil and 4 teaspoons of Healthy Solutions Spice Blends Ultimate Burger mix. Spread the chickpea mixture on a baking sheet with parchment paper.
Roast in the oven for 15 minutes, remove from the oven and mix the chickpeas around to avoid sticking and even browning. Return to the oven and bake another 5 minutes or until the edges of the onion are browning and the chickpeas are golden.
While the chickpea mixture is in the oven. Strain the cashews from the water and reserve ¼ cup of the water that the cashews soaked in. Place the cashews in a small blender, add in the reserved water, fresh avocado, minced garlic, lemon juice, 2 tablespoons avocado oil and 1 ½ Healthy Solutions Spice Blends Ultimate Burger mix. Blend until smooth.
When the chickpea mixture is finished roasting, assemble the pita pocket by spreading some of the avocado garlic cream inside the pockets. Add in the lettuce leaves, tomato slices and chickpea mixture. Top with additional cream or serve on the side.
Notes
The roasted chickpeas seasoned in the Healthy Solutions Spice Blends Ultimate Burger mix make a fantastic snack. The seasoned chickpeas also go great sprinkled over a green salad. The avocado garlic cream can be dobbled on the salad or thinned out with a bit of water to make a pourable dressing.
#HealthySolutions #SpiceBlends #RecipeChallenge #DairyFree #MeatlessMonday #QuickandEasy #Proteinpacked #Greatfoodthefamilywilllove




by