Oven roasted beets, bacon pieces, thinly sliced red onion, blue cheese crumbles, candied macadamia nuts tossed with chopped romaine and drizzled with a light flavored macadamia nut oil vinaigrette.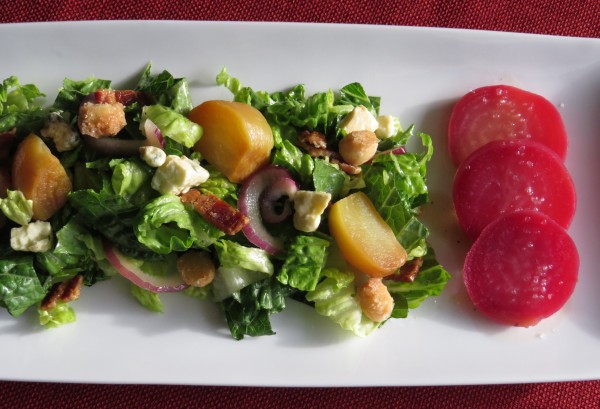 Here it is December and I headed to the garden to harvest some of my beets. Yes, I still have things in the dirt! Besides finding myself busy this fall, I knew I wanted to leave my beets in the ground for storage. So a gorgeous day in Oregon comes along and I was drawn to the yard. Still a bit cold but no rain!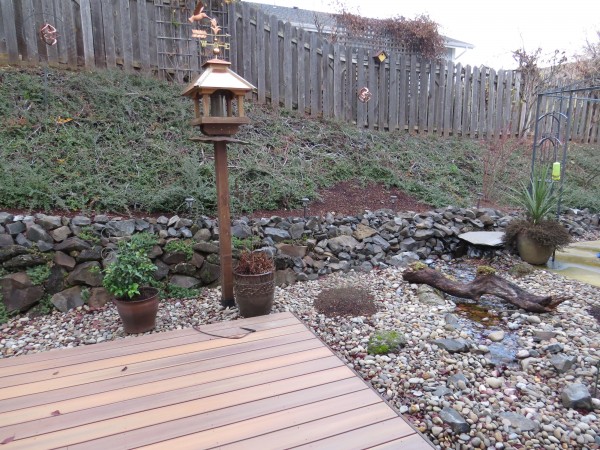 This year I decided to grow golden, candy stripe and ruby red beets. They all grew about the same. But one thing I learned this year is that the golden and stripe beets do not leave your hands all red. The second great thing I learned is that the golden and stripe beets are sweeter and milder tasting than dark red beets. I think I will pass on planting the dark reds and increase my golden beet rows!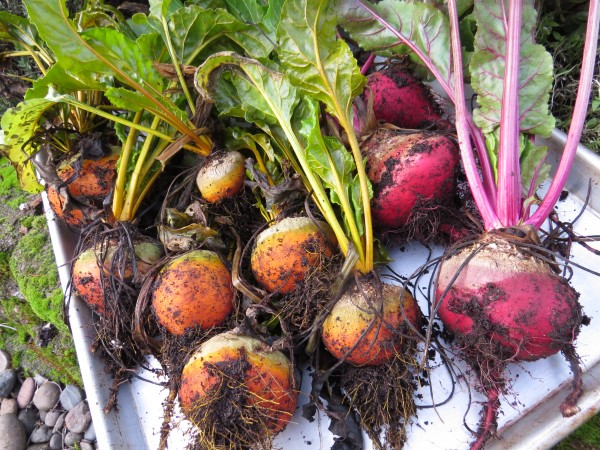 After cleaning the tops and roots off of the beets, I wrapped them in foil and oven roasted them for 50 minutes at 400 degrees. Peels on. No need to waste produce, just wait until they are slightly cooled from the oven and simply wipe the skin off with a paper towel. I then left my beets out at room temperature since I think they taste better this way if I am not serving them hot.
I wanted to make a candied nut and found all I had was raw macadamia nuts. I then started making my salad dressing and learned I was almost out of olive oil but still had some macadamia nut oil. So going with what I had turned into a new salad and salad dressing. Enjoy!
Roasted Golden Beet Salad with Candied Macadamia Nuts
A fall salad that is loaded with topping such as bacon, red onions and blue cheese crumbles. It is also topped with buttery candied macadamia nuts. The amazing vinaigrette has a touch of macadamia nut oil to compliment the candied nuts!
Serves 6
3-4 golden beets, washed, tops and roots cut off
½ small red onion, thinly sliced
3 small heads of romaine lettuce, chopped
3 slices bacon, cooked and cut in small pieces
3 ounces blue cheese crumbles
½ cup water
¾ cup sugar
1 cup raw macadamia nuts
Several dashes of each; cinnamon, smoked paprika and cayenne pepper
¼ cup sherry vinegar
1 tablespoon Dijon mustard
1 garlic clove, finely minced
3 tablespoons macadamia nut oil
½ cup light olive oil
¼ teaspoon salt
½ teaspoon black pepper
2 teaspoons agave syrup
Heat oven to 400 degrees.
Wrap the cleaned beets in foil and bake for 50 minutes or until tender. When done, open the foil and let the beets cool slightly. Use a paper towel to wipe the skins off of the beets, Cut into bite size pieces and set aside. I like my beets at room temperature for a salad.
While the beets are cooking prepare the nuts. In a saucepan, bring to a boil the water and sugar. Add the nuts, cinnamon, smoked paprika and cayenne pepper. Boil for 10 minutes. Pour onto a baking sheet. I line my baking sheet with a silicone mat. Bake the nuts for 10 minutes or until golden brown.
Slice the red onions, cut the romaine and chop the cooked bacon and set aside.
Mix the dressing in a jar or blender. Add to your container; the vinegar, oils, mustard, garlic, agave, salt and pepper. Shake or blend until smooth.
Assemble the salad by tossing the romaine with some of the dressing and placing on a plate, top with the bacon, red onions, blue cheese and beets. Enjoy!




by