Salted Caramel Chocolate Chestnut Gelato Cheesecake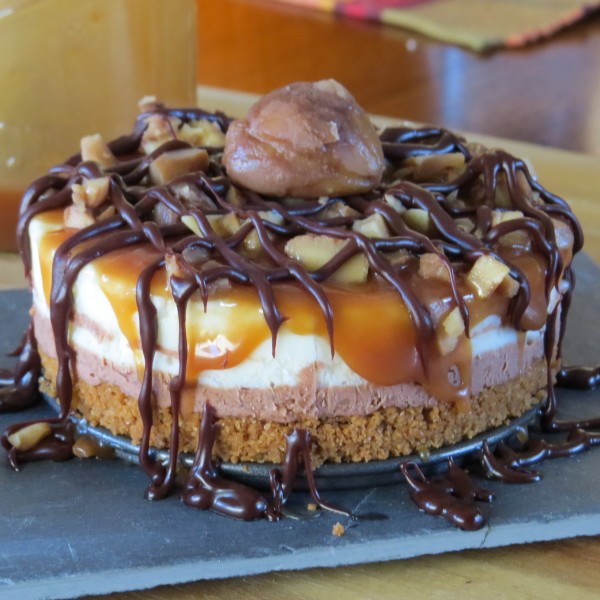 Just before Thanksgiving I got a phone call from my friend, Chris. He and I have worked on community events together in the past. Chris wanted to meet and talk about a product that he thought I might enjoy sampling and working up some recipes with. I am privileged to be able to say that we met, I liked, actually loved, I made and here it is, my first recipe with one of Di Lorenzo Gelatos.
For Chris, this is more of a personal venture because the President of the company is his sister who currently lives in Italy with her husband. Chris's sister and her husband created Di Lorenzo Gelato with the love of using great authentic Italy ingredients.
Di Lorenzo states that their, "real gelato Italiano is fully produced in Piedmont, an Italian region positioned at the slopes of Alps. The combination of local fresh milk collected at high-altitude pastureland, centuries old artisanal tradition, and Italian dedication to detail and quality serves as a perfect base. Our ingredients and our people make our gelato unique." They want to make the perfect gelato that everyone can enjoy!
But it's more than gelato, it's real gelato that can be easily made and served anywhere in the world because of their unique processing and packaging. Please contact the company here for more information about serving Di Lorenzo Gelato in your establishment or leave me a message and I will help make a connection for you!
I love creating fun and unique desserts. Making this gelato cheesecake was so special knowing I was using such a high quality product straight from Italy!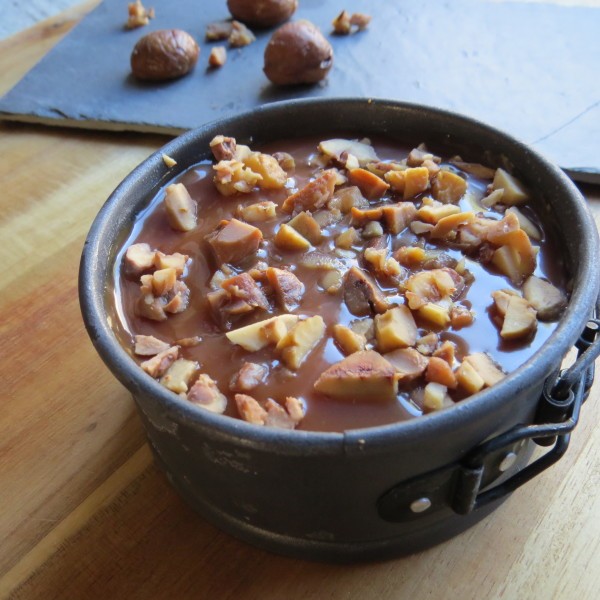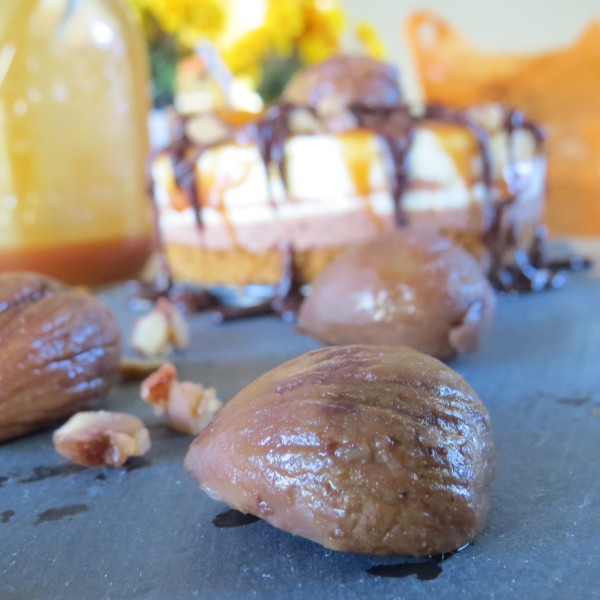 You can use fresh roasted chestnuts or you can buy them already prepared in a jar!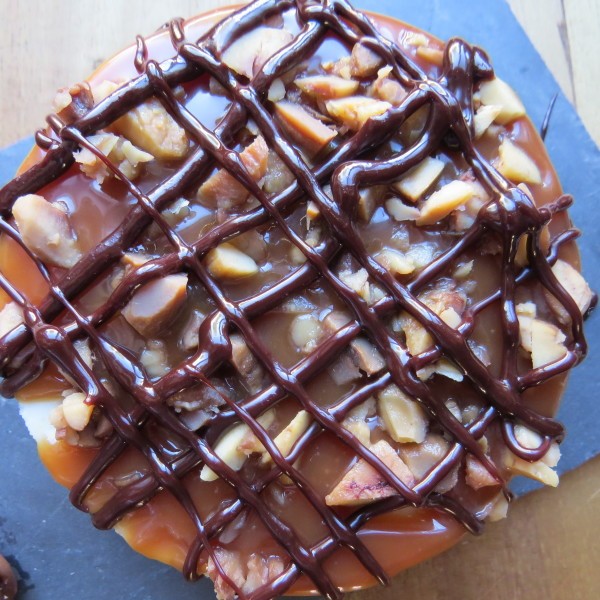 The chocolate liqueur sauce goes so well with the gelato and caramel.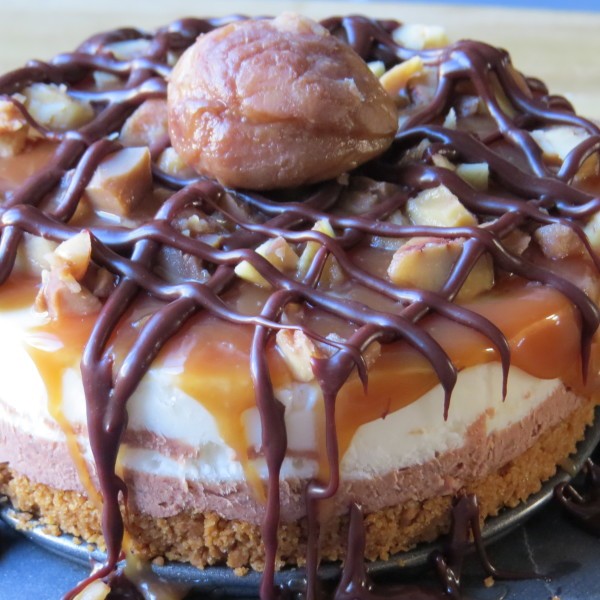 Di Lorenzo Fiordilatte, Flower of Milk flavor is Buon Appetito!
Salted Caramel Chocolate Chestnut Gelato Cheesecake
Layers of flavor are stacked in this gelato cheesecake dessert. A buttery waffle cone crust holds up a chocolate chestnut cream cheese layer that is smoothed in a salted caramel then sprinkled with chopped chestnuts and a drizzle of chocolate liqueur ganache.
Ingredients
14 tablespoons cup heavy cream, divided
3 ounces semi-sweet chocolate
1/4 cup chocolate liqueur (Crème de Cocoa)
4 ounces cream cheese, room temperature
1 3/4 cup plus 1 tablespoon sugar, divided
¼ cup plus 2 tablespoons water
½ teaspoon plus a pinch of kosher salt
14-15 ounce jar of roasted and peeled chestnuts, divided, see note below
7 ounce package premade waffle cones
10 tablespoons salted butter, divided
1 liter carton Di Lorenzo Fiordilatte,
6 mini springform pans
Cooking spray
Instructions
Begin by churning the gelato according to your ice cream/gelato machine, when gelato is set, transfer to a storage container and freeze until assembly of the dessert.
Preheat oven to 350 degrees and spray the bottom of each springform pan with cooking spray. In a food processor, pulse the waffle cones and 1 tablespoon of sugar until they are a fine crumb. Add in 6 tablespoons of melted butter and pulse until blended. Divide and press the waffle crumbs into the bottom of the 6 springform pans. Arrange the pans onto a baking sheet and bake in the oven for 7 minutes then cool on a wire rack. The crust will continue to set up after it cools.
While the crust is baking, melt and blend together the chocolate, 6 tablespoons of cream and liqueur over medium heat. Once melted, remove the chocolate liqueur sauce from the heat and set aside.
When making the salted caramel sauce, make sure you have time to pay close attention to the pan.
In a medium- large saucepan, bring to a boil 1 ½ cups sugar and ¼ cup plus 2 tablespoons of water. Continue cooking the dissolved sugar mixture until it begins to turn a golden amber color. This can take 5-8 minutes. You can use a candy thermometer for this step which most likely will read near 340-350 degrees. But the sugar mixture can turn dark very quickly so be prepared to move onto the next step if starts to turn to a golden amber before the temperature hits its mark.
Once the sugar mixture has reached a golden amber color, lower the heat to the lowest setting and carefully add 4 tablespoons of butter. The liquid will bubble and rise up. Continue stirring and then add in the remaining heavy cream (1/2 cup) and kosher salt. Stir for several minutes until the caramel sauce is smooth and golden brown. Remove from the heat and set aside to cool.
In a food processor, blend together the cream cheese, ¼ cup of sugar, pinch of salt and ¾ cup of whole jarred chestnuts. Pack the measuring cup tightly with chestnuts!! When the cream cheese mixture is smooth, scrape it out into a mixing bowl. Stir in ½ of the chocolate liqueur sauce to the cream cheese mixture. Leave the remaining ½ of chocolate liqueur sauce for a finishing drizzle.
Prepare the remaining chestnuts by pulling out 6 whole chestnuts to place on the top of the desserts. The rest of the chestnuts can be chopped to sprinkle over the caramel sauce.
When all of the components are ready, you can begin to build your cheesecake dessert. Start by taking your gelato out of the freezer, next divide and spread the chocolate cream cheese chestnut filling over the waffle crust. Layer each springform with a portion of gelato that will fill the springform to near the top. Pour on some of the caramel sauce and sprinkle with the chopped chestnuts.
Freeze all of the pans for several hours. When ready to serve, remove the pans from the freezer and allow to set at room temperature for several minutes. Warm the chocolate liqueur sauce in the microwave or saucepan and transfer into a piping bag or plastic storage bag that has a corner snipped. Unmold the dessert and drizzle with the remaining chocolate liqueur sauce and top with a whole chestnut!!




by