Saucy Mama Chinese Orange Chicken Blitz Wrap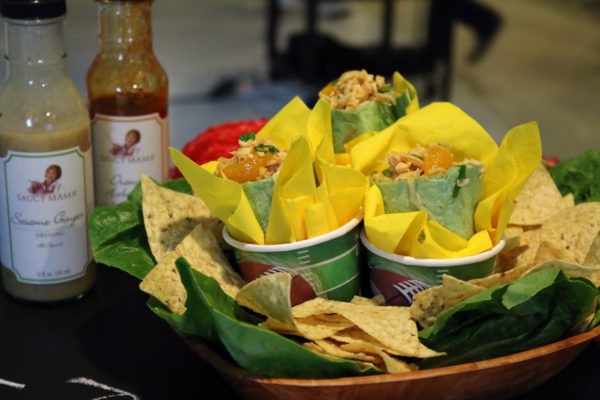 While attending the World Food Championships Blogger Summit 2016 in Orange Beach Alabama, we all participated in a Saucy Mama tailgating themed-no cook sandwich creation. We were given a list of Saucy Mama products that were going to be available for us to use as well as a limited pantry for building the sandwiches.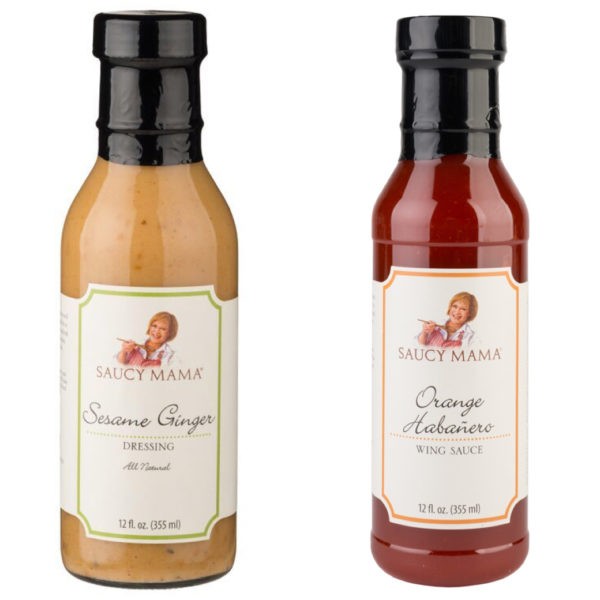 I love tailgating and bringing food for the party so this was fun to create. One of the most popular dishes that shows up at our tailgates is my friend Angie's Chinese Noodle Salad. You know this one, crushed up Ramen noodles in a cabbage slaw mix with an Asian dressing. My idea was to make a similar slaw salad, add Saucy Mama products, pre-cooked chicken breast and wrap it all in a spinach tortilla wrap. It worked, in fact it worked so well that I couldn't stop eating it. If you can't find large spinach tortilla wraps just use the regular ones. The taste will still be great.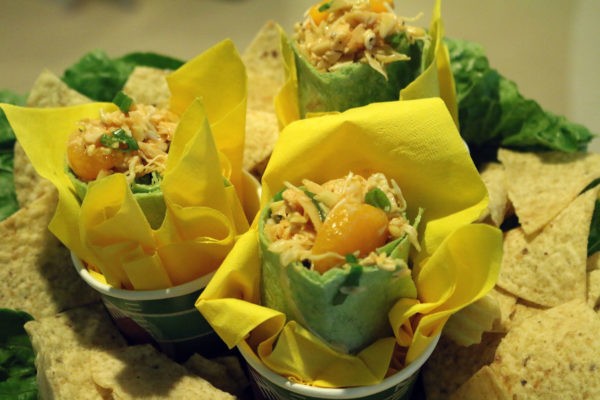 Once the wraps are filled and rolled, have fun serving them in football themed paper cups. The yellow napkins are all about the penalty flag!!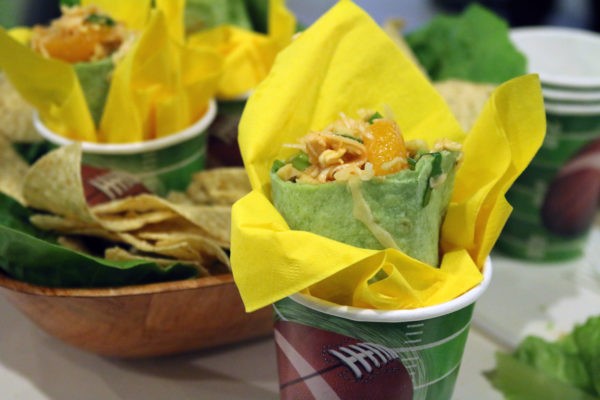 Saucy Mama Chinese Orange Chicken Blitz Wrap
Sauce up your next tailgate dish with this quick to make and easy to serve Saucy Mama Chinese Orange Chicken Blitz Wrap. Guaranteed to score a touchdown.
Ingredients
4 large Garden Spinach Herb wraps
3 oz package ramen noodles, broke into small pieces (seasoning pack discarded)
1 cup rotisserie chicken, shredded and chilled (or cooked chicken)
11 oz can mandarin oranges, well drained
3 cups shredded cabbage
3 green onions, chopped
½ cup slivered almonds, toasted
1 tablespoon toasted sesame seeds
3 tablespoons Saucy Mama Orange Habanero Wing Sauce
½ cup Saucy Mama Sesame Ginger Dressing
1 ½ teaspoons sesame seed oil
Salt and pepper to taste
8 Lettuce leaves, (romaine or leaf lettuce)
Instructions
In a large mixing bowl, toss together the broken ramen noodles, shredded chicken, cabbage, green onions, slivered almonds and sesame seeds.
In another bowl, blend together the Saucy Mama Orange Habanero Wing Sauce, Saucy Mama Sesame Ginger Dressing and sesame oil. Pour the dressing over the chicken cabbage mixture and toss until well coated, season with a dash of salt and pepper to taste. Gently add in the mandarin oranges to the cabbage mixture.
Assemble the wraps by laying 2 lettuce leaves in the center of each wrap and topping the leaves with a nice heaping spoonful of the Chinese Orange Chicken filling. Fold in the sides and bring up the bottom of the wrap, tuck end over the filling and roll the wrap closed. Wrap in parchment paper to refrigerate until served.
To serve at the tailgate, open one end of the wrap with a knife to display the inside of the wrap, place with open end up in your favorite team drink cup with a team napkin inside and arrange on the table.
Notes
If you want to increase the number of servings to feed 6, simply spread the filling out between 6 wraps instead of 4. If you use smaller tortilla wraps such as a burrito size, you can increase the serving size to even more.




by