5/17/14 UPDATE…We have a winner!!! Congratulations Alea B. !!! The number is 145 and one of your guesses is the closest at 132.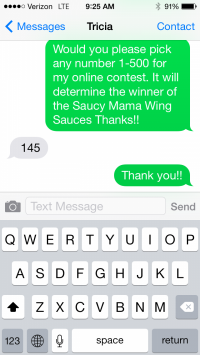 A GIVEAWAY for Saucy Mama Wing Sauces sounded like a great way to get over the middle of the week and the close of the recipe competition for me.
The winner of the Saucy Mama recipe contest I entered will receive $1000.00 cash and $1000.00 for travel expenses to travel to the largest gathering of chefs and amateur cooks in the world. That's right, a trip to Las Vegas to compete in the World Food Championships. My entry would fall in the burger category. It would be so much fun to compete in a live cook-off. I would love the opportunity.
But if one of my fellow food bloggers is declared the winner then I will wish them well and continue on, cooking for others and loving every minute of it.
Saucy Mama is providing a Wing Sauce Kit for my GIVEAWAY. The winner will be able to enjoy the great sauces that my family has been enjoying for the last couple of weeks. The GIVEAWAY will start today and close 5/16. The winner will be posted 5/17 on this post and Facebook. At this time Saucy Mama's is only able to ship within the US. Here is how you earn chances to win.
My GIVEAWAY is based on your best guess. Your pick of numbers 1-500. For each qualifying step you can enter a guess. You will have a chance to enter 9 guesses. The entry closest to the number (picked by a friend who is not on any social media) will win. This post is where you will leave your comment that has your number guesses.
So here are the qualifying steps:
1) Leave a comment on this post. Tell me what you would make with the sauces if you won.
2) "Like" my Facebook page and leave a comment on the Facebook GIVEAWAY post.
3) "Share" my Facebook post about the GIVEAWAY with your friends.
4) Follow me on Pinterest
5) Follow me on Instagram
6) Follow me on Twitter
7) Tweet my GIVEAWAY to your followers
8) Pin my "Jamaican You A Burger" recipe on Pinterest or share on Facebook
9) Sign up for my newsletter so you won't miss great posts.
If you already do any of the above then consider the step complete. Total up the steps you have completed and leave your guesses in the comments. If you are leaving a comment for step #1 you can put your numbers in that comment as well.




by