Saucy Mama's 2016 Recipe Contest Entry #1-Champagne Mustard Shrimp with Leek and Pasta Style Risotto and Snow Pea Salad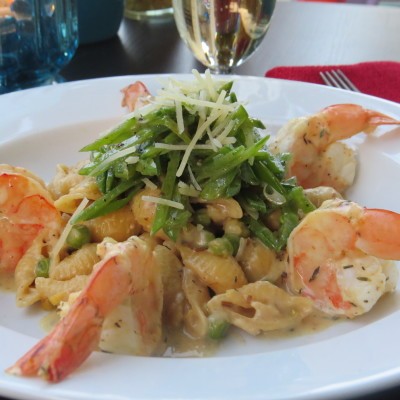 Love making new tasty recipes with fantastic products. It is even more fun when the products are complimentary with the recipe contest I was accepted to compete in.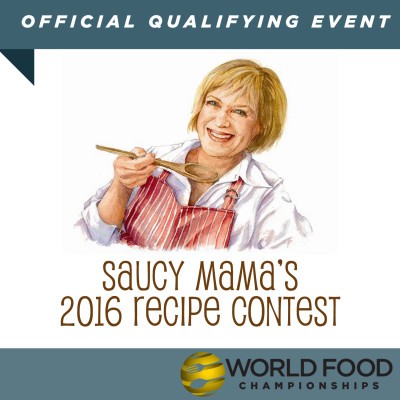 Saucy Mama is a small family owned company that produces sauces, mustards, marinades and so much more. They are located in the same state that I live in…Oregon!! They have won multiple awards for their products and have been a big product sponsor at the World Food Championships for several years.
So this leads us to the this contest, the Saucy Mama's 2016 Recipe Contest . It is for a chance to be apart of the World Food Championship Team Saucy Mama this November is Orange Beach, Alabama. Not only is it an opportunity to compete for $100,000.00 but for a winners package from Saucy Mama. I know how great this opportunity is being only one of 25 to be selected to compete. Winning a Golden Ticket to compete in the seafood category would be the highlight of my year and being apart of this team would put the icing on the cake, even though I don't bake much any more.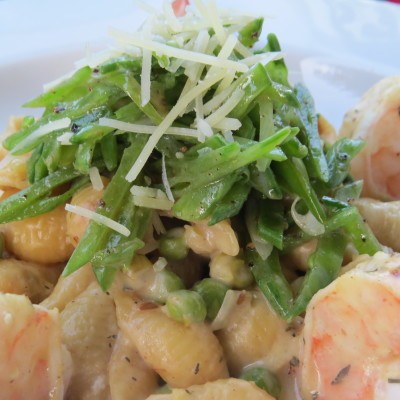 This dish came about with Spring in mind (since it happens to be Spring). I also thought it was a great dish for both special occasions and everyday. Champagne makes any meal a special meal. Adding Saucy Mama's Champagne Honey Mustard into the pasta style risotto gives for the prefect zing and zip. For a crispy element, I dressed the slivered crunchy snow pea salad with Saucy Mama's Four Leaf Balsamic Dressing.
I made this dish several times, not only to test the recipe but to make it one weekend night for my husband. Served the remainder of the Champagne with it and the dinner was complete.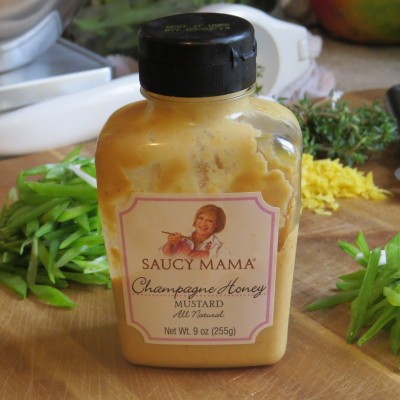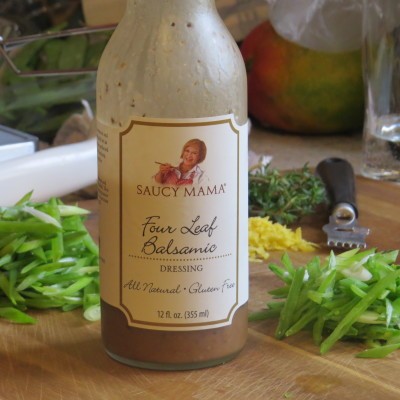 When thinking about what I wanted to make for this Saucy Mama's 2016 Recipe Contest, while looking over the grand variety of Saucy Mama product I already had in my cupboard and the six they mailed me complimentary for the contest, all I could think about was keep it simple and keep it family friendly.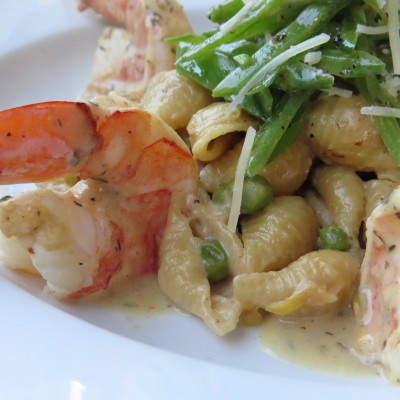 After family testing and approval, I made sure that all of the ingredients are easy to find and steps were easy to duplicate at home.
Shrimp, pasta noodles, snow peas, green peas and champagne are just a few. And finding Saucy Mama products is a easy as a click away.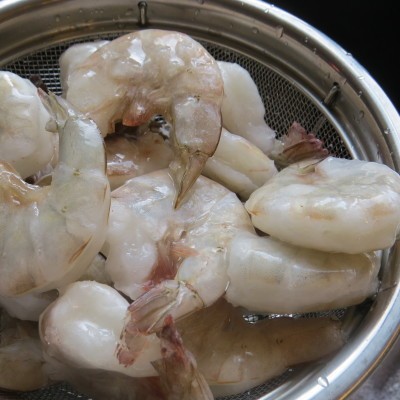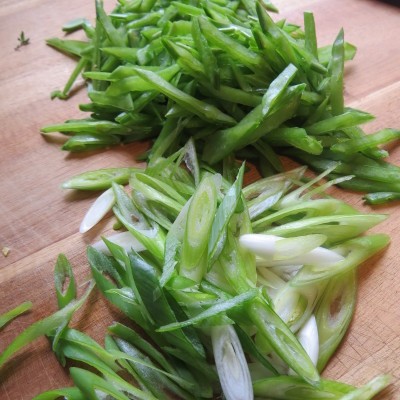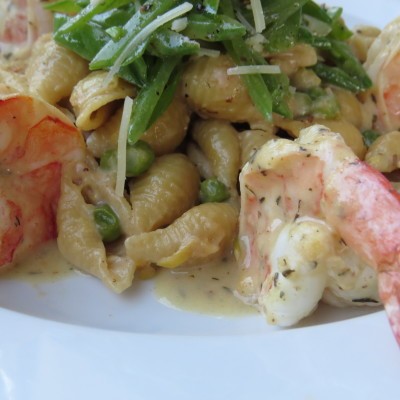 So don't wait for a big event to make this dinner, make it tonight and celebrate with the ones you love, enjoy!!
Champagne Mustard Shrimp with Leek and Pasta Style Risotto and Snow Pea Salad
Creamy Champagne Leek and Pasta Style Risotto is stirred with Champagne and Saucy Mama's Champagne Honey Mustard for the perfect flavor and zing, only to be topped with a zesty Snow Pea Salad that is dressed with Saucy Mama's Four Leaf Balsamic Dressing. The shrimp are lightly seasoned and quickly broiled. A special and easy dinner for any occasion.
Ingredients
2 Tablespoons unsalted butter
2 Tablespoons shallots, minced
2 garlic cloves, minced
¾ cup chopped leek, the white part up to the light green area
2 cups chicken broth, low sodium
1 cup extra dry champagne
6 tablespoons Saucy Mama Champagne Honey Mustard, divided
2 cups dry pasta shells, medium size
¾ teaspoon dried thyme, divided
1 Lemon: zest of 1/2 lemon and juice of the whole lemon
1 cup petite frozen peas, thawed
½ cup heavy cream
½ cup shredded Parmesan Reggiano, plus some for garnish
2 green onion, sliver cut on a thin bias
6 ounces fresh snow peas, thinly cut into slivers on a thin bias
2 Tablespoons Saucy Mama Four Leaf Balsamic Dressing
20 large prawns (at least 16 count per pound), thawed, completely cleaned with the shell and tail removed
Salt and pepper
Instructions
Begin with the Champagne Leek and Pasta Style Risotto: In a saucepan heat the risotto liquid over medium heat; the chicken broth, extra dry champagne and ¼ Saucy Mama Champagne Mustard until very warm.
In another skillet, heat up the butter; add the shallots, garlic and leeks. Sauté for several minutes or until the mixture is tender. Add the dry pasta and sauté in the butter leek mixture for several minutes.
Begin adding the heated champagne liquid to the pasta, one ladle full at a time. Allow the liquid to cook and absorb into the pasta before adding anymore champagne liquid.
While the pasta is cooking, prepare the shrimp by tossing them with the juice of one lemon, ½ teaspoon dried thyme, 1 teaspoon salt and a pinch of pepper. Set aside and turn the oven to broil and prepare a baking sheet with cooking spray for the shrimp.
Continue to add champagne broth to the pasta as it simmers, one ladle at a time.
Prepare the Snow Pea Salad by tossing the slivered snow peas and green onion with Saucy Mama's Four Leaf Balsamic Dressing. Set aside to add to the dish as garnish.
Align the shrimp on a greased baking sheet with the tails up and the meat of the shrimp fanned out. Place the shrimp under the broil for 3-5 minutes until a light pink and just translucent in color. When cooked, removed from the oven and set aside covered.
When you are ending the last of the champagne liquid, the pasta should be cooked to just tender. Add the peas, zest of ½ lemon, ¼ teaspoon dry thyme. heavy cream and ½ cup parmesan reggiano cheese. Stir until creamy, remove from the heat.
In the center of each platter, arrange a portion of the champagne leek and pasta style risotto, arrange 5 shrimp around the risotto and then top each with a portion of the Snow Pea Salad. Sprinkle with additional shredded Parmesan Reggiano and serve!!!
Notes
I recommend a Champagne that is less sweet.




by