I love to serve food that makes others happy. Creamy, crunchy, savory, yummy and so much more, that is what the lunch for the Salem Evangelical Ladies Day Retreat is all about. While I was busy working the Oregon State Fair and hosting Food Network's Emily Ellyn's at my home, I had the most precious time to sit and visit with her. I told her about this event and the menu we made last year. She was so helpful and told me all about one of her events she did and the menu she made. She sent me the recipes and gave me tons of ideas for the toppings and more. I am so thankful for such a fun and inspiring time with her. I wish I had a picture of the two of us sitting in my girl cave and talking recipes, it was the best. Here is a picture of us at the fabulous Retro Read Day at the fair.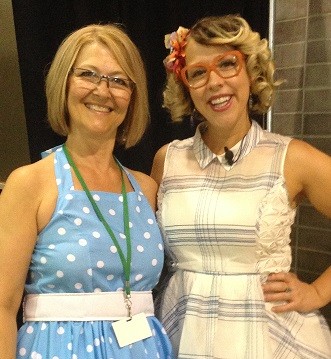 I also would not be able to make this happen without the help of my husband and wonderful friends who volunteer their time as well. Thank you gang, you all rock!!
Below you will find the recipes or links to the recipes that I used. Some recipes were inspiration from others and I made a few changes but I want to give credit to them. Enjoy!!
Pumpkin Spiced Candied Pecans
1 1/2 cups sugar
1 cup water
1 tablespoon Pumpkin Pie Spice
A good dash of cayenne pepper
Bag of pecans, up to one pound
Pre-heat oven to 350 degrees. Bring sugar and water with spices to a boil in a medium size sauce pan. Add pecans and continue to boil for 10 minutes.
Pour pecans onto a greased sprayed baking sheet. Place in oven and bake for 10 minutes or until dry and crispy.
---
Cheesy Garlic Zucchini Bread Muffins
Here is the recipe we used with a few changes from Emily Shares. We used provolone cheese. We also added some fresh garlic that we sauteed in the butter. So good!!! When the bread was done baking, we brushed each with melted butter that was loaded with minced garlic and Parmesan cheese.
---
Easy Garlic Parmesan Knots
A buttery roll that we served last year and everyone loved, returned to the menu this year. This recipe from Damn Delicious for the garlic Parmesan knots just needed more garlic in our opinion, 🙂 so we  minced a big hand full of fresh garlic and added it to the butter!! PS we also used frozen dinner roll bread dough. We allowed it to thaw and then followed the recipe. We also sprinkled more Parmesan cheese over the rolls before baking!
---
Winter Compote
Recipe courtesy of Emily Ellyn, Retro Rad Television Chef, EmilyEllyn.com
 Prep Time: 15 minutes
Cooking Time:  30 minutes
Total Time:  45 minutes
Yield:  10 servings
Ingredients:
1 cup water
1 3/4 cups sugar
2 each quince, peeled and chopped ( I used Golden Bosc Pears)
2 each granny smith apples, peeled and chopped
1 bag of fresh (approximately 3 cups) whole cranberries
1 cup dried cranberries
2 cups walnuts, toasted and chopped
1 orange, zest and juice
Directions: 
Combine quince, water and sugar in a pot over medium-high heat. Boil for 15 minutes. Add apples and boil for 5 more minutes. Add dry and fresh cranberries. Cook for 10 minutes more, until fresh cranberries have burst and the mixture has taken on a crimson color. Add walnuts and orange juice and mix. Serve warm or refrigerate and serve cold.
---
Fall Roasted Savory Pumpkin Soup
Recipe courtesy of Emily Ellyn, Retro Rad Television Chef, EmilyEllyn.com
Makes: (6) two cup servings
Prep Time: 30 minutes
Cooking Time: 40 minutes
Ingredients:
4 pounds pie pumpkin or butternut squash, peeled, seeded and cut into 2-inch chunks
4 large sweet apples, such as Gala or Fuji, unpeeled, cored and rough cut
2 white onions, pealed and rough cut
¼ cup extra-virgin olive oil
¼ cup Thai Sweet Chili Sauce
2 teaspoons salt, divided
¼ teaspoon freshly ground pepper
1 tablespoon chopped fresh sage
½ cup unfiltered apple juice
6 cups vegetable broth or chicken broth
Sea salt, to taste
Black pepper, to taste
Directions:
Preheat oven to 450°F.
Combine pumpkin (or squash), apples, onions, olive oil, Thai Chili Sauce, 1 teaspoon salt and 1 teaspoon pepper in a large bowl. Place ingredients evenly on a large rimmed baking sheet and roast, stirring once, for 30 minutes. Stir in sage and continue roasting until very tender and starting to brown, 15 to 20 minutes more.
---
Short (Cooked) Ribs or Beef Roast
Recipe courtesy of Emily Ellyn, Retro Rad Television Chef, EmilyEllyn.com
 Prep Time: 15 minutes
Cooking Time:  50 – 65 minutes
Total Time:  65 – 80 minutes
Yield:  4-6 servings
Ingredients:
4 pounds short ribs, cut into 3-inch segments or whole beef roast
3 tablespoons light cooking oil
1 tablespoon kosher salt
1 teaspoon black pepper
1 teaspoon Chinese five spice
2 medium yellow onions, diced
3 cloves garlic, smashed
¼ cup fresh ginger, chopped
2 carrots, diced
3 stalks celery, diced
2 bunch scallions, cleaned and chopped
2 cups cranberry juice
2 cups beef stock
1 cup Hoisin sauce (Dynasty brand is gluten free)
2 cups fresh cranberries
½ cup dark soy sauce, (Gluten free variety is available)
3 tablespoons honey
Directions:
Dry the short ribs with a paper towel and then rub with salt, pepper and Chinese five spices.
Heat 2 teaspoon of vegetable oil over medium-high heat in your pressure cooker. Working in batches add half the ribs, and sear for until well browned.  Set aside seared ribs on plate.
Add remaining tablespoon of oil to pot and add the onions, carrots, and celery and sauté for five minutes, or until onions are softened.  Add scallions, garlic and ginger and sauté for another minute.  Then, add the stock to pot and deglaze or scrape the bottom of the pot to lift all of the brown bits off the pan.
Add ribs to the pot and stir in remaining ingredients.  Get as many ribs submerged in the liquid as you can, then lock the lid on the pressure cooker. Wait for the pressure cooker to come up to high pressure, and then lower the heat to maintain that pressure and cook for 40 minutes. Remove from the heat; allow the pressure to come down naturally for 10 to 15 minutes, then quick release any pressure left in the pot.
Remove the ribs to a serving platter with a slotted spoon and set the cooking liquid over medium heat slightly.  Do not over-reduce and taste adjusting salt and pepper as needed.   If you prefer a more refined sauce, you can strain out the solids at this point.
ENJOY!  Serve over Savory Pumpkin Soup, mashed potatoes or rice!
---
Loaded Baked Potato Salad
Here is the recipe we used from This is my Key West, but made a couple of changes. We used red potatoes instead of russet and we used green onions instead of the chives and less white onion. But then we garnished the salad with fresh chopped chives.
---
Dilly Cucumber and Onion Salad
This is a classic cucumber salad that has multiple variations. We kept is simple. Here is the recipe from Five Heart Home we followed but we added both dried dill weed and fresh chopped dill. Dilly-icious!!!
---
Heirloom Herb Salad
Our Heirloom Herb Salad was inspired by Emily Ellyn's Heirloom Tomatoes Salad with White Beans, Arugula and Manchego with a Lemon Vinaigrette.
Makes:  6 servings,
Salad Ingredients:
4 cups heirloom tomatoes, halved or cut into bite sized portions
2 cans (14 ounces) cannellini beans, rinsed and drained
3 cups chopped romaine lettuce
1 small red onion, peeled and sliced fine
1 tablespoon fresh mint, finely chiffonade
1 tablespoon flat leaf parsley, finely chiffonade
2 tablespoons fresh basil, finely chiffonade, plus extra basil for garnish
¼ pound aged Parmesan cheese, sliced thin, add to taste
Vinaigrette Ingredients:
1 lemon, zest
3 lemons, juiced
2 cloves garlic, minced
1 shallot, minced
½ teaspoon honey
¼ teaspoon celery seed
¾ cup olive oil
¼ teaspoon Dijon mustard
Black pepper, to taste
Sea salt, to taste
Directions:
To make the vinaigrette, put the lemon zest and juice, garlic, shallot, honey, and salt and pepper to a small canning jar with lid.  Reserve for service.
To make the salad, place the onions, beans, onions, and fresh herbs in a large mixing bowl.  Shake dressing in jar until well incorporated then pour over tomato mixture.  With hands lightly mix dressing with the tomato mix and then slowly add arugula until arugula is lightly coated. Garnish with extra sprigs of basil and sliced Parmesan. (we added several tablespoons more Dijon Mustard and also blended the dressing until it was smooth and combined)
---
Homemade Buttermilk Dressing 
All I can say is make this dressing, it is sooooooo delish. Here is the link to the recipe.
---




by