Short Rib Ragu Cheese Bread with Italian Citrus Salad, my recipe entry for the Healthy Solutions 2016 Blogger Recipe Challenge.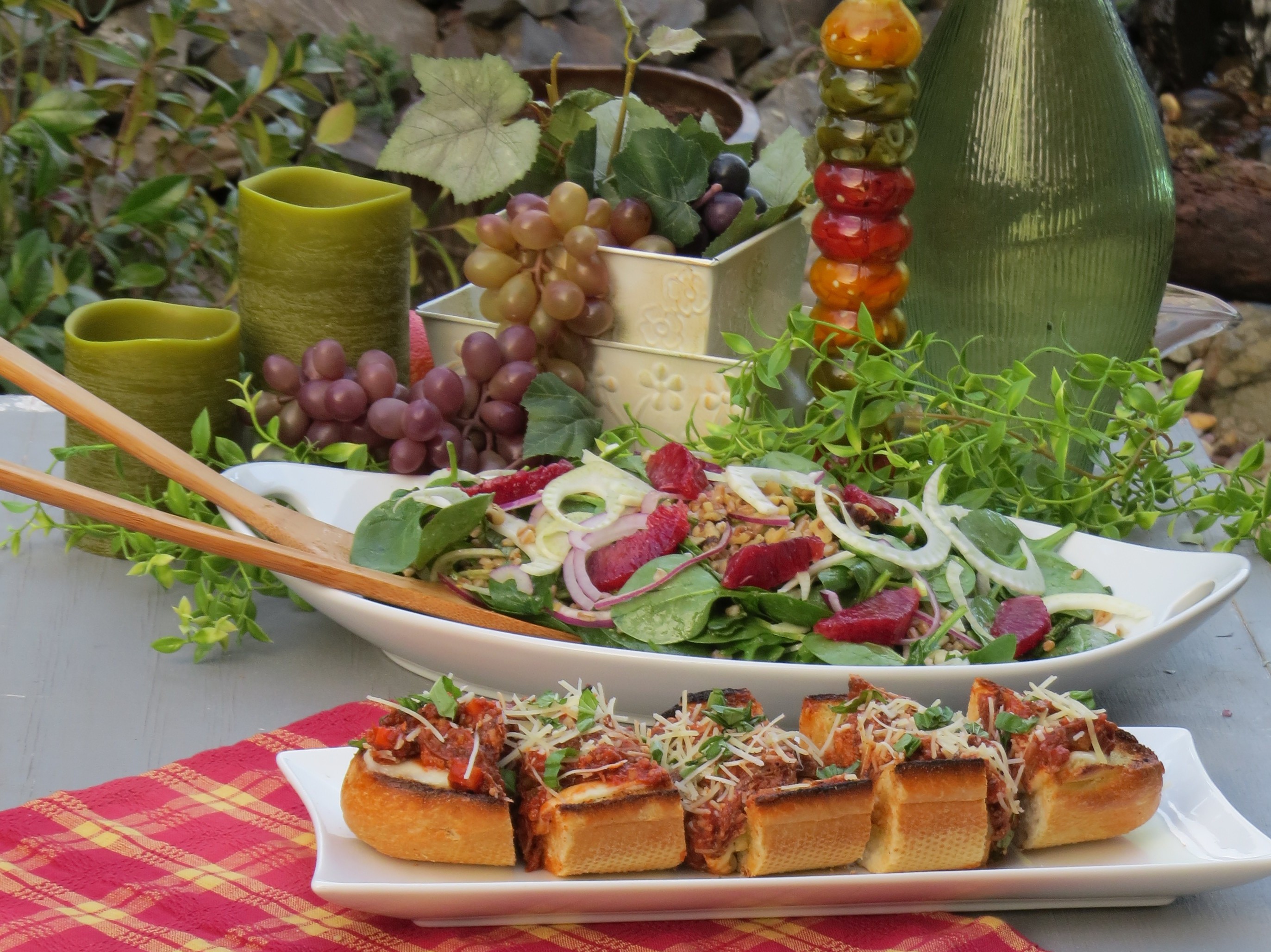 Being a part of a blogger recipe challenge with a cash prize always gets my blood pumping. A chance to win $500.00! Yeah!!
When I received an email from Healthy Solutions Spice Blends a short while back talking about their bloggers challenge, I knew I wanted to apply. I responded to the email and shortly after received an email with an invite to select a spice blend and begin planning my recipe.
This is not my first year participating. Last year I entered my Cajun Kicked Cioppino using their Cajun Seafood Spice Blend. It was full of spice, plenty of seafood and still healthy.
This year I decided to cook with their "Italian Meatball "Spice Blend and focus my theme on low/salt, low sugar. This spice packet is one of their 16 different blends. All of them are made with natural ingredients. That would be ingredients that you will recognize when you read them on the back.
The company also creates their spice blends towards being gluten free, containing no/low salt, no/low sugar, no fillers, no MSG and no preservatives! That is a lot of good stuff wrapped up in one convenient packet.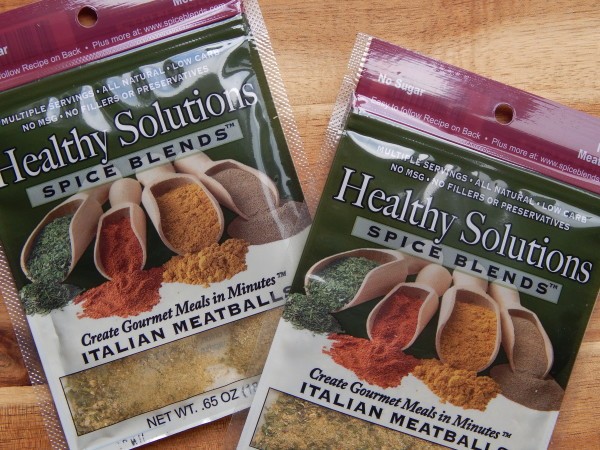 I think I was craving garlicy, cheesey Italian comfort food when I chose my spice blend.  I pictured bread covered in cheese and sauce with the perfect Italian seasoning. To balance the meal I imagined adding a healthy salad. What delighted me was that I was able to create the entire meal using Healthy Solutions Italian Meatballs Spice Blend as my only spice! No need for multiple bottles of spices. How great is that???
Part of the blogger challenge was to create a video along with a post of the recipe. Here is my video that shows the easy steps I took to create a healthy tasty salad and "curl your toes" main course!
Video for Short Rib Ragu Cheese Bread with Italian Citrus Salad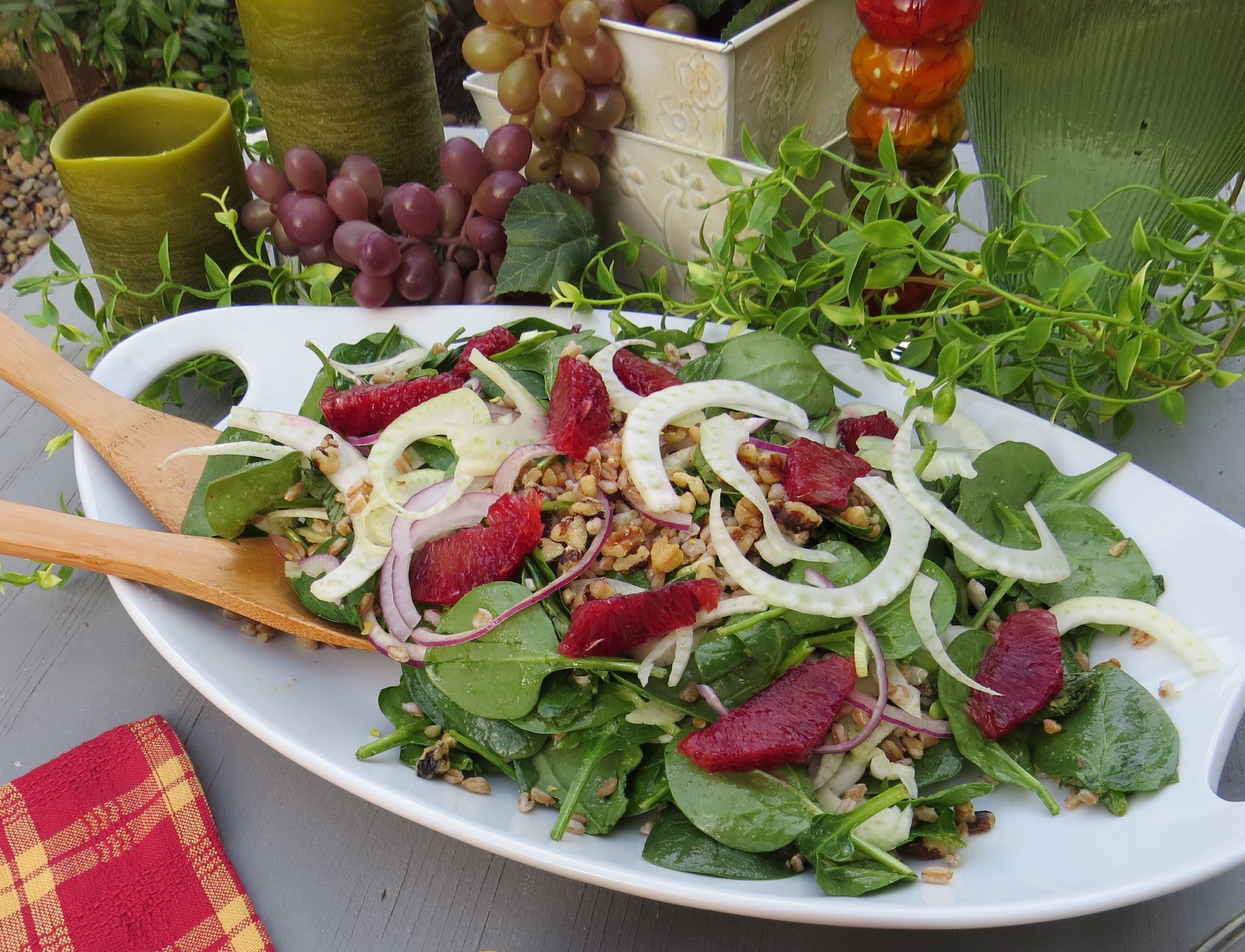 This colorful salad is full of seasonal goodness. I used blood oranges since they are in season but a navel or clementine would work also. The fennel bulb is shaved thin as well as the red onion. I simmered some farro grain to add to the baby spinach leaves along with walnuts and fresh basil. The Italian Citrus Dressing is light and refreshing when tossed over all of the salad ingredients.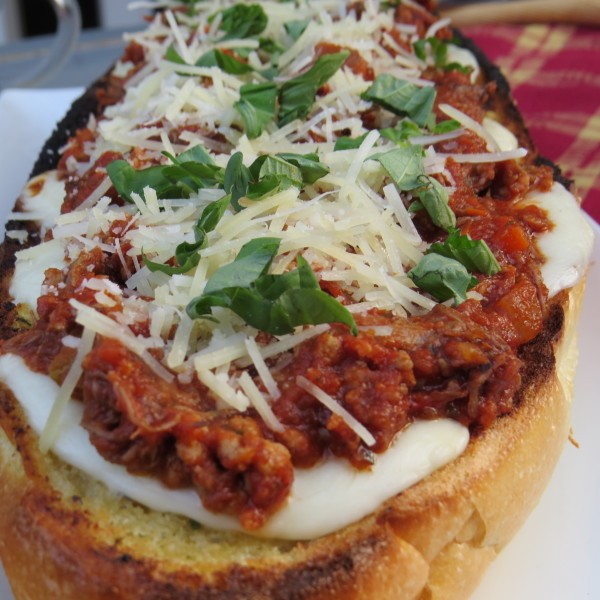 The bread, oh the bread, I love the Short Rib Ragu Cheese Bread. Not only did I use the spice blend in the salad dressing but I also used it in the butter to spread on the bread and in the ragu sauce.  And best of all, I did not need to add any salt.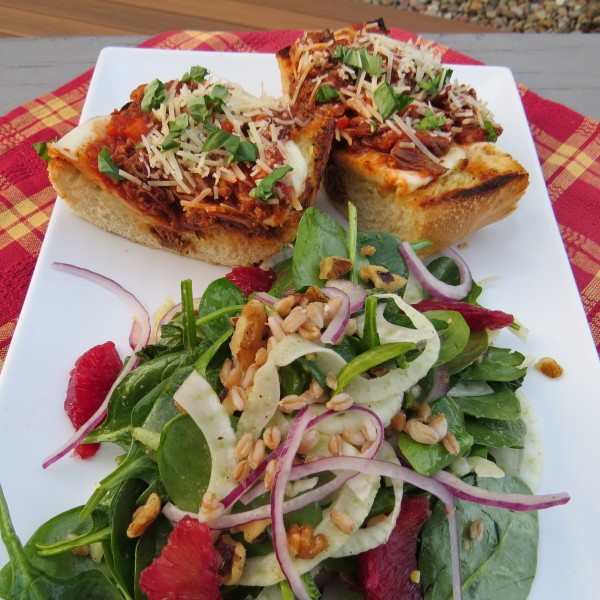 This recipe will make a complete dinner for eight or six hungry people. Comfort food that is delicious and healthy!
Short Rib Ragu Cheese Bread with Italian Citrus Salad-Healthy Solutions Spice Blend
The perfect "low/salt, low/sugar" cheesy ragu covered bread and salad that is fun, tasty and full of flavor.
Ingredients
2 Healthy Solutions "Italian Meatball" Spice Blends packets, divided
4 teaspoons canola oil, divided
2 pounds beef short ribs
1 cup chopped onion, divided
3 cups low sodium beef broth
1/2 ground pork
1/2 cup diced celery
1/2 cup diced carrot
1/4 teaspoon ground black pepper
1 28 ounce can diced tomatoes, with juice (low sodium if desired)
1/2 cup dry white wine
1/2 pound butter, room temperature (unsalted butter will help reduce sodium)
2 1/2 teaspoon minced garlic, divided
11 ounces fresh baby spinach leaves
4 large blood oranges, zest from one orange set aside, then peeled and cleaned into segments
1/4 red onion, thinly sliced
1 large fennel stalk. green top discarded and bulb thinly sliced
1/2 cup chopped walnuts
1 cup cooked farro (1/2 cup dry farro, cooked as directed on package without salt)
4 Tablespoons light olive oil
1 Tablespoon white balsamic vinegar
2 teaspoons Dijon mustard
2 Tablespoon fresh lemon juice
1 teaspoon honey
2 loaves French bread, split lengthwise
2 pounds fresh whole mozzarella cheese, sliced
1 cup shredded Parmesan cheese
1 small clamshell of fresh basil, divided, cut chiffonade style (approximately .66 oz)
Instructions
Rub short ribs with 1T. of Healthy Solutions Italian Meatball spice blend. (See note below)
In a Dutch oven, sear all sides of short ribs in 2 tsp. canola oil, turning as needed.
Add 1/2 c. of onion to the short ribs and sauté until tender.
Add broth over the short ribs and cook for 2 1/2 hours at 325 degrees or until the meat on the ribs easily pulls apart.
In a large sauce pan, sauté celery,1/2 c onion and carrots until tender in 2 tsp. canola oil
Add the ground pork to vegetables, allow the pork to brown, and then add wine, tomatoes with juice and one Healthy Solutions Italian Meatball spice packet. Simmer 20 minutes!
Prepare the Citrus Dressing; blend together the light olive oil, white balsamic vinegar, lemon juice, Dijon, honey, 1/2 tsp minced garlic, zest of 1 blood orange and 1 T. spice blend.
Prep the salad ingredients and set them aside to be tossed with the salad dressing when ready to serve the meal.
Mix butter with 1 T. spice blend and 2 tsp. minced garlic. Cut bread lengthwise and spread the butter mixture over the bread.
After short ribs are done cooking and the meat is falling from the bone, shred and add to the pork tomato sauce. (Be careful to separate out as much of the tendon or visible fat as possible. Most will bake away but some may still be present.) Bring the ragu mixture to a simmer and allow to cook for 10 minutes to blend flavors and thoroughly heat.
While ragu is simmering, arrange sliced fresh mozzarella cheese on the bread and put under the broiler for several minutes to melt the cheese and toast the bread. Top with the finished short rib ragu, Parmesan cheese and some of the cut basil leaves. Slice the bread and arrange on a platter.
Toss the salad ingredients; spinach, farro, fennel, red onion, cut basil leaves (don't add the blood oranges segments yet) with the salad dressing. Save some of each of the salad ingredients to garnish the top of the salad. Arrange the salad on a platter and add the blood orange segments around the salad. Serve with the Short Rib Ragu Cheese Bread.
Notes
Open one packet of Healthy Solutions Italian Meatball Spice blend. This will be the packet that you will use to season the ribs, blend into the butter and mix into the salad dressing. The other packet will be added to the pork and vegetable mixture.




by