Smoky Poblano and Chicken Corn Chowder for the 3rd Annual Grace House "Soup for Your Supper" event March 6, 2016.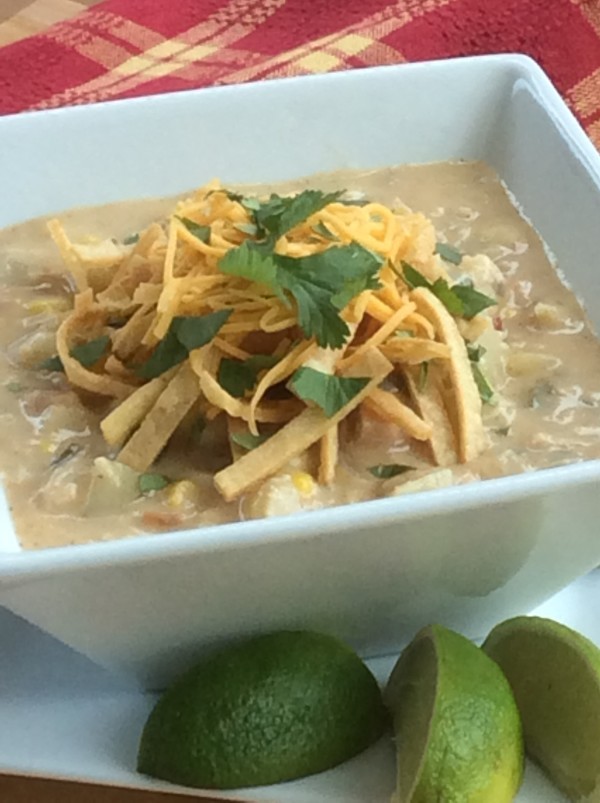 I was honored to be asked to be a participating chef for this wonderful fundraiser. Grace House is a non-profit organization that helps single homeless women. This is their 3rd year holding "Soup for Your Supper". Local chefs volunteer their time and special soup as part of the evening fundraiser.
The night will start out with a beautiful salad and then a tasting of soup from each of the chefs. The attendees will be asked to vote for their favorite soup. At the end of the evening, Grace House will award three chefs with a Gold, Bronze or Silver plaque.
At first I thought about making my Tomatillo-Poblano Chicken Chili but changed my mind. Hmmmm, my husband has heard that one before. 🙂
So after some thought and practice I came up with this smoky creamy chowder!!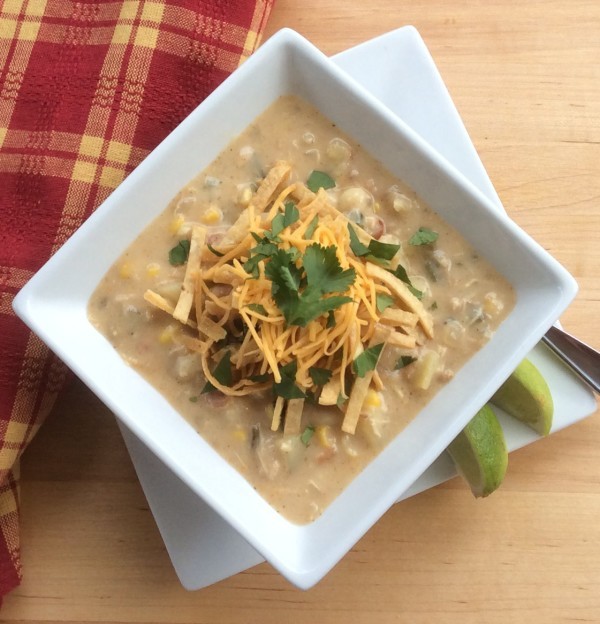 Smoky Poblano and Chicken Corn Chowder
Smoky chicken broth made from smoked chicken bones adds a special flavor to this chicken corn chowder. The charred poblanos add a level of heat that when combined with the creamy base is the perfect combination.
Ingredients
2-3 tablespoons bacon fat
1 cup onion, diced
2 cups Yukon gold potatoes, peeled and diced
2 cups frozen corn, thawed
1-25 ounce can Mexican style hominy, drained and rinsed
3 garlic cloves, finely minced
2 teaspoons kosher salt
1/2 teaspoon black pepper
1 teaspoon chili powder
1/2 teaspoon ground cumin powder
1/2 teaspoon ground oregano
1/2 cup poblano chili, charred with skin and seeds removed then diced (approx. 2 small poblano)
6 cups smoked chicken broth, see notes below
2 cups cooked chicken meat, diced (breast and thigh meat combo is great)
6 sliced cooked bacon, chopped
1 12 ounce can evaporated milk
4 tablespoon flour (or gluten free flour)
1/2 cup sour cream
1/4 cup fresh cilantro, chopped
Optional toppings: Crispy tortilla strips, fresh chopped cilantro, cut limes, shredded cheddar, chopped bacon
Instructions
Heat oven to 400 degrees and cook bacon strips on a baking sheet covered in foil for 25 minutes or until golden brown and crispy. Reserve 2-3 tablespoons of bacon fat to saute the onions.
In a large Dutch oven, saute the chopped onion in the bacon fat (or cooking oil) for several minutes or until slightly tender. Add the minced garlic and continue to saute.
To the pot, add the chicken broth, salt, cumin, chili powder, oregano and black pepper and bring to a boil. Add the diced potato and cook for 7 minutes. Add the thawed corn and drained hominy. stir and continue to simmer for several more minutes.
Add the canned evaporated milk to a blender along with the flour and one cup of the potato and corn mixture from the pot. Blend until smooth and then return back to the pot. Add the diced poblano and chicken. Simmer several minutes to allow the soup to begin to thicken.
Add the bacon, 1/4 cup chopped cilantro and sour cream. Stir until well blended and serve.
Notes
Optional step: Simmer chicken on the bone in water with celery, carrots, onion, salt, whole peppercorns and bay leaf. Remove the chicken when meat is no longer pink, cool and remove from the bone. Set the chicken aside for the chowder. Place the chicken bones in a smoker for 2 hours. Return the smoked bones to the broth and simmer to enhance the flavors of the broth. Add more water if needed to make a total of 6 cups of broth. Stain the broth and use in the chowder.




by