Have you ever just opened the refrigerator and started gathering ingredients from inside to create a dish? That is how my Southwest Honey Mustard Sweet Potato Salad  came about.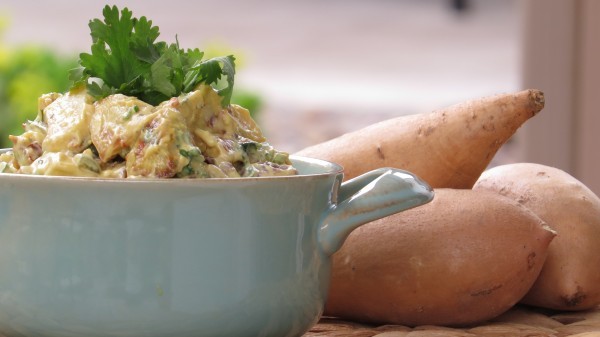 I served this salad at a family dinner. All I can say is that there was no salad left and they asked for more. I think that is a good sign. The only problem was…What did I put in there? Since I randomly built this salad as I went, I had to rack my brain to remember each ingredient and how much of each I used.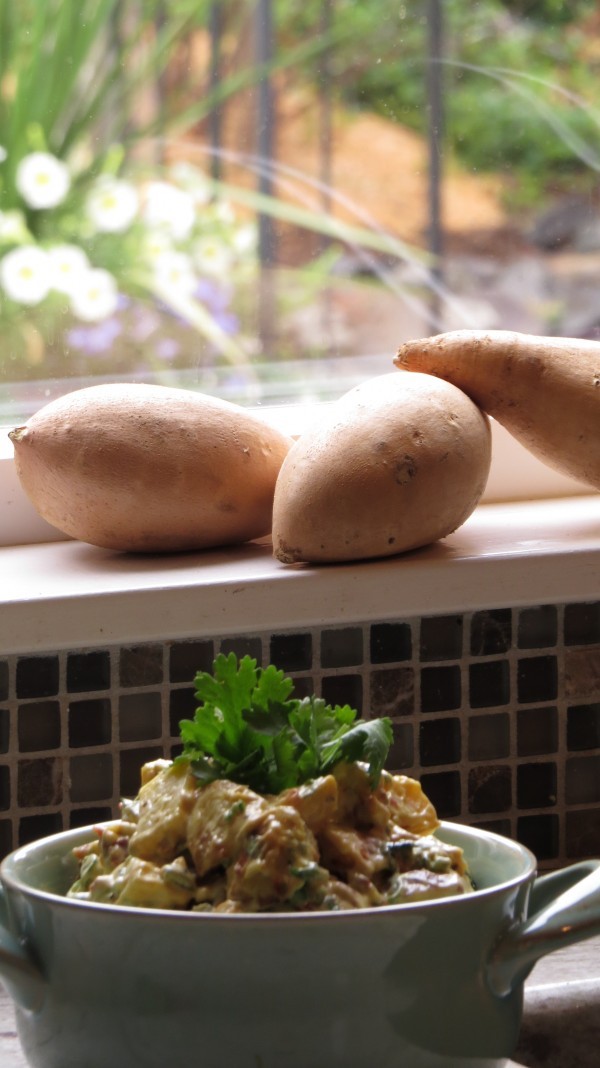 Before I knew it, my kids were calling me for the recipe so I sat down and typed up what I could remember. One of my daughters made the salad and said it was a hit at her office potluck. She did comment that she thought it needed more sweet potatoes. So I started retesting the recipe until I had the measurements down. Oh, make sure you use the white (light yellow flesh) sweet potato and not the oranges ones!! Some people call the orange ones sweet potatoes, I call them YAMS. 🙂
You will notice that the recipe calls for Suzie's Mustard's. That would be Suzie Barhyte, founder of Barhyte Mustard's and Sauce Mama's products.
Suzie's business is Oregon made. Fabulous products made by a fantastic company. (Note, I am happy to endorse Suzie's product with no endorsement.)
A recipe well tested and well loved, enjoy!!!
---
Southwest Honey Mustard Sweet Potato Salad
12 servings
8 cups peeled, 1" diced white skinned sweet potatoes (several large sweet potatoes)
Drizzle of olive oil
1 jalapeno, seeds and membranes removed and finely diced (leave seeds in for more heat)
½ cup chopped fresh cilantro
4 chopped green onions
6 strips crispy cooked bacon, chopped
¾  cup mayonnaise
¼  cup sour cream
¼ cup chopped sun-dried tomatoes packed in oil
1 tablespoon finely minced garlic
2 tablespoon rice vinegar or lime juice
¼ cup honey
2 tablespoon Suzie's Organic yellow mustard, (a yellow mustard can be used)
2 tablespoon Sauce Mama's Chipotle mustard, (a Dijon mustard can be used)
Toss sweet potato cubes with olive oil and spread on baking sheet. Oven roast the potatoes for 35 minutes at 425 degrees, turning halfway through cooking time. Potatoes should be slightly tender and have golden brown edges.
While potatoes are roasting prepare the dressing by mixing the remaining ingredients. When potatoes are removed from oven, let them cool only slightly. Transfer potatoes to a large mixing bowl and add the dressing. Carefully toss. Serve warm or cover and refrigerate until ready to serve.




by