When entering a pizza recipe contest for a $10,000.00 prize one has a tendency to think, "Does a pizza have to have tomato sauce and mozzarella cheese"?
I don't think so. The use of two fresh squash and Gorgonzola cheese make for a delicious change. Here is my entry for the Sebastiani "Pizza My Way" contest. Sadly it was not chosen as a finalist but now we know how to enjoy a homemade pizza in a whole new way, "My Way".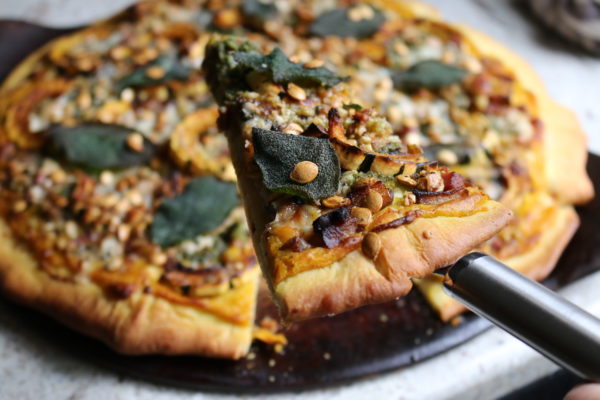 Squash Harvest Pizza is a full landscape of fall flavors; starting with a creamy butternut sage sauce that is topped with sautéed pancetta and granny smith apples, walnut pesto, Gorgonzola cheese and roasted Delicata squash, followed by a crumble of walnut anchovy breadcrumbs. When baked, this golden fall pizza is sprinkled with toasted Delicata seeds and fried sage leaves, a true bite of fall on a slice.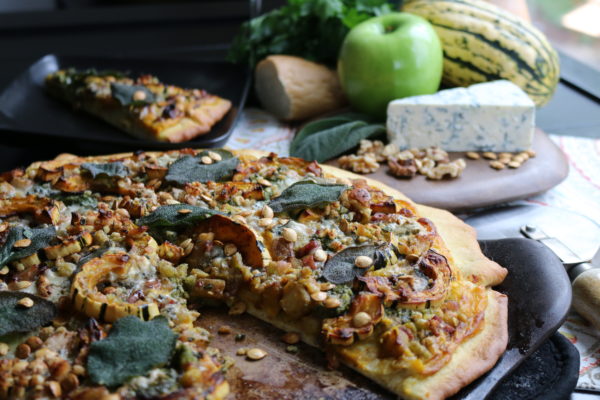 Squash Harvest Pizza
Makes 1-14" pizza
Ingredients for Pizza Dough:
1 2/3 cups bread flour, plus more for rolling
1 package dry active yeast
1 teaspoon sugar
2/3 cup warm water (105-115°)
¾ teaspoon kosher salt
1-3 tablespoon cold water
3 teaspoon walnut oil, divided
1 teaspoon medium size cornmeal to dust baking stone or pizza pan
Ingredients for Butternut Squash Sauce:
1 ½ cups Butternut squash, peeled and cut into 1/2" cubes
¼ cup onion, cut into large pieces
1 tablespoon chopped fresh sage
2 teaspoons walnut oil
1/8 teaspoon black pepper
½ teaspoon kosher salt
2 tablespoons water, more if sauce needs to be thinned
¼ cup heavy cream
1/8 teaspoon fresh grated nutmeg
Ingredients for Pizza Toppings:
4 ounces raw pancetta, cut into small cubes
1 cup granny smith apple, peeled and cubed
¼ teaspoon cinnamon
4 ounces gorgonzola cheese, wedge style, broke into large chunks
Ingredients for Roasted Delicata Squash:
1 small Delicata squash, ends cut off, cut in half lengthwise, seeds removed but saved (skin left on), sliced into 3/8" pieces
2 teaspoon walnut oil
¼ teaspoon kosher salt
1/8 teaspoon black pepper
Ingredients for Toasted Delicata Seeds:
Seeds from the Delicata squash, washed and cleaned of any pulp
½ teaspoon walnut oil
¼ teaspoon kosher salt
1/8 teaspoon black pepper
Ingredients for Walnut Pesto:
1 cup fresh parsley, packed
2 teaspoons fresh sage, minced
1 garlic clove, peeled
2 tablespoons walnuts
2 teaspoons fresh lemon juice
½ teaspoon kosher salt
3 tablespoon Parmesan cheese, shredded
¼ cup walnut oil
Ingredients for Walnut Anchovy Breadcrumbs
¼ cup fresh breadcrumbs
¼ teaspoon anchovy paste
2 tablespoon walnuts, coarsely chopped
1 tablespoon unsalted butter, melted
¼ teaspoon kosher salt
1 teaspoon fresh sage, finely minced
Ingredients for Fried Sage leaves:
9-12 fresh sage leaves
2 tablespoons walnut oil
Instructions for building your pizza:
Making your pizza dough: Dissolve the yeast and sugar in the warm water. Make sure to use at least a two cup bowl for yeast growth. Allow to stand for 3-5 minutes. Add 1 teaspoon of walnut oil to the yeast.
Add the bread flour and salt to a food processor with a metal blade. With the processor running, pour the yeast liquid through the tube. Pulse until the dough comes together and begins to clean the sides of the bowl. If needed, add a tablespoon of cold water at a time to the dough until it forms a ball and then process for 30 seconds.
Place the slightly sticky dough in a bowl and spread with the 1 teaspoon of walnut oil. Cover with plastic wrap and let rise in a warm place for about 45 minutes.
Heat oven to 425°.  Toss together the Butternut squash, onion, fresh sage, walnut oil, black pepper and salt of the Butternut squash ingredients and arrange on a baking sheet that is lined with parchment paper or sprayed with cooking spray. Roast for 30 minutes or until soft and golden.
On half of another baking sheet with parchment paper or sprayed with cooking spray, arrange the Delicata squash ingredients that have been tossed together. On the other half of the baking sheet, arrange the Delicata seeds that have been tossed with their ingredients.
Bake the seeds for 13-15 minutes (remove when needed) and Delicata squash for approximately 20-25 minutes. The Delicata should be golden brown and the seeds should be crispy to taste. When the Delicata slices and seeds are done, set them aside for assembly later on.
While the squashes are baking, prepare the Walnut pesto in a food processor. Add all of the pesto ingredients and blend until smooth. Set the pesto aside.
Add the pancetta, granny smith apples and cinnamon to a large skillet over medium high heat and sauté 4-5 minutes or until the pancetta is slightly crispy and the apples are tender. Set the mixture aside.
In a small bowl, add all of the Walnut Anchovy Breadcrumb ingredients together and toss together until well blended, Set the crumbs aside.
When the Butternut squash, sage and onion mixture has roasted, transfer to a blender or food processor and add the heavy cream, water and nutmeg. Blend.  Add more water or cream if needed to make a spreadable sauce then set aside.
In a small skillet, heat 2 tablespoons over medium high heat and fry the sage leaves in small batches for about 20 seconds on each side. Remove and set on a paper towel. Save walnut oil to brush on the outer crust of the pizza dough.
With oven at 425°, dust a counter and rolling pin with flour, punch down the dough and roll dough out to a 14" circle, using more flour as needed so dough does not stick. Place the dough on a baking stone that has been sprinkled with the cornmeal.
Spread the dough with the Butternut squash sauce, arrange the pancetta/granny smith apples over the top and drop portions of the walnut pesto all throughout the top. Randomly arrange the roasted Delicata slices, add the large crumbles of Gorgonzola cheese, brush the outer edge of the dough with some of the remaining walnut oil that was used to fry the sage leaves, sprinkle on the walnut anchovy breadcrumbs and bake for 15-18 minutes or until the crust is golden brown and the bottom is not doughy. Slice the pizza, then sprinkle with the Delicata seeds and arrange the fried sage leaves!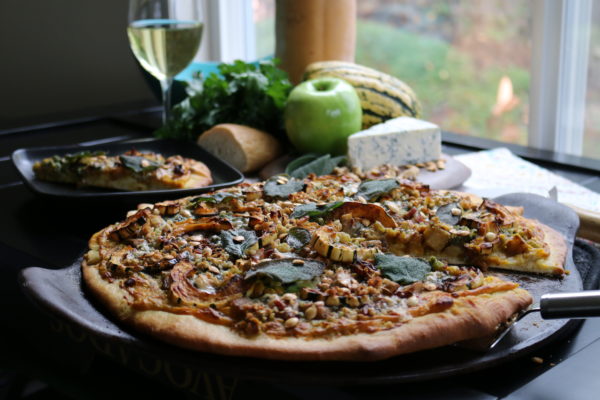 by