Hmmm, shall I make sushi at home? All the ingredients were in the refrigerator and cupboard except for the white short grain rice. No worries, I put together a sushi flavored salad instead.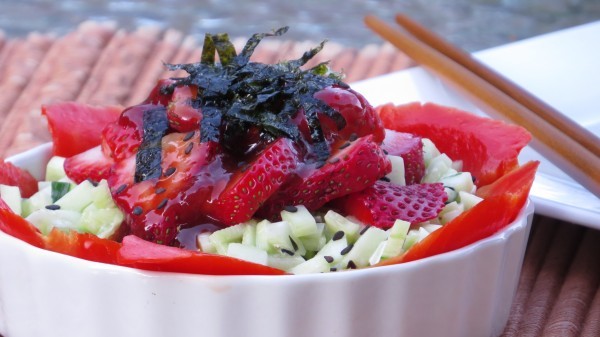 One sushi roll combination I love is smoked salmon and strawberries. This takes me back to our trip to Montana when we ate at Seven Sushi. Their Strawberry Fields Sushi Roll changed my life. I had to come home and recreate it. See it here.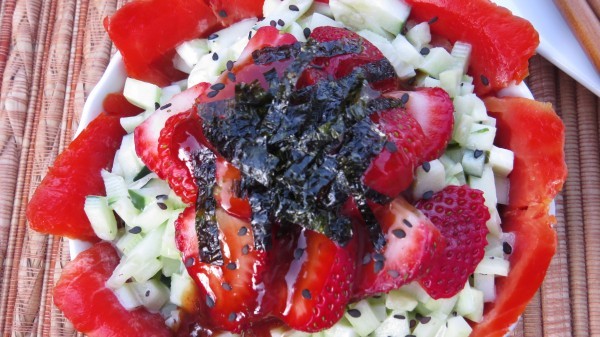 A sweet and spicy strawberry sauce covers the fresh sliced berries. Simple sauce with sriracha, soy sauce and an all natural strawberry jam. Keep it gluten free by using a soy sauce that is gluten free.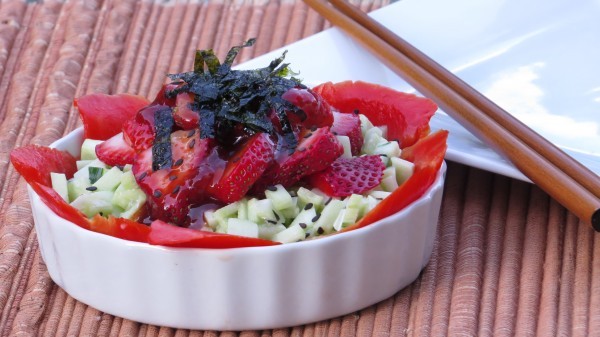 A sheet of Sesame Toasted Nori sliced into thin strips tops the salad. It's the perfect finish for that sushi flavor.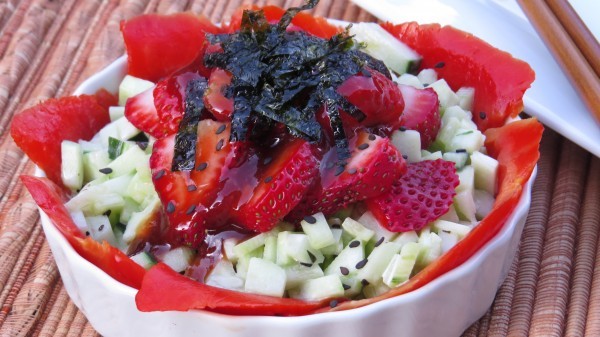 Sriracha Strawberry Smoked Salmon Salad
Ingredients
2 tablespoons strawberry fruit spread, all natural
1 tablespoon gluten free soy sauce
1 teaspoon sriracha sauce
1/2 cup sliced fresh strawberries,
2 cups finely chopped cucumber, some skin removed
2 tablespoons mayonnaise
1/2 tsp black sesame seeds plus a pinch more for garnish
2 teaspoons seasoned rice vinegar
salt and pepper to taste
3 ounces package Nova Smoked Salmon, comes thinly sliced
1 sheet Sesame Toasted Nori, cut into thin strips (or regular Nori sheets)
Instructions
Mix together the strawberry fruit spread, soy sauce and sriracha and set aside.
Clean and slice the strawberries and set aside.
Combine the cucumber, mayonnaise, 1/2 tsp black sesame seeds, rice vinegar, salt and pepper to taste. Set aside.
In two large ramekin or small dishes, arrange the slices of salmon around the inside of the dishes. Allow some of the salmon to come above the rim of the dish if possible.
Fill each with the cucumber salad and top with the sliced strawberries.
Pour the spicy strawberry sauce over the fresh berries and sprinkle with a few more black sesame seeds.
Finish each salad with a small mound of nori strips.




by