Our category for competing at the 2015 World Food Championships in Celebration, Florida this year was CHILI. The category was determined when I won my Golden Ticket (invitation to compete) from Hormel. My online chili recipe took Grand Prize. Not only did I receive the Golden Ticket but I also received a $1000.00 check!!
On November 7th 2015, we started out the day cooking at 8am for our first chili round. We had to make a Traditional Red and a fun tailgating theme entry using chili in it. This Tex-Mex Chili Sundae Split was our tailgate dish for the second turn in.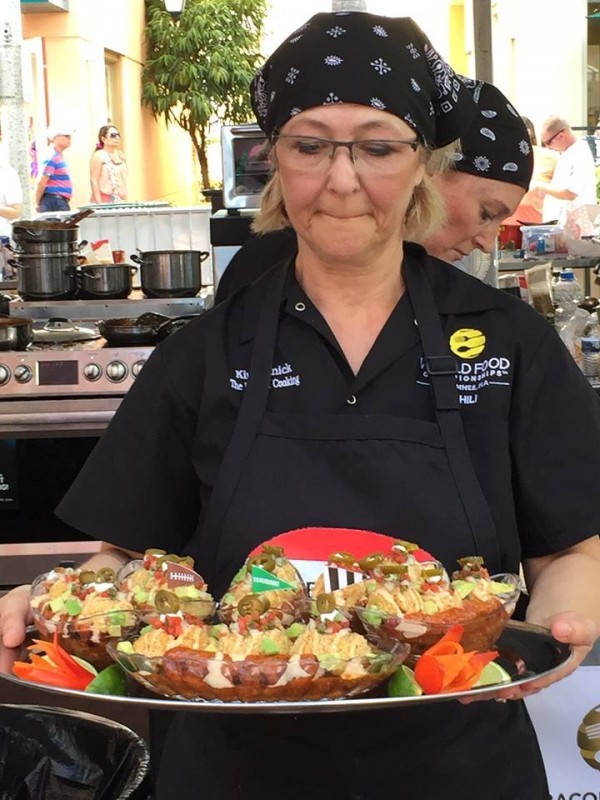 After much testing at home we decided to do a play on a banana split boat. Chili at the bottom (our Adam's Rib and the Bad Apple Chili we took 2nd place in the People's Choice Chili Fest), a layer of tomatillo salsa, fresh baked Sweet Mexican Corn Balls, chipotle sauce, sour cream, fresh pico de gallo, dice avocado, a grilled andouille chicken sausage cut in two and a slice of pickled jalapeno!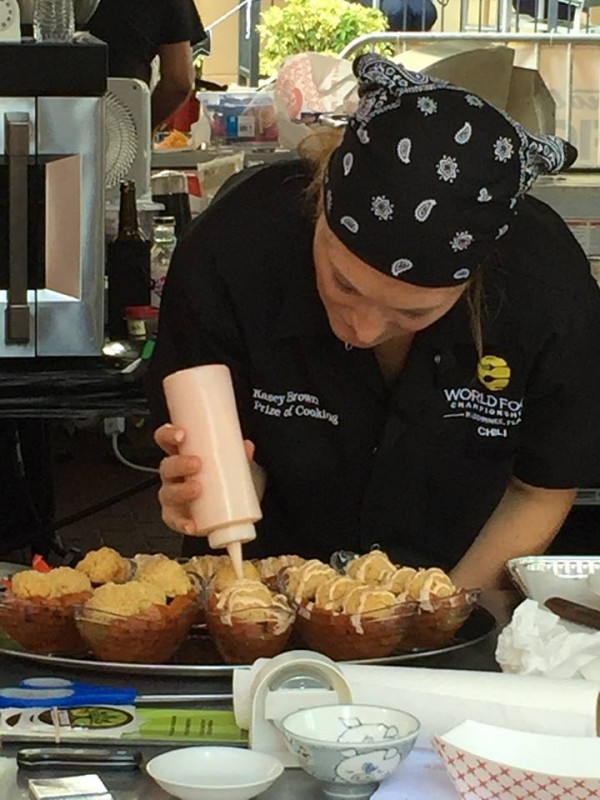 We added black beans to our tailgating chili since the dish had a Mexican flare to it. You could use most any chili at the bottom and build from there. But don't skip the sweet corn cakes, they are the best part of the sundae!!
Tex-Mex Chili Split Sundae
Makes 12 sundae boats
• 2 -15 oz cans Hormel Chili-No Beans
• 2 lbs beef short ribs
• 1 lb ground beef
• 4 tablespoons oil
• 1 teaspoon whole cumin seeds
• 1 jalapeno pepper
• 1 ½ cups onion, chopped
• 1 ¼ cups green bell pepper, chopped
• 1 ½ cups celery, chopped
• 4 garlic cloves, minced
• 28 oz can San Marzano crushed tomatoes, undrained
• 1 whole large chipotle pepper in adobo, minced plus 1 tablespoon adobo sauce
• 1 pt 6 oz bottle Draft Hard Cider, dark and dry variety (22oz total)
• ½ cup bottled BBQ sauce
• 2 tsp smoked paprika
• ¼ cup finely minced pickled jalapenos
• 14.5 oz black beans, drained
• 1 16 oz. jar Tomatillo salsa
• 2 roma tomatoes, finely minced flesh only with seeds removed
• 1/4 cup finely minced onion
• 1 small fresh jalapeno, minced with stem and seeds removed
• 1 bunch chopped cilantro, divided
• Juice of one lime, divided
• 8 oz. sour cream
• 1 small avocado, small dice
• Sliced pickled jalapeno for top garnish
• ½ cup mayonnaise
• ½ tsp garlic powder
• ½ tsp onion powder
• ¼ tsp chipotle powder
• 3 cups Green Giants Super Sweet White Corn, drained (approx 2-11 oz cans)
• 1 cup unsalted butter, softened to room temperature
• 6 tablespoons sugar
• 1 cup corn masa harina flour
• 4 eggs, beaten for dredging
• ¼ cup flour plus 1 cup for dredging the cake scoops
• 4 cups panko for dredging
• Salt and pepper
• 12 Andouille chicken sausage, fully cooked style
• 12 banana split dishes or paper boats
1. Begin recipe by smoking the short ribs, jalapeno and cumin seeds in a smoker, either in an indoor stovetop or outdoor unit. I put the cumin seeds in a small metal mesh colander. Smoke for three hours or for as long as you can up to three hours. The longer the smoke time, the more intense the flavor.
2. While the short ribs are smoking, brown the ground beef and set aside, prep the onion, bell pepper, celery and garlic cloves. In a dutch oven, sauté the vegetables and garlic in 2 tablespoon of oil over medium high heat until translucent and tender. Remove from the dutch oven and set aside.
3. When the short ribs, jalapeno and cumin seeds are finished smoking, heat 2 tablespoons of oil in the dutch oven over medium high heat and sear all sides of the short ribs until a golden crust has formed. Crush the cumin seeds using a mortar and pestle into a smooth powder or use a spice/coffee grinder. Mince the smoked jalapeno after removing the stem. Mince the chipotle pepper. (Remove some of the seeds as you mince the jalapeno and chipotle pepper if you want to reduce the heat.)
4. When the short ribs are seared, add the cooked vegetables, ground cumin seeds, tomatoes, cider, minced smoked jalapeno and chipotle pepper. Bring the ingredients to a boil and then reduce to a simmer.
5. Cover the dutch oven and continue to simmer the short ribs on low heat until the meat freely falls off of the bones. This may take 2-2 ½ hours to simmer. (If your pot reduces to quickly and your liquid lowers, you can add a small amount of water as needed) During the last 30 minutes of cooking time, stir in the two cans of Hormel Chili, browned ground beef, minced pickled jalapenos, smoked paprika, BBQ sauce and black beans after the short ribs are tender. Continue to cook uncovered for another 30 minutes
6. Remove the bones and any tendon that does not cook away. Shred the meat apart and stir throughout the chili. Keep warm.
7. During the last 30 minutes of cook time, prepare the following toppings for the sundae. Begin by heating the oven to 350 degrees.
8. Prepare Sweet Corn Cake Scoops: Add 2 cups of canned corn kernels to a food processor, pulse until it is coarsely ground. Scrape pulsed corn into a bowl and add the softened butter, sugar and ¼ tsp. salt. Mix to blend well. Gently stir in the masa, ¼ cup flour until just blended, then add in the remaining 1 cup of whole corn kernels. Mix until blended in and distributed. Use a scoop to shape the corn cakes into round balls. Roll each scoop in flour, then in the beaten egg and then into the panko. Arrange the cake scoops on a baking sheet lined with parchment paper and bake for 20-25 minutes
9. Prepare Pico de Gallo: mix together the finely minced tomatoes, 1/4 cup finely minced onion, fresh minced jalapeno, juice of 1/2 lime, 2 tablespoons chopped cilantro and a pinch of salt and pepper to taste. Set aside
10. Prepare Chipotle Cream Sauce: Blend together mayonnaise, garlic powder, onion powder, chipotle powder and juice of ½ lime. Pour into a squeeze bottle or plastic ziplock bag (Make a small snip in the corner when ready to use) for drizzling over corn cake scoops
11. Grill or heat andouille chicken sausages until warm, cut each length wise in half from end to end.
12. Assembling the sundaes: Fill each sundae dish with some of the chili, spread tomatillo salsa down the center of the chili, place the sausage on each side of the sundae dish, arrange three sweet corn cake scoops over the chili, drizzle with the Chipotle Cream Sauce, top each scoop with Pico de Gallo, a dollop of sour cream, a sprinkling of chopped cilantro and avocado. Place a slice pickled jalapeno on top of each scoop to finish the dish.
Notes: Use a pressure cooker to shorten the braising time. It will take about 45-50 minutes in a pressure cooker to tenderize the short ribs so the meat falls off the bone. Open the lid of the pressure cooker and add the Hormel chili, browned ground beef, minced pickled jalapenos, smoked paprika, BBQ sauce and black beans after the short ribs are tender. Continue to cook uncovered for another 30 minutes.




by