Three Corn Tequila Tex-Mex Chili with Avocado Tequila Lime Crema
Tex-Mex flavors come to life in this blend of Bush's Pinto Chili Beans in mild Chili Sauce, spices, a charred poblano, Mexican corn, BBQ sauce and tequila. The name "Three Corn" comes from the three varieties of corn that are present in this chili…corn mixed into the chili, crispy corn chips for scooping bites of chili and a baked sweet Mexican corn fritter that tops the chili for a special treat. The smooth and tasty crema made with avocado and tequila is served on the side. Use it to cool down the heat of the chili and for adding zip to your chip!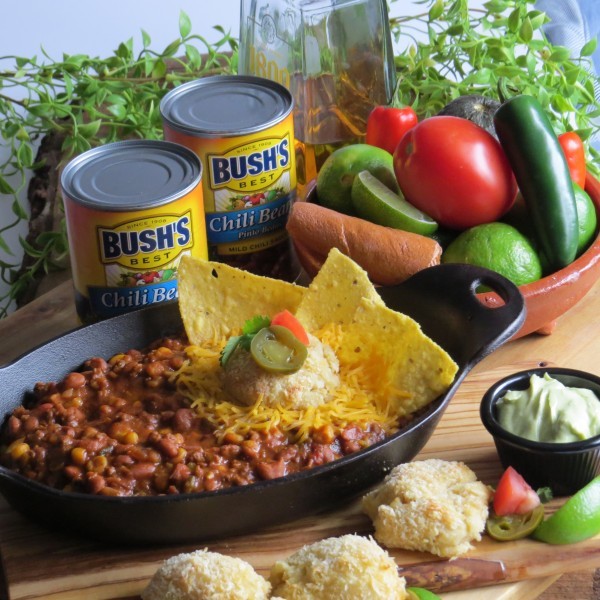 Chili contest you say…Ok I am game. 2015 was a good year for me and chili so starting out 2016 by entering Bush's Chili Cook-Off Contest seemed like a good idea. The one thing I have learned about chili making is that it is diverse.
Last year I met some of the best chili competitors in the world, each thinking that their chili was the best! AND believe me, they truly believe that their chili is the best. Some with beans, most without, some with fresh products, others using canned. Some like it red while others like it green. Some choose to add beer while others add stronger alcohol.
After visiting Mexico last month, I learned a lot more about tequila. My husband and I attended a tequila class were we learned about the different qualities and how to properly drink them.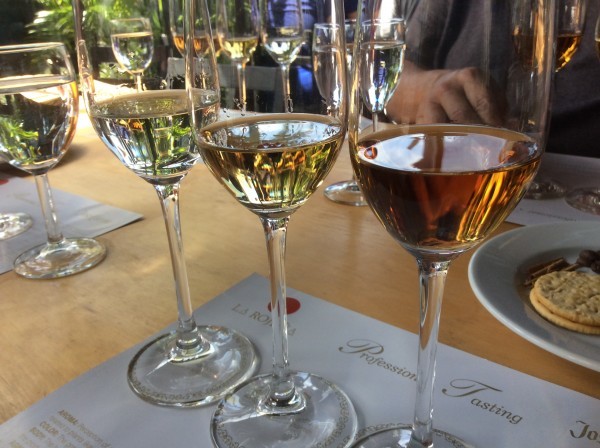 Who knew there was so much to drinking tequila? We normally don't drink straight tequila but when on vacation I splurge and enjoy margaritas.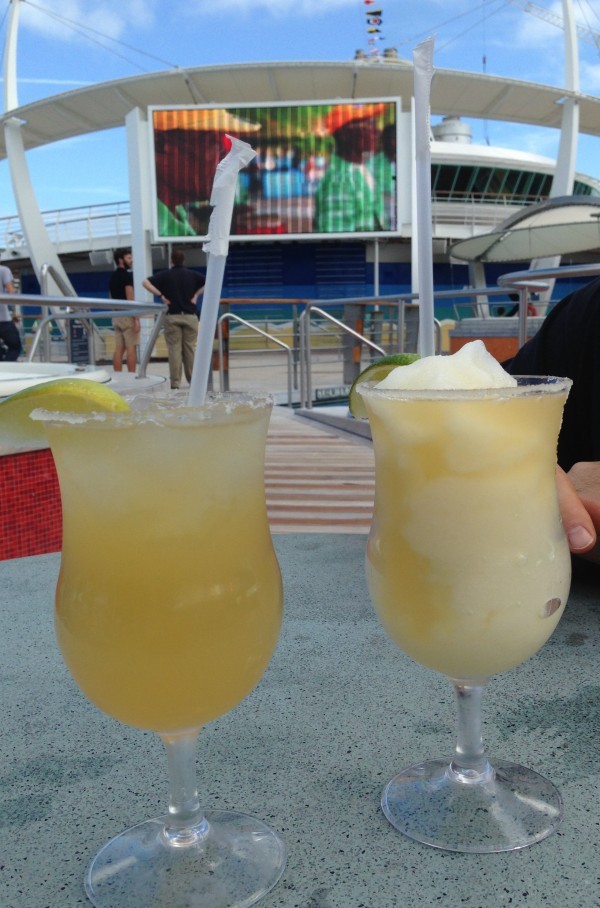 That was the extent of my knowledge before attending this class. So while in Mexico, we bought a bottle of tequila that is higher in quality and is great for cooking with as well as sipping.
So back to my chili. A little tequila in the chili, some in the crema and maybe some on the side!!
Ole and enjoy!!
Three Corn Tequila Tex-Mex Chili with Avocado Tequila Lime Crema
Tex-Mex flavors come to life in this blend of Bush's Pinto Chili Beans in mild Chili Sauce, spices, a charred poblano, Mexican corn, BBQ sauce and tequila.
Ingredients
2 cans Bush's Pinto Chili Beans in Mild Chili Sauce, undrained
1 diced Poblano, medium sized, charred with skin, stem and seeds removed
1 cup chopped onion
1 lb. ground hamburger, 20/80 blend
3 garlic cloves, minced
2 T oil
14.5 oz can fire roasted diced tomatoes, undrained
11 oz can vacuum packed Mexican corn, a blend of whole kernel corn with red and green bell pepper, undrained
1 T chili powder
1 tsp ground cumin
1 tsp smoked paprika
¼ cup BBQ sauce, your favorite brand
½ cup tequila, 100% Agave
7 oz. can Ranchero Salsa, or any salsa that contains a lot of jalapeno!!
2 cups shredded cheddar cheese
Bag of tortilla corn chips
For garnish; 1 large tomato; chopped, ½ cup chopped cilantro, 1 lime; cut in wedges, slices of pickled jalapeno
For Crema; 1 large avocado, ½ cup sour cream, ¾ tsp kosher salt, ¼ cup tequila, 1 tsp garlic powder, 1 T juice from the pickled jalapeno jar and 2 small limes, zest and juice.
For Baked Sweet Mexican Corn Fritters; 1-11 oz can vacuum packed Super Sweet White Corn, drained and divided, ½ cup unsalted butter, softened to room temperature, 3 T sugar, 1/2 cup corn masa harina flour, 2 eggs, beaten for dredging, 2 T flour plus 1/2 cup for dredging the corn fritters, 1 cup Panko for dredging and 1/8 tsp kosher salt.
Instructions
Prepare the crema so it can be refrigerated and have time for the flavors to blend together. Mash the avocado and cream together all of the remaining crema ingredients until it is smooth then refrigerate it.
In a Dutch oven pot, sauté the onion in the oil until translucent and tender then add the garlic and sauté a few minutes longer. Add in the ground beef and cook until brown and no longer pink.
When the ground beef is brown, add the spices, Mexican canned corn with peppers, diced charred Polbano (see below for charring a Poblano), Bush's chili beans with the chili sauce, diced tomatoes, Ranchero sauce and BBQ sauce.
Simmer the chili for 15 minutes then add the tequila and continue simmering for another 30 minutes.
Heat oven to 350 and prepared the Sweet Mexican Corn Fritters while the chili is simmering. Add ½ of the canned Super Sweet White Corn kernels to a food processor or blender, pulse until it is coarsely ground. Scrape pulsed corn into a bowl and add the softened butter, sugar and salt. Mix to blend well. Gently stir in the masa, 2 T flour until just blended, then add in the remaining whole corn kernels. Mix until blended in and distributed. Use a scoop to shape the corn cakes into 12 round balls. Roll each scoop in flour, then in the beaten egg and then into the Panko. Arrange the corn fritters on a baking sheet lined with parchment paper and bake for 20-25 minutes or golden brown on the top.
To serve, simply scoop chili into large serving bowls, spread the top with shredded cheddar, arrange with several corn chips and one fritter and all the garnishes! Serve the extra corn chips, fritters and crema on the side!
Notes
Charring a poblano can be done by placing the pepper over an open flame on a gas stove or several inches under an oven broiler. Turn the pepper as the skin turns a blackish char. When all surfaces are charred, place the pepper in a bowl covered with plastic wrap or in a plastic storage bag to allow the skin to steam and release. After 10-20 min, wipe the charred skin off of the pepper using a paper towel. Remove the stem and seeds then dice.




by