Tikka Masala Breakfast Burrito #TikkaMasala #NationalEggMonth
Breakfast burritos come in many different flavors. Most all of them will contain eggs and possible a meat and starch. This Tikka Masala Breakfast Burrito does not contain any meat but it is jam packed with proteins. I created this burrito one morning when I was rummaging through the frig and found an opened jar of Tikka Masala sauce. Not wanting to let it go to waste, I had to do something with it.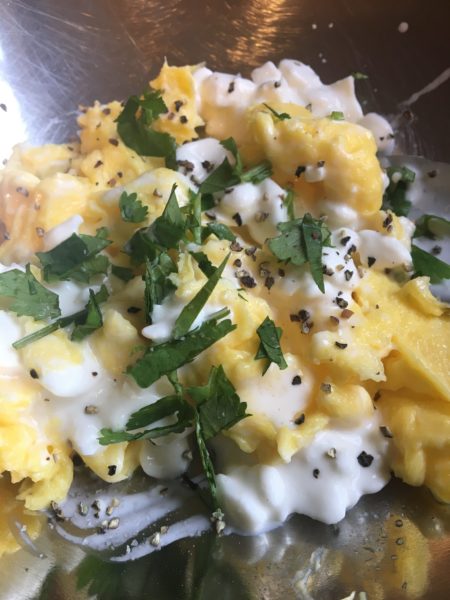 Paneer is a fresh non melting farmer/curd cheese that is used in South Asian cooking. Instead of hunting the paneer down from a specialty store, I decided to use large curd cottage cheese. I really liked how it added a creaminess throughout the scrambled eggs.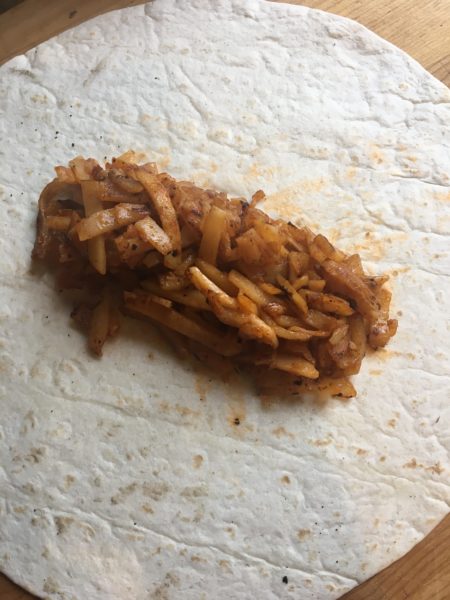 I used a refrigerated style of hash brown. You could use a frozen style or grate fresh potatoes yourself. There are many brands of Tikka Masala sauce so it is a good chance that this breakfast burrito could taste differently if you switched brands.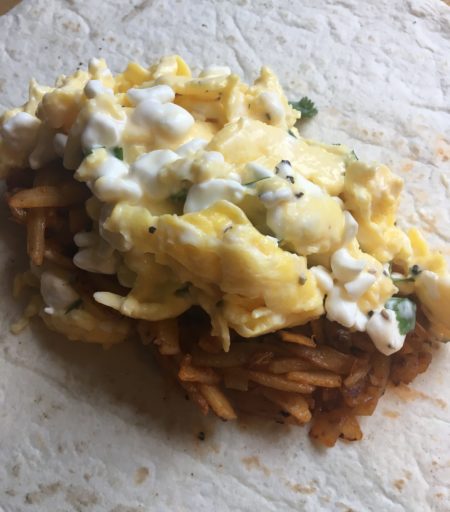 Cilantro is a very common herb used in Indian cooking. If you do not care for cilantro, you could use Italian parsley.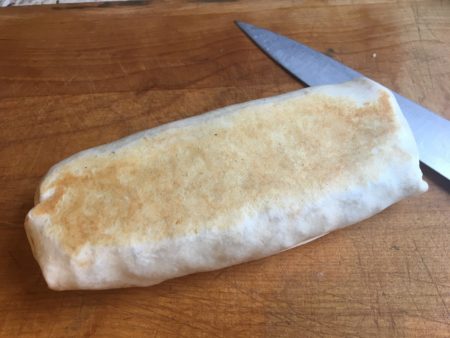 Taking the step of browning the outside of the filled burrito adds a great crunch. This step can be skipped but I like that added texture. Also if you skip this step you will want warm the burrito shell before filling it. These could also be made ahead of time, cooled, wrapped and frozen for later. Serve it with your favorite Indian chutney. I suggest a mango chutney, yum!!
Tikka Masala Breakfast Burrito #TikkaMasala #NationalEggMonth
Breakfast burritos are always a good on the run meal. A burrito filled with Tikka Masala sauce, hash browns and creamy cottage scrambled eggs, even better!!
Want a little more flair with your Indian Tikka Masala Breakfast Burrito, serve it with a fruit chutney!
Ingredients
8 eggs, beaten
½ cup large curd cottage cheese
4 tablespoons chopped cilantro, divided
2 tablespoon plus 2 teaspoons ghee (clarified butter), divided
2 cups refrigerated seasoned hash browns, room temperature
¼ cup chopped onion
¼ cup jar style Tikka Masala sauce
1/2 teaspoon kosher salt, divided
½ teaspoon black pepper
4 large flour burritos
Instructions
Add 1 tablespoon plus 1 teaspoon of ghee to a non-stick skillet. Heat over medium heat until melted then add the chopped onion and sauté for 5-8 minutes or until tender. Add in the hash browns and cook, stirring occasionally until golden brown and a crust begins to develop. Stir in the Tikka Masala sauce until all of the hash browns are coated. Remove from the skillet, cover and set aside.
In the skillet, add the remaining ghee on medium heat. When melted, add the beaten eggs and season with the kosher salt and black pepper. Gently move the eggs back and forth in the skillet until the eggs are mostly cooked through with a small amount of wetness remaining. Toss in the cottage cheese, cilantro and gently toss together.
Spread the Tikka Masala hash browns on each burrito then top each with the scrambled egg mixture. Fold the bottom of the burrito shell up and over the filling, tuck the outsides inward and continue rolling the burrito.
In a panni press or a hot non-stick skillet, heat the outsides of the burrito until golden brown. Cut and serve or wrap and go!!




by