Each month for the last 5 years my husband and I have been getting together with three other couples for themed dinner parties. Over the years we have done about every theme we could think of including a Polenta Party. I first explained to the group that I had seen the polenta served straight on a table wrapped in butcher paper. We choose to serve it on platters, which as still fun.
Another fun and traditional way to serve Polenta is to pour it out onto a long wooden board that is food safe. I looked all over the internet and found lots of beautiful boards but they also came with a price. My solution was to ask my dear 81 year old Father-in-law if he would be will to make me one. I am so blessed to have this healthy talented man in my life who is very skilled in wood crafting. He was all for the challenge. We went shopping at a wood shop and found the perfect cut piece of cherry wood.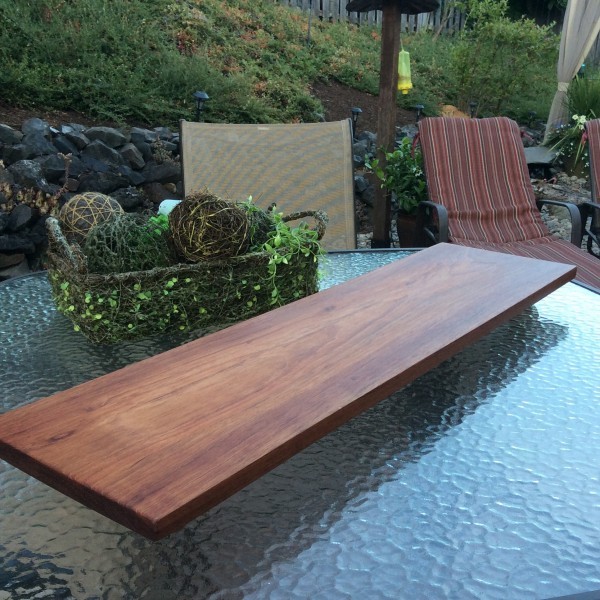 My Father-in-law sanded out the center of the board just a bit to create a small well so the polenta will not spread over the edges of the board.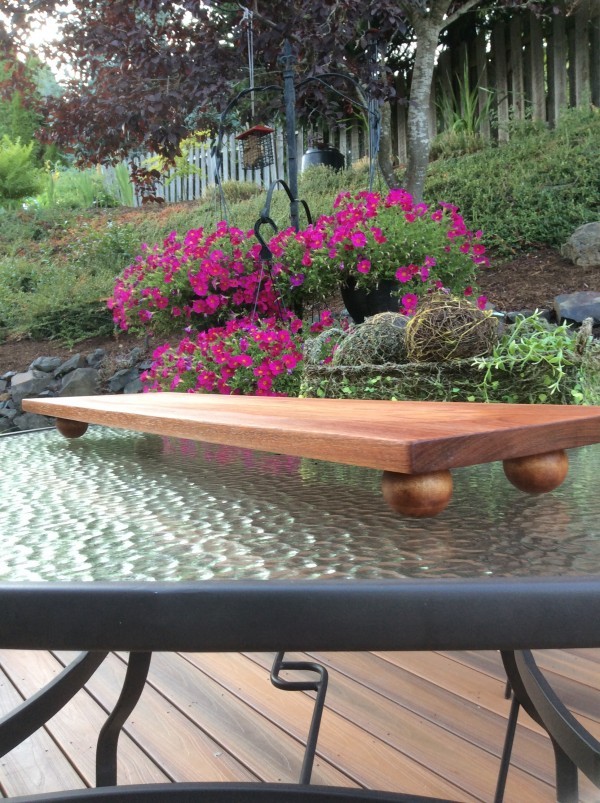 The legs add some height to the tray and make it easier to pick up and move. I also think they add character to the board.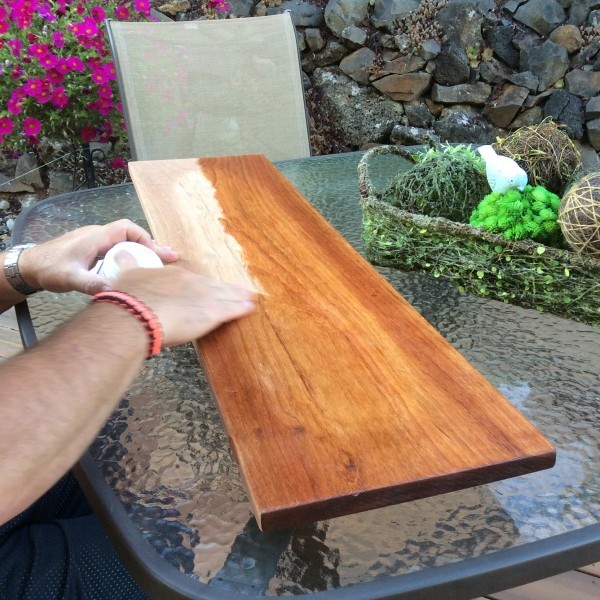 Just look at the color of the wood coming to life as my husband spreads on the food safe wood treatment. This product is also used to treat cutting boards.
The store also had the wooden legs as well as the treatment to rub on the wood to finish the board. This food grade treatment brought out the color and will keep the wood protected. Sorry the video is sideways.
So the board is ready for polenta but I have to tell you that this board will be used for so much more. I plan to use it to serve cheese, sliced meats and crackers as well as an olive or bread board. The ideas are endless as to what this board can be used for!! Well worth the time and effort to make one. If you don't have the resources or time, contact me and we can see if my Father-in-law can make one for you too!!
On to the party. The idea of a polenta party starts with the polenta; creamy cheesy cooked medium coarse cornmeal. The rest of the dinner is the delightful toppings that cover the polenta; Bolognese (Ragu), Oven Roasted Italian Seasoned Vegetables, Ratatouille, Wild Mushroom Herb Gravy and Basil Pesto. Oh yes, I know your mouth is watering like mine. I am so ready for the party.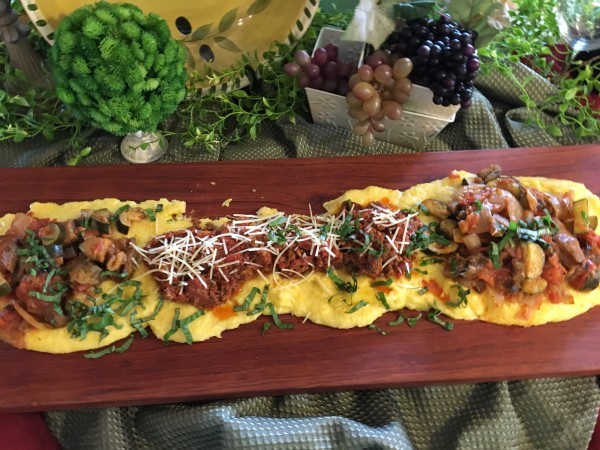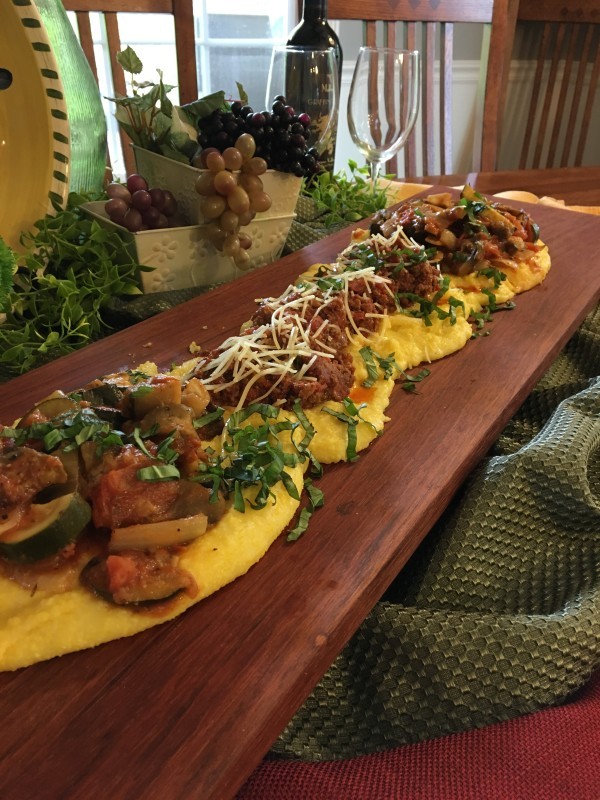 Creamy Polenta with Parmesan
1 ½ cups medium grind cornmeal, preferably stone-ground
3 tablespoons unsalted butter, room temperature
¾ cup Parmesan cheese
Black pepper
Salt
Bring 6 cups water to a boil in a heavy-bottomed 4 qt. saucepan over medium heat. Once boiling, add 1 ½ teaspoons salt and then put the cornmeal into the water in a very slow stream, all the while stirring in a circular motion with a wooden spoon. Reduce the heat to the lowest temperature possible setting and cover. Continue cooking while vigorously stirring the polenta once every 5 minutes for about 10 seconds. Make sure to scrape the sides and the bottom. The polenta will become soft and smooth in about 30 minutes cooking time. Stir in the butter and the Parmesan cheese. Season with salt and pepper to taste and serve immediately.
Note: if you are not going to serve the polenta immediately, keep the polenta warm in a slow cooker turned on low.
---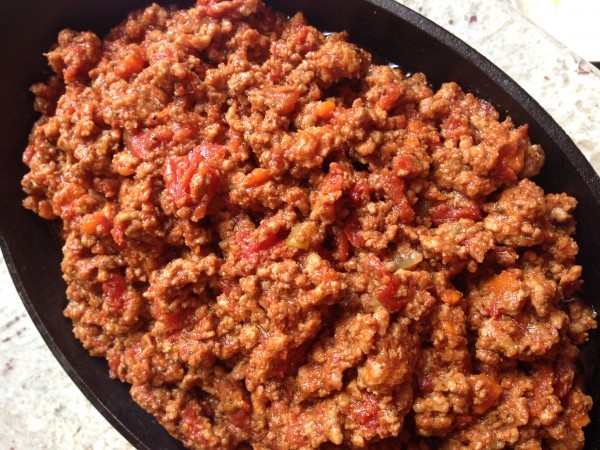 Italian Bolognese Sauce
Serves 8
6 tablespoons unsalted butter
¼ cup minced onion
¼ cup minced carrot
¼ cup minced celery
1 ½ pounds of meatloaf mix (1/2 pound each ground beef chuck, ground veal and ground pork)
1 teaspoon salt
½ teaspoon black pepper
1 tablespoon dried oregano
½ teaspoon dried red pepper flakes
¼ teaspoon ground nutmeg
1 ½ teaspoon dried rubbed sage
2 cups whole milk
2 cups dry white wine ( or low sodium broth if you do not want to use wine)
2 28-ounce can diced tomatoes with their juice ( I like the petite cut)
Heat 6 tablespoons butter in a large heavy-bottomed Dutch oven over medium heat. Add the onion, carrot and celery and sauté until softened but not browned, about 6-8 minutes. Add the ground meat, salt, black pepper, oregano, red pepper flakes, nutmeg and sage; crumble the meat into tiny pieces with the edge of a wooden spoon. Cook, continuing to crumble the meat, just until it loses its raw color but has not yet browned, about 4-5 minutes.
Add the milk and bring to a simmer; continue to simmer until the milk evaporates and only the clear fat remains, up to 30 minutes. Add the wine and bring to a simmer; continue to simmer until the wine evaporates, up to 30 minutes. Add the tomatoes and their juices and bring to a simmer. Reduce the heat to low so that he sauce continues to simmer just barely, with an occasional bubble or two at the surface, until the liquid has evaporated which can take up to 3 hours. It will take less time if your burner provides a good amount of heat even on low.
Adjust seasoning with extra salt to taste. Keep sauce warm if serving soon or the sauce can be refrigerated for several days or frozen for several months.
Serve over cooked fettuccine noodles or creamy polenta.
Note: spicy pork sausage makes a great substitute for the ground pork. Another great substitute is chopped Pancetta that has been browned.
---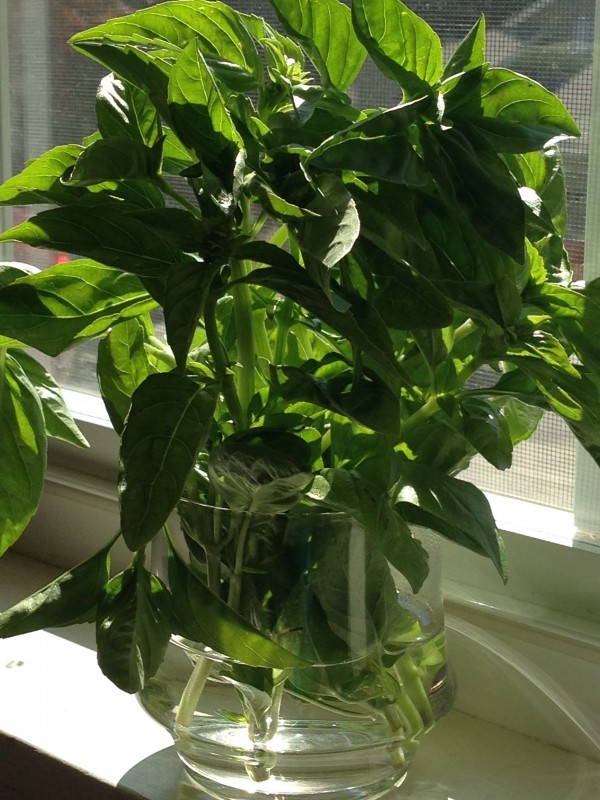 Basil Pesto
3 cups fresh basil, packed (mostly leaves with stems removed)
1/2-3/4 cup olive oil, plus extra for topping the finished pesto for storage
1/2 cup pine nuts, (toasted for extra flavor)
3 garlic cloves, peeled and chopped
½ cup fresh grated parmesan
kosher salt and pepper, to taste
In a skillet over medium heat, toast the pine nuts until lightly browned. Watch them closely as they brown fast. In a food processor or blender, blend together basil, toasted nuts, garlic, and cheese. While the processor is running pour in oil slowly. Add in salt and pepper. Scrape down the sides and pulse once more to make sure it's well-blended. When storing pesto, pour a layer of extra virgin olive oil over the surface of the pesto. This will prevent the browning that happens. Fresh pesto freezes very well for several months!!
---
Wild Mushroom Herb Gravy
1 1/2 ounce package dried wild mushrooms (Shiitake, Oyster, Porcini, Chanterelle)
1 cup chicken, vegetable or beef broth, boiling
1 cup white wine, use one of your favorites
3 tablespoons unsalted butter, divided
3 8-ounce packages of white button or cremini mushrooms, washed and chopped
4 large shallots, minced
4 large cloves of garlic, minced
2 tablespoons minced fresh sage leaves
1 tablespoons minced fresh thyme leaves, stems removed
1 tablespoon minced fresh rosemary, stems removed
3 tablespoons flour (can use gluten free flour)
¼ cup chopped fresh flat-leaf parsley
Kosher salt and black pepper to taste
Chop the dried mushrooms and place in a bowl. Pour the boiling broth over them. Let steep for at least 20 minutes. Drain and reserve the drained liquid. Mix the drained liquid with the white wine. Be careful to not pour any grit at the bottom of the bowl that may have settled off the mushrooms while steeping.
Heat 2 tablespoons of butter in a large, heavy skillet over medium-high heat. Add the chopped cremini mushrooms and let sit, without stirring, for several minutes to allow a deep golden brown color develop. Stir and allow the mushroom pieces to continue to brown and soften. Add the shallots, garlic, sage, thyme, rosemary and steeped wild mushrooms. Turn the heat to low, and cook until they are all fragrant and soft.
Add the second tablespoon of butter and allow to melt, then sprinkle the flour over the mixture. Blend the flour into the mushroom mixture, letting the flour thicken with the butter into a paste. Slowly and steadily, pour in the mushroom broth/white wine liquid, whisking rapidly. Cook over medium-low heat, whisking, until the mixture has thickened.
Add the chopped parsley, stirring to blend in. Season to taste with salt and pepper.
---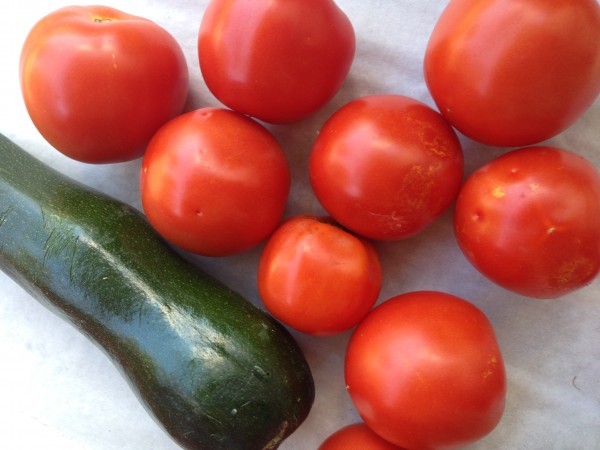 Ratatouille- a traditional French Provencal stewed vegetable dish
Here are few links to some great ratatouille recipes:
Julia Child's Ratatouille
Simple Cast Iron Skillet Ratatouille
Layered Ratatouille




by