Yes!! I am competing in the 2014 World Food Championships Cook Off! Since springtime I have entered multiple recipes in different contests trying to qualify for the World Food Championships cook off for $100,000.00. On October 10th I received an email that was titled "One Last Chance for Redemption and $100,000.00". I immediately opened the email to read that I was being given an exclusive chance to qualify for the WFC cook off since I had already entered and had not been chosen. I had one week to get as many recipes in for the categories that were still open.
I decided to make an Ahi Tuna dish. I wasn't even thinking that if my recipe qualified that it would place me in the Seafood Category for the competition. But really it works. I make many seafood dishes at home that are light and gluten free, something I can eat due to my Crohn's disease.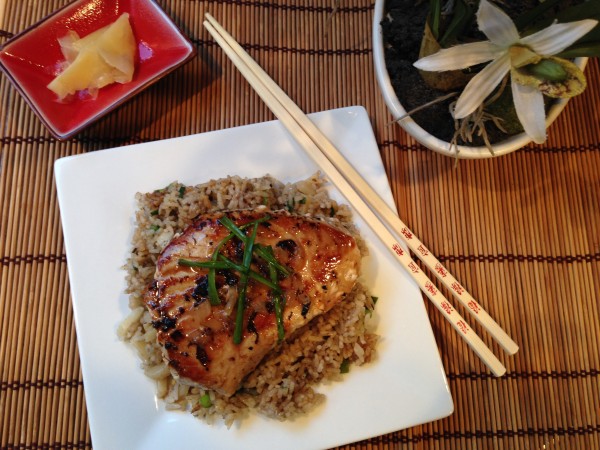 I entered several recipes that week including the Ahi Tuna recipe that I made during the week for dinner. Three days after the deadline I received an email saying that I was going to Vegas to compete in the World Food Championships. I sat in amazement and could not believe that I made it. The crazy part about this journey is that I enter many recipe contests and have only won a few small prizes, one which was $250.00 just a few months ago from Mrs Dash. I have NEVER competed in a live cook off and here I am going to the WORLDS largest live cook off. I can not tell you how many times I have pinched myself.
I have been working on several new recipes for the cook off. I am required to make a seafood signature dish and then everyone is required to make a structured build which is a Fish Taco. Alaskan Seafood is the sponsoring company for my competition. I get to order from a pantry list for my signature dish and fish taco. I am able to choose from their products like Halibut, Snow Crab, King Crab, Rockfish, Spotted Prawns and Black Cod.
I have chosen to work with Spotted Prawns, Snow Crab and Halibut!! If the judges like my dishes on Nov 14th and I am one of the top ten then I will go one to cook on Nov 16. During that cook off I will be required to cook my seafood with their "in-fused" product choice which is BEER. Oh my, since being gluten free I have stayed away from beer since it is made with wheat. I have found that some beer makers are producing gluten free beer. I have used Red Bridge Beer when making my Shrimp Boil and no one knows the difference. Hope they won't mind either!
So here is my qualifying seafood recipe for the cook off…Spicy Ahi with Unagi Sauce over Crunchy Sesame Rice!! I plan to have the time of my foodie life. I want to visit and meet others who love cooking as much as I do. What better way than to be surrounded by other foodies, home cooks and professional chefs!!
Spicy Ahi with Unagi Sauce over Crunchy Sesame Rice
Serves 4
4 Ahi tuna steaks (approximately 6 oz each steak)
1 ½ cups white rice
2 ¼ cups water
1 can sliced waterchestnuts, drained and chopped
2 tablespoons Furikake seasoning
2 teaspoons sesame seed oil
2 tablespoons soy sauce
2 green onions, chopped plus one green onion top thinly sliced for garnish
1 teaspoon salt, divided
1/8 teaspoon black pepper
2 tablespoons chopped shallots
3 tablespoons canola oil, divided
1 cup white wine
2 teaspoon Sambal chili sauce
Juice from ½ small lime
2 tablespoon unsalted butter
Unagi Sauce
Pickled Ginger
Cook rice according to instructions. While rice is cooking begin making the spicy cooking sauce.
In a skillet, add the chopped shallots and 2 tablespoons oil. Sauté shallots for several minutes over medium high heat until shallots are tender. Add the white wine, Sambal chili sauce and ½ teaspoon salt. Simmer until the sauce is reduced in half. Squeeze in the fresh lime juice and the butter. Stir sauce until smooth. Pour sauce in a side dish for later.
In the same pan, add 1 tablespoon of oil and heat pan over medium high. Once the oil is hot, add the Ahi tuna steaks. Sear first side for 2-3 minutes for a pink steak center or 4 minutes for a less pink center. Once the steak is turned over add the spicy sauce to the pan and continue cooking without moving the steaks for an additional 2-4 minutes. The spicy sauce can be spooned over the steaks while they cook. After the second side has been seared, remove the steaks from the heat and set aside.
Finish the rice by mixing in the chopped waterchestnuts, chopped green onions, sesame seed oil, soy sauce and Furikake seasoning, ½ teaspoon salt and 1/8 teaspoon black pepper.
To serve, spoon rice onto four plates, top rice with Ahi tuna. Top each tuna steak with any leftover spicy sauce. Finish each tuna with 1-2 tablespoons of Unagi Sauce and green onion tops that are thinly sliced. Serve with a side of pickled ginger!
Notes: Furikake seasoning and Unagi Sauce can be found in Asian Markets. If you cannot find Furikake seasoning you could use 1 tablespoon of toasted sesame seeds and 2 tablespoon finely chopped Nori Sheet used for making Sushi. If you cannot find the Unagi Sauce you can make your own by mixing ¼ cup soy sauce, ¼ cup mirin and ¼ cup sugar and simmer in a sauce pan over medium heat until reduce to half and the sauce thickens.




by