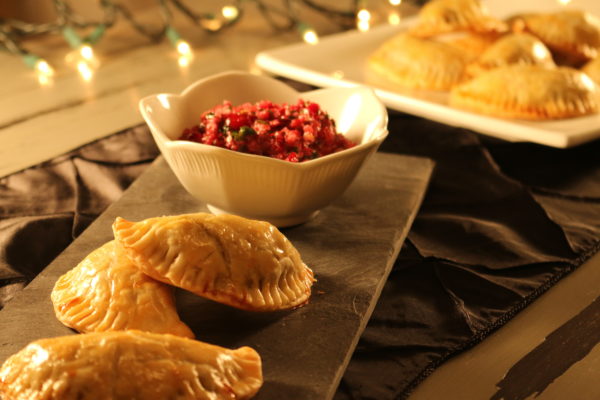 Holiday Turkey Party Pockets with Cranberry Chimichurri are perfect for any gathering. If you need to feed a crowd, make them a bit smaller and you have a delicious appetizer or dish for a buffet table. Make them a little bit larger and they will make a great entree dish. Simply serve up a green salad along side the pockets and your meal is complete.
As a competitive cook, I love to take challenges from companies, use their products and create something they would be proud to add to their recipe line-up. As a food blogger, I am always happy to share where you can find these companies and how to get their products. Cape Cod Select (@CapeCodSelect) can be found on Facebook, their online website , Twitter, Pinterest and Instagram.
A Holiday Bloggers Challenge was offered to the first 75 qualifying bloggers by Cape Cod Select, a company that packages and sells premium quality cranberries that are both fresh and frozen as well as many other premium frozen cranberry/fruit combinations. The company has two basic goals; Provide the public with "Cranberries for All Seasons", and make them THE BEST quality on the market. Want to find them at a store near you? Cape Cod Select Premium Cranberries can be found in nearly 5000 stores nation wide. Click here to go to their store locator!!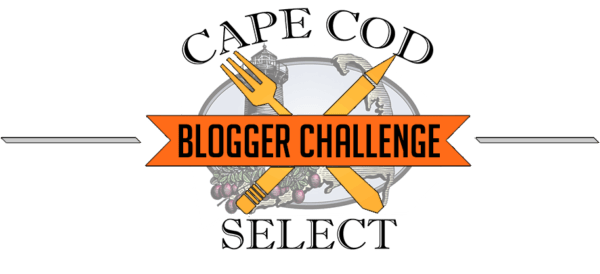 The prizes are great…CASH…I love cash. There are three categories that can be entered; beverage, entree and baking. Each one of these categories will have a $500.00 winner. Then, of those three winning recipes there will be one overall Grand Prize for $1000.00 so that means one person will take home $1500.00 in CASH.
Cape Cod Select sent each blogger two bags of their Premium Frozen Cranberries which are the required ingredient. The product came neatly packed with ice packs and was perfectly frozen when it arrived. I opened the first bag to take a peek at the cranberries and I will say that these are some of the nicest frozen cranberries I have ever seen. They are rich in color, and in size. Please note that these comments are my own opinion!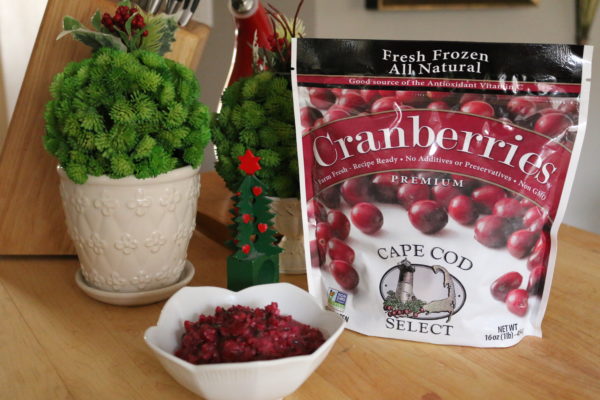 Since this is a Holiday Challenge, I started with an entree entry (which can also be made smaller for appetizers). I created my Holiday Turkey Party Pockets with Thanksgiving in mind. The ground turkey is added to sauteed celery, onion, dried sage, potatoes and a bit of turkey gravy. That combo screams Thanksgiving. But don't let that one Holiday stop you from serving these anytime of the year. Remember, Cape Cod Select sells these beautiful frozen cranberries all year long.
The cranberry chimichurri sauce bursts with savory freshness. Even though these cranberries are sold frozen, I chose to treat them as though they were fresh.  I thawed them slightly before giving them a slight pulse in the food processor. No problem, no mushy cranberries here.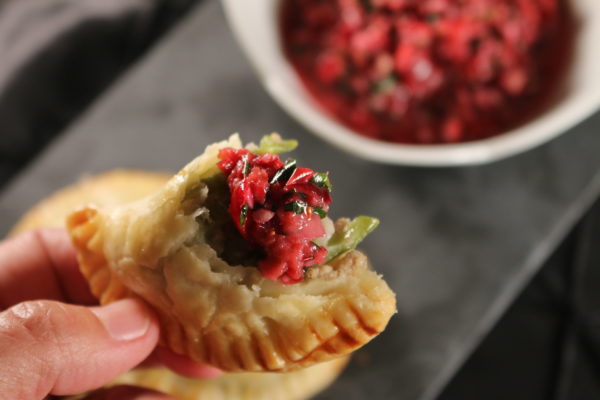 The meat and potato filling for these Holiday Turkey Party Pockets with Cranberry Chimichurri can be made ahead and refrigerated to be made into pockets later. For future use, the pockets can be assembled then frozen. When you are ready to bake them, simply thaw and brush with a beaten egg. The cranberry chimichurri can also be made ahead of time. In fact I think the flavors blend together even more as it sits at room temperature. The chimichurri sauce can be made ahead and refrigerated, just remember to allow the sauce to return to room temperature.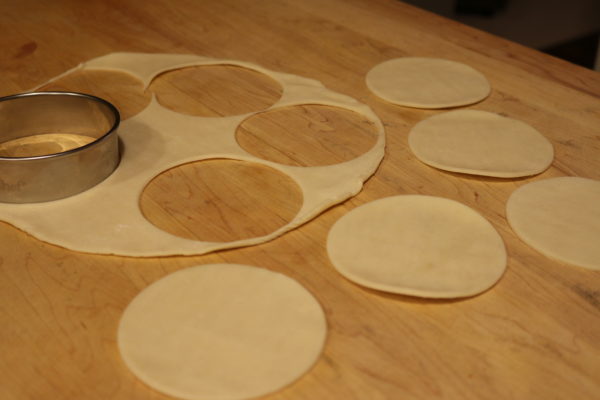 I used a store bought packages of pie crusts for the pockets. You certainly can make your own pie crust but I like a short cut once and awhile. Using a 4″ circle I was able to make 20 pockets with two more made from the scraps pinched together.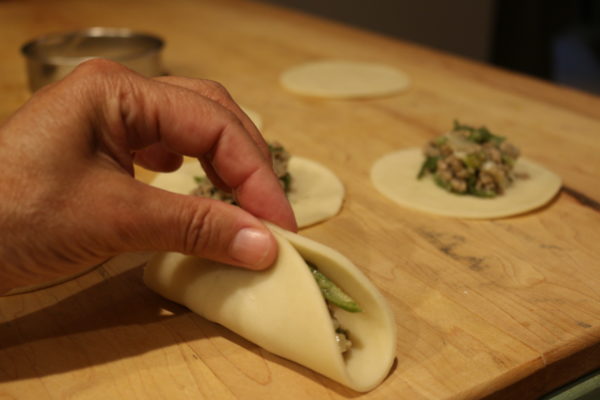 Then it is as simple as scooping 1 1/2 tablespoons into each center, pinch closed and finish the seal with a fork. Brush each with an egg wash and bake for 25 minutes.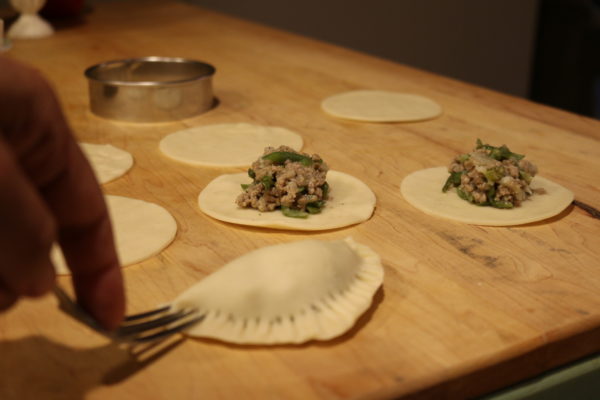 Make these Holiday Turkey Party Pockets with Cranberry Chimichurri  for a crowd by using a smaller cutter and a bit less filling. The more the merrier, right?
Holiday Turkey Party Pockets with Cranberry Chimichurri
Meat and potato party pockets with cranberry chimichurri sauce will bring a smile to your guests face with they taste the holiday flavors in just one bite. This recipe will make 20-22 four inch pockets. Use a small cutter and a little less filling and you can make appetizer size pockets for a crowd.
A simple green salad served along side the pockets makes a great complete meal.
Ingredients
Ingredients for the pocket filling:
1/3 cup onion, small diced
1/3 cup celery, small diced
2 tablespoons unsalted butter
1 ½ teaspoons dried sage
1 pound lean ground turkey
2 cups frozen shredded hashbrowns, thawed
1 ½ cup frozen French cut green beans, thawed
1 ½ teaspoons kosher salt
½ teaspoon black pepper
½ cup turkey gravy, prepared and sold in a jar
2-14.1 ounce packages of pie crusts (4 crust rounds)
1 egg, whisked
Ingredients for Cranberry Chimichurri:
2 cups Cape Cod Select Premium Frozen Cranberries, slightly thawed
1/3 cup fresh Italian leaf parsley, chopped
1 tablespoon minced shallot
2 tablespoons pine nuts
1 tablespoon minced garlic
½ cup light olive oil
3 tablespoons white balsamic vinegar
¼ teaspoon kosher salt
1 tablespoon sugar
Instructions
Start by making the cranberry chimichurri sauce so the flavors have sometime to blend together. Add all of the cranberry chimichurri ingredients to a food processer and pulse until blended but the cranberries are still in nice small pieces. Set aside in a serving bowl.
In a large skillet over medium high heat, melt the butter and sauté the onion, celery with the dried sage for several minutes until the vegetables are translucent and tender.
Add in the ground turkey, 1 ½ teaspoons kosher salt and ½ teaspoon black pepper to the vegetables and cook the ground turkey until it is no longer pink.
Add in the hashbrowns, green beans and gravy. Stirring and heating through until the mixture is hot.
Heat the oven to 350 degrees. Unroll the pie crust, cut into 4 inch circles and fill each with 1 ½ tablespoons of meat/potato mixture.
Pinch the circle in half and use a fork to press the dough closed. Brush each pocket with the egg wash and place on baking sheets that is lined with parchment paper.
Bake for 20-25 minutes or until the crust is a golden brown. Half way through the baking process, it is good to rotate the baking sheets as well as turning them around for even baking.
Arrange the turkey party pockets on a platter with the cranberry chimichurri sauce and enjoy!!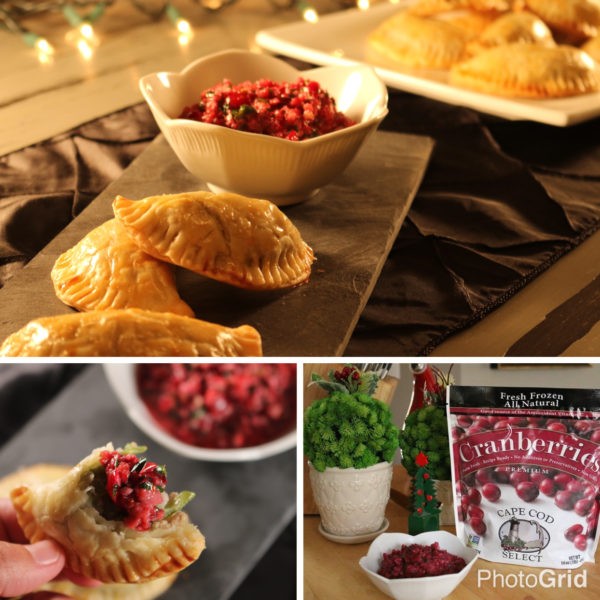 by