Indian Carrot Pudding Gelato is a fun combination of India and Italy.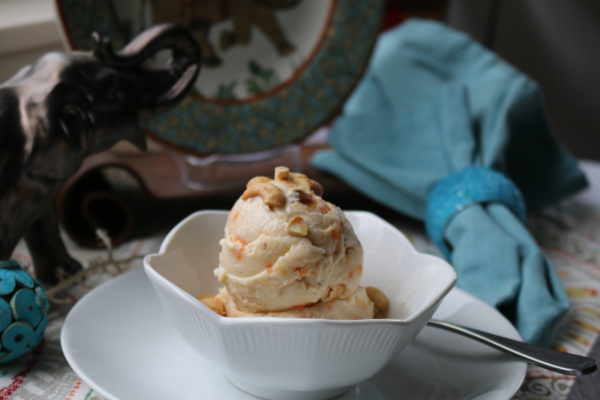 While we were on our Southern Caribbean cruise this last year, we met a wonderful Indian family who introduced us to Indian Carrot Pudding. The elderly mother had flown from Indian to come on the cruise while the daughter and son-in-law came from the States.  
The sweet mother ate a very special diet and the Royal Caribbean Adventures of the Sea Ship did a fabulous job to make meals she was able to eat.
One night the family had the waiter bring my husband and I each a dish of Indian Carrot Pudding. They stopped by the table to say hi for the night as we continued to enjoy the treat. The next day we bumped into each other again. This time, I had to ask them how Indian Carrot Pudding was made. They explained the steps and I took note. After I came home, I quickly looked it up online and found similar recipes.
Each month we get together with several other couples for our "Dinner for Eight". This last month we did an Indian themed meal. I was hosting so I was in charge of the main protein. I decided to make Simon Majumdar's Pork Vindaloo and Onion Bhaji with his family's Cilantro Mint Chutney. All of these recipes are the ones Simon and his wife, Sybil made for us when they stayed in our home in 2015.
One of the guys attending the dinner had been to India. The smile on his face and the sounds of joy coming from him were worth the gathering. He said he was transported back in time to his visit to India.
I wanted to have a bit of fun with dessert. Blending Indian Carrot Pudding with Italian Gelato sounded like fun. The creamy base of the Di Lorenzo Fiordilatte Gelato blended perfectly with chilled Indian Carrot Pudding. Oh the joy of cooking around the world at home!!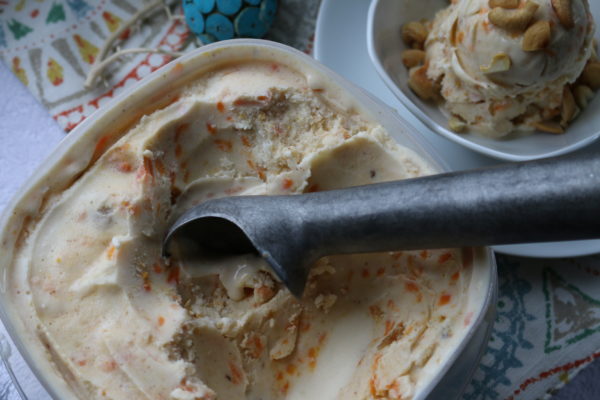 Indian Carrot Pudding Gelato #DiLorenzoGelato
A whimsical combination of Indian Carrot Pudding and creamy authentic Italian Di Lorenzo Gelato, topped with crunchy toasted cashews for a perfect ending to any meal.
Ingredients
1 carton Di Lorenzo Fiordilatte (Fresh Milk)
1 tablespoon ghee
1 cup shredded carrot
¼ cup golden raisins
1 teaspoon fresh peeled ginger, finely minced
1 large whole star anise, broke into pieces
5 whole cardamom pods
Pinch of kosher salt
Pinch ground cinnamon
Pinch of ground cloves
1 cup whole milk (whole fat coconut milk can be used)
1 tablespoon raw honey
2/3 cup toasted cashews (chopped) or slivered almonds for garnish
Instructions
In a dry skillet, toast the star anise pieces and the cardamom pods until they become aromatic. Place into a spice grinder with the pinch of salt, cinnamon and cloves. Pulse until powdered. In the same dry skillet, toast the cashews or almonds and set aside for garnish.
In a medium size sauce pan, heat ghee and add the carrots, golden raisins and ginger. Sauté for several minutes to soften the ingredients.
Add in the whole milk, honey and spice mixture, simmer over low until most of the milk has been absorbed, 15 to 20 minutes. Remove from the heat, cover and chill in the refrigerator.
Once the carrot pudding has cooled, prepare the gelato according to the instructions. Drop in the carrot pudding by spoonfuls into the gelato as it is still churning. Once the pudding as been incorporated, stop churning and transfer to a freezer container and freeze.
Remove the Indian Carrot Pudding Gelato from the freezer to slightly soften for scooping. Top with toasted cashews or slivered almonds and serve.




by