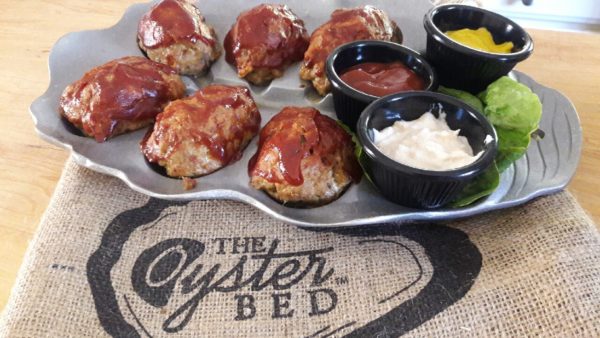 Look who caught the oyster fever…my husband. A few weeks back when The Oyster Bed company mailed me their Le Petite oyster tray to use and create recipes with my husband made a comment about having a recipe of his own he wanted to try.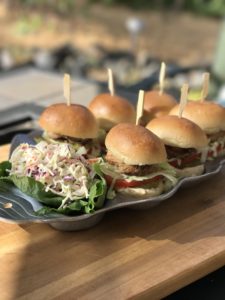 Shortly after the tray arrived, I created Oyster Bed Sliders and Gulf Coast Creamcake Puffs. Both use the oyster tray for baking and serving. They are so easy to use, clean up and they make an adorable serving platter. (Note: The tray was sent complimentary and all opinions and comments are my own.)
I offered my help but he refused and said he wanted to do it alone. I sweetly reminded him that he has to write down all of the ingredients and steps as he goes so he can type up the recipe for a post.
Not only did he do a great good at writing it all done, typing it up, but the oyster loaves are delicious.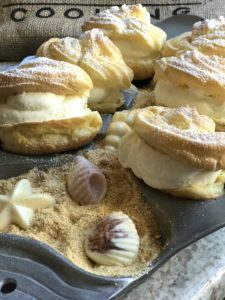 In keeping things simple, Mark used only a few ingredients to make the oyster loaves; Hempler's Hot Italian pork sausage, fresh oysters already cleaned, breadcrumbs and a few spices. Most are everyday products you have in the cupboard already, even the Creole ketchup he made is simple.
We do however have a few products that are from an Oregon family based company that we love, Saucy Mama. Thankfully you can get their award winning products online until they show up in a store near you.
Mark served Suzie's Yellow Mustard and their Creamy Horseradish Sauce as condiments with the loaves.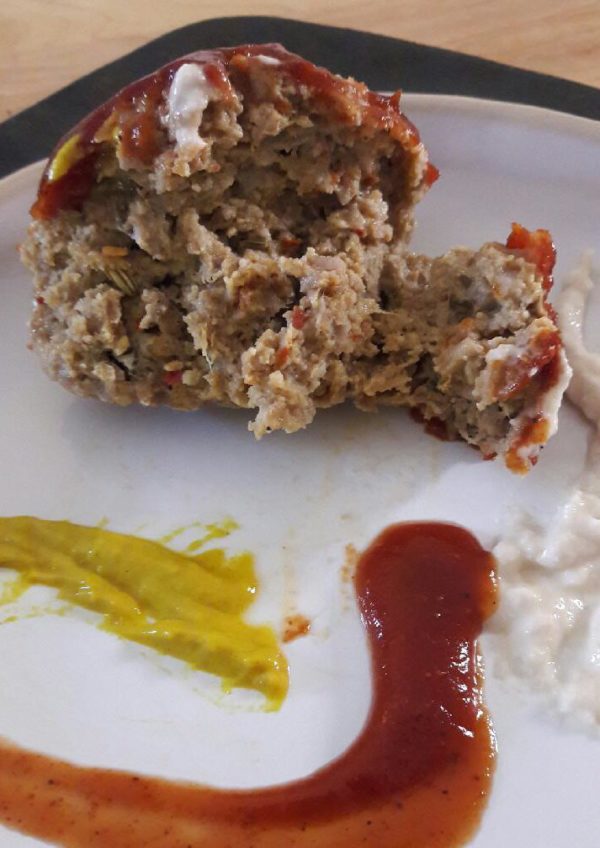 Sure am looking forward to more of these. Guess who gets to make them. 🙂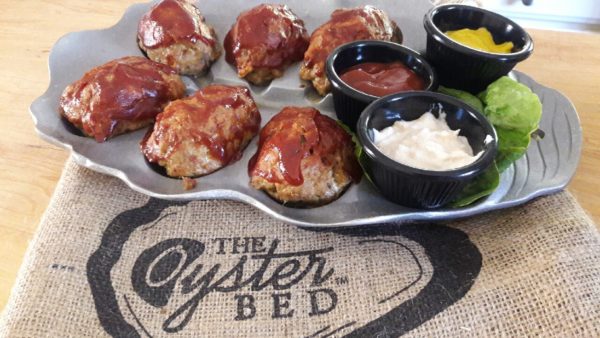 Louisiana Oyster Loaf #TheOysterBed
Spicy tender oyster loaves baked and served in The Oyster Bed tray. Yellow mustard and creamy horseradish sauce make the perfect condiments.
Ingredients
1 lb. Hempler's Italian Hot Sausage
10 oz fresh oysters (I used jarred oysters)
¾ cup Progresso Bread crumbs
½ teaspoon minced garlic
¼ teaspoon smoked paprika
¼ teaspoon cayenne
½ cup ketchup
1 teaspoon Worcestershire sauce
1 ½ teaspoons Creole seasoning
Cooking spray
1 Le Petite cooking tray from The Oyster Bed
Optional: yellow mustard, creamy horseradish sauce
Instructions
Spray the Oyster Bed cooking tray with cooking spray, set aside
Preheat oven to 350 degrees.
Mix the ketchup, Worcestershire sauce, and Creole seasoning in small bowl, set aside.
Drain liquid from the jarred oysters.
With a small blender or food processor, give the oysters just a 1-2 second on pulse. You do not want to puree the oysters but give them just enough of a blend that there is liquid and yet some small pieces of the oyster.
Incorporate the oysters, Italian sausage, bread crumbs, garlic, smoked paprika, and cayenne together. Do not over knead the mixture as it will become stiff and dried out, but just rather enough to get all the ingredients evenly mixed.
Divide mixture into 6 portions.
Shape each ball to fit into the Oyster Bed tray wells.
Spread some of the Creole Ketchup mixture onto each of the six loafs.
Bake for 25-30 minutes or until internal temperature reaches 165 degrees.
I like to serve any kind of meat loaf with one of my three favorite condiments. For this recipe I used Saucy Mama's brand, Yellow Mustard, and Creamy Horseradish sauce and the remaining Creole Ketchup.




by