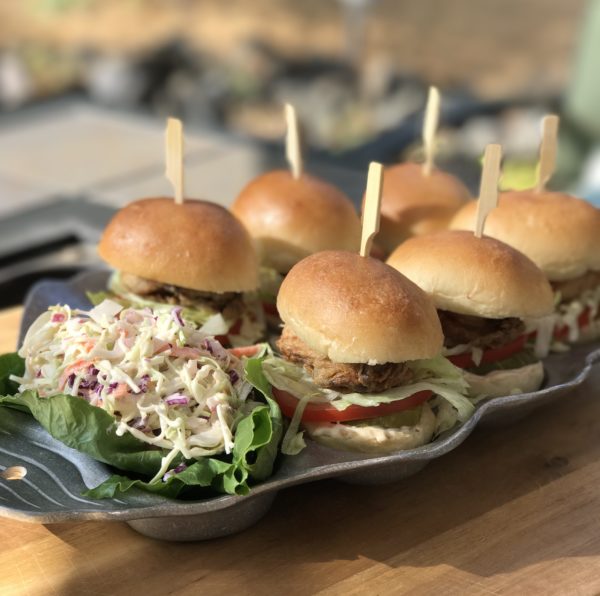 This November I will be heading back to Orange Beach Alabama to compete at the World Food Championships which is the worlds largest cook-off for the fourth time. In 2014 I competed the seafood category, 2015 in the chili category and last year back in the seafood category.

Over the years I have made so many great new friends that share the same passion as I do…competitive cooking!!
Each year competitors are given a required dish as their first turn in. This year in seafood we will be required to make Oyster Rockefeller using one of the new World Food Championships sponsors products…The Oyster Bed tray.
I am so excited to have received the "Le Petite", one of the trays from The Oyster Bed company to practice my recipe and create new ones using the tray. (All comments are my own and only the tray was complimentary.) The Oyster Bed company believes in sustainability by using pre-shucked oysters. This encourages the shucking house to stockpile oyster shells and ensure they go back to the fishermen, and ultimately back into our estuaries. The Result: more oysters, more reefs, more land. I like that.
I decided to have some fun with the tray which is light weight, oven, grill and freeze safe. Not sure if anyone has ever baked bread in the tray, I thawed dinner roll dough and shaped it into an oval so it would fit the oval in the tray and bake up in that shape.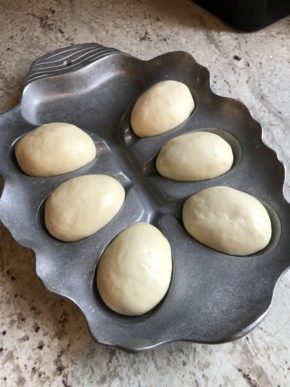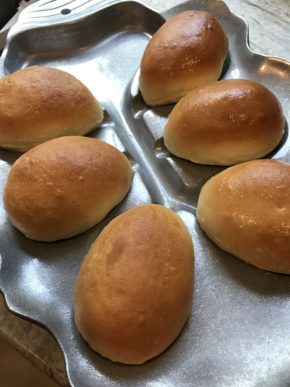 Woohoo, it worked. The slider rolls came out great. Aren't they cute?? A little butter brushed on the top after they come out of the oven adds a bit more flavor.
Every oyster slider needs a tasty mayonnaise spread, so I made Old Bay Aioli Sauce. It's goes perfectly with the oysters or other seafood such as shrimp and fish tacos. Slice tomatoes, pickle chips and shredded lettuce round out the ingredients besides the fried oysters for the sliders.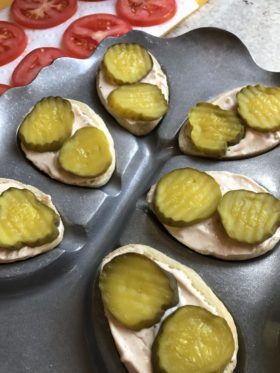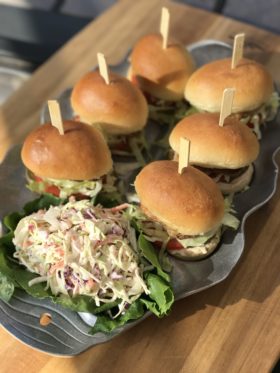 The open part of the tray is perfect for serving a side of coleslaw or sliced lemons. You can find my coleslaw recipe here. I added shredded carrots and purple cabbage for color. The breading for the oysters was simple, only Wonder flour. It is super fine and has less flour taste and creates a light crust.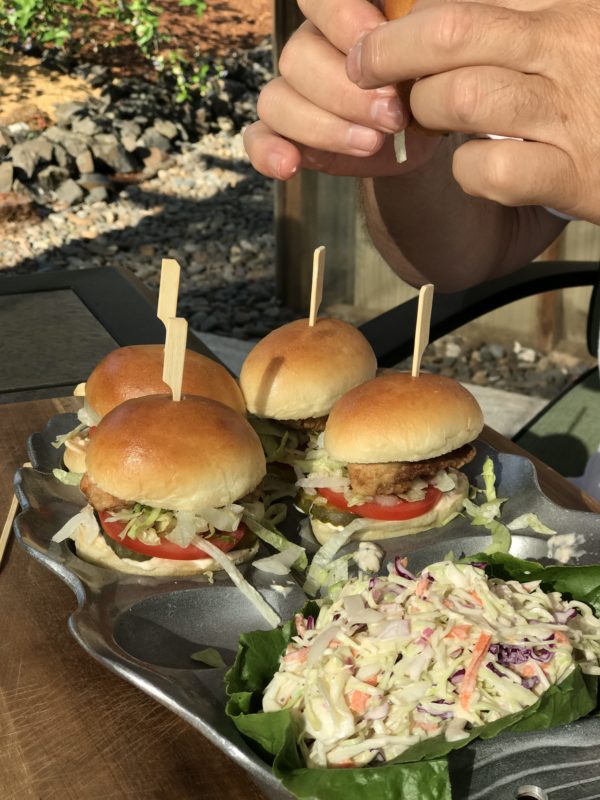 The six sliders are great for appetizers for a small group or a meal for two. If you want to serve a crowd, think about ordering The Oyster Bed's "Le Grande" tray. Your food and presentation are sure to wow your guests.
Oyster Bed Sliders #TheOysterBed
Fresh oyster sliders served on a sliders buns that have been baked in The Oyster Bed tray. Once the sliders are assembled, serve in The Oyster Bed tray. The small opening in the tray is perfect for serving coleslaw or lemon wedges.
Ingredients
10 ounce jar small fresh oysters, drained
6 frozen dough, dinner roll size
Melted butter for brushing rolls
6 tomato slices
12 dill pickle slices
Shredded lettuce
1/2 cup mayonnaise
2 teaspoons fresh lemon juice
1 garlic clove, finely minced
1/2 teaspoon Old Bay seasoning
1 cup Wonder flour, regular flour can be used
Cooking spray
Oil for frying (about 4 cups)
Kosher salt
6 wooden skewers
Optional: coleslaw, lettuce leaves for garnish and lemon wedges
Instructions
Spray the six oval shapes in The Oyster Bed tray. Place a dough ball in each shape and cover with plastic wrap that has been sprayed as well to avoid sticking. When the dough as thawed and is still cold, roll it in your hands to form a longer oval shape and return to the tray.
Allow the dough to double in size. This may take about another 1 1/2 hours in a warm spot. When ready, heat the oven to 350 and bake for 15-18 minutes. Remove from the oven, rest for a few minutes then brush with melted butter. Allow to cool before cutting in half.
Blend together the mayonnaise, lemon juice, garlic and Old Bay seasoning. Refrigerate until ready to assemble.
When ready to serve, heat oil to 350 in a deep sided pan. While the oil heats, spread the aioli sauce on the bottom buns, top with pickle slices then tomatoes and shredded lettuce.
Dredge each oyster in the Wonder flour and place in oil. Fry only a few at a time. Fry until golden brown. (Fry time will be fast) Drain on a paper towel and sprinkle with kosher salt.
Top each slider with a fried oyster and top bun. Skewer and serve.
Notes
Makes 6 sliders which is great for 6 people as an appetizer or a meal for two. You can find the recipe for the coleslaw on the website here: http://theprizeofcooking.com/best-kfc-copycat-coleslaw/




by