Southwest Marionberry Rhubarb BBQ Ribs #SmithfieldThrowDown Smithfield Hog Wild Throw Down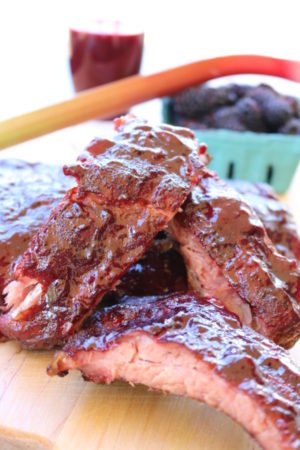 Several years back, my husband Mark bought me a Traeger Smoker for Christmas. Everyone told him that he was absolutely crazy and couldn't believe that I wasn't going to be totally disappointed. He wheeled it to the front door of the house and rang the doorbell. I open the door to find this big black smoking machine sitting there with a red ribbon on it.
I cried, then I jumped for joy followed by lots of  hugs. A lot of people don't realize that a foodie like me enjoys getting cooking gadgets and gizmos as gifts. To me they are the best gifts. Ok, I will take a new piece of jewelry but give me a smoker and off I go.
Now over the years, Mark and I have smoked a wide variety of meats and lots of vegetables. The veggies usually go into something else like baked beans or salsa. Smoked tomatillos make a fabulous salsa. One thing remains unsettled…Ribs!! How long to smoke them and how long to cook them with the heat turned up? What kind of rub and when to put on the sauce? Do we baste? Do we spray? Do we wrap the meat in foil? Oh goodness, there are so many great methods of cooking BBQ. I think we have a ways to go before we can agree. So for now, he makes ribs his way and I make ribs my way. I feel mine are better 🙂
A short time ago, Mark created a Marionberry Rhubarb BBQ Sauce. Over time the sauce began to take on some heat…chipotle heat!! I told Mark about Smithfield's Throw Down contest and suggested he enter his now spiced up Southwest Marionberry Rhubarb Sauce. He doesn't normally enter recipe contests. He likes to taste test for me when I am entering contests and then happily blames me for his waist line.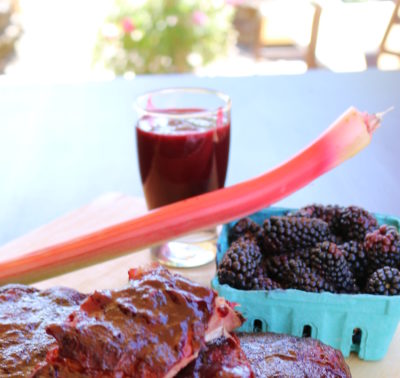 As he got ready to build his sauce and make his ribs, I reminded him that he needs to be exact with his measurements and write down EVERYTHING he puts in there. I don't think he was ready for all the time it takes to recreate on paper the recipe he whipped up before. I volunteered to take notes for him and make sure it all was documented. I even let him decide how he was going to cook the ribs. LOL
Mark made his special sauce, cooked up his ribs, sauced his ribs, cut them and even helped arrange them for a photo shot. Unfortunately he found out today that his recipe was not chosen as a semi-finalist so here we are sharing his great recipe with you.
Southwest Marionberry Rhubarb BBQ Ribs #SmithfieldThrowDown
Oregon is known for it's plump marionberry. This homemade sauce is a mix of marionberries, fresh rhubarb and Southwest flavors that combine for a sweet and spicy BBQ sauce.
Ingredients
2 full racks Smithfields Baby Back Ribs
Rib rub:
1 tablespoon kosher salt
1 tablespoon black pepper
1 tablespoon granulated garlic
Marionberry Rhubarb BBQ Sauce:
4 cups fresh rhubarb stalks cut into small pieces
2 cups fresh marionberries
1 cup sugar
½ teaspoon dried chile pasilla molido powder
½ teaspoon dry mustard powder
¼ teaspoon granulated garlic
2 whole chipotle peppers plus 1 tablespoon of adobo sauce, seeds removed
1/8 teaspoon cayenne pepper
1/8 teaspoon ground cumin
1/8 teaspoon dark chili powder
1/8 teaspoon smoked paprika
1/8 teaspoon garlic powder
1/8 teaspoon dried Mexican oregano
1/8 teaspoon ground cinnamon
Instructions
Combine the rib rub ingredients and set aside. Remove silver skin from the back side of the ribs, rub all sides with the rib rub and wrap with plastic wrap. Refrigerate the ribs for several hours but overnight is best.
In a large sauce pan, bring to a boil, the rhubarb, marionberries and sugar over medium high heat. Reduce the heat to low and simmer for 5 minute or until the rhubarb begins to break down.
After the fruit sauce has cooked, press the sauce through a strainer to remove the seeds. The strained sauce will yield approximately 2 ½ cups. Return the fruit sauce to the large sauce pan and add the spices to the sauce. Simmer over medium high for 5 minutes to blend all of the flavors into the sauce. Pour the sauce into a container and refrigerate.
Begin to smoke the ribs on a smoker at 160-180 degrees for 1 ½ hours. Then turn up the heat to 225 degrees for an additional 3 hours. When the ribs are tender, bend in the center and still hold together, turn the temperature back down to 160-180 degrees. Apply the Marionberry Rhubarb BBQ Sauce to the ribs and allow to cook for 15 minutes.
Cut ribs into sections and serve.




by