Tuna Miracle Noodle and Broccoli Casserole #dairyfree #glutenfree 
Another awesome recipe challenge was posted by Miracle Noodle.  The recipe entry could be anything from a appetizer to a dessert using a Miracle Noodle product. This calorie free, gluten free and soy free product is amazing. Not only does it taste like a noodle but the company makes them in all shapes and sizes.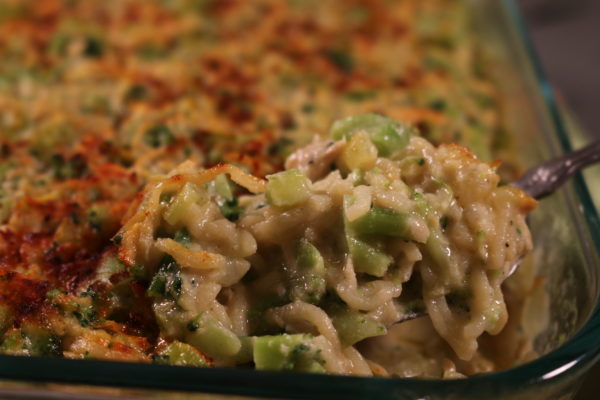 I will be honest, I was hungry for a tuna casserole. While trying to stay away from dairy and gluten, I have found myself not making some of my favorite comfort foods. I used to make tuna casserole on a regular basis when my kids were little. They are all grown now and they still love it.
Another dish that they grew up eating was Cheesy Broccoli and Rice Casserole. It was an annual dish that I always was asked to bring for Thanksgiving. As much as the family loved it, I am still amazed that I only made it on holidays.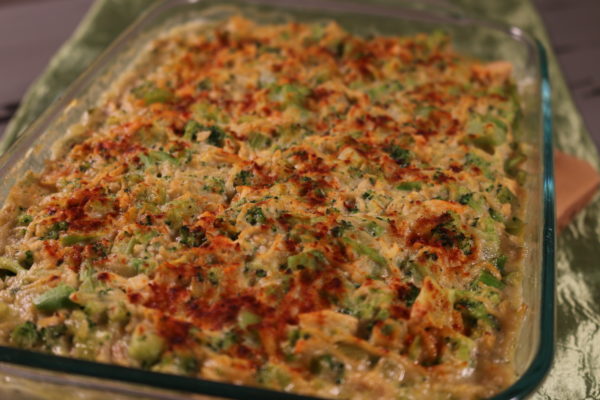 The cravings for the two dish came together for my recipe entry and dinner!!! Even though I did not use any cheese or cream of soups, I still managed to make a creamy casserole with plenty of flavor.
My recipe entry was not chosen as a winner but now I have no excuses because I can enjoy my favorite comfort food and still stay away from my food intolerance's. That's a win in my book!!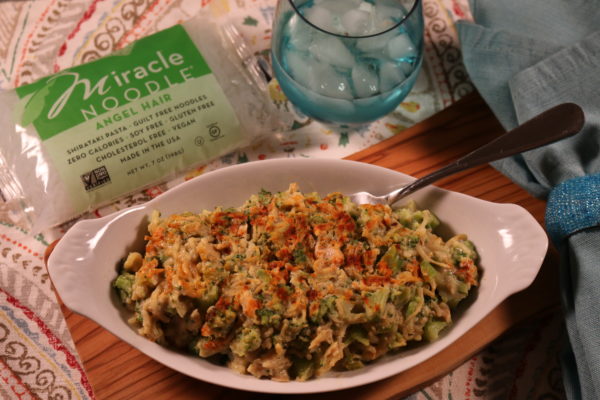 Tuna Miracle Noodle and Broccoli Casserole #dairyfree #glutenfree
A creamy tuna noodle casserole that is gluten free and dairy free. The Miracle Noodles complete the dish without adding any calories.
Ingredients
1-16 oz bag frozen chopped broccoli, thawed
½ cup celery, finely chopped
½ cup onion, finely chopped
2 T ghee or (olive oil)
2 T gluten free flour or (regular flour but will not be GF)
1 C full fat coconut milk (or unsweetened non-dairy milk)
1 C low sodium chicken broth
1/4 tsp fresh grated nutmeg
1/2 tsp dry ground mustard
1/4 tsp dried thyme
1/2 cup nutritional yeast seasoning flakes
2 teaspoon kosher salt, divided
½ teaspoon black pepper
2- 7 oz Miracle noodles, spaghetti style prepared as directed then chopped to smaller size pieces.
2 cans white albacore tuna packed in water, drained and flaked
Olive oil cooking spray (or regular cooking spray)
Smoked paprika for garnish
Instructions
Preheat oven to 350 degrees F.
In a large sauté pan, heat the ghee (or olive oil) and sauté the celery and onion with 1 teaspoon of salt and black pepper for several minutes until tender. Add the gluten free flour (or regular flour) to the sauté pan and cook for several minutes.
Pour in the coconut milk, chicken broth and allow the mixture to return to a simmer. Add in the nutmeg, thyme, dry mustard, nutritional yeast flakes and 1 teaspoon of salt.
When mixture begins to thicken, add in the broccoli, tuna and Miracle Noodles. Pour the mixture into a casserole dish that has been sprayed with olive oil cooking spray. Sprinkle with smoked paprika and bake for 30 minutes.




by